Josh Cinnamo More Motivated Than Ever In Paralympic Debut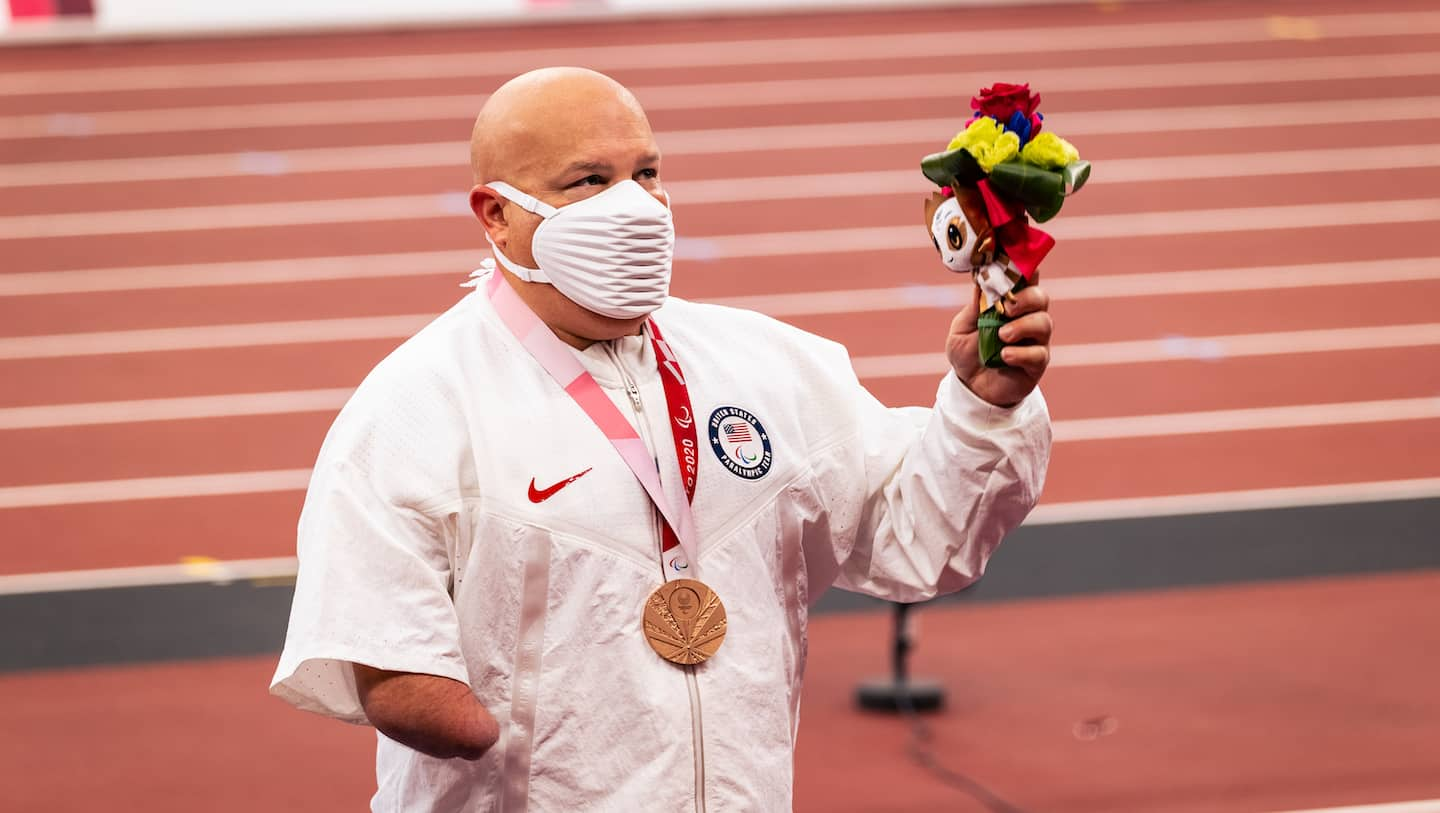 When Josh Cinnamo, now 40, was little, he was afraid of being left behind.
Born without his right arm below the elbow, he feared his two older brothers and his friends would tie their shoes faster than he could, and have to wait on Josh. So he would challenge them to a race. Pretty soon, he was as good at shoe-tying with one arm as they were with two.
As a Paralympic athlete, Cinnamo is no longer worried about being left behind. The reigning world champion in the shot put F46 took his world record of 16.80 meters into the Paralympic Games Tokyo 2020, the first Games of his career, and came home with a bronze medal. And nobody touched his world record either.
But Cinnamo put off competing as a Paralympian for years, feeling that doing so would be demeaning, and would cause people to pity him, just as he feared his brothers would pity him for not being able to tie his shoes.
"I'm not a competitive person in the sense that I need to beat everyone and everything," he said. But his status as the youngest brother of three, he said, fostered a sense of competitiveness in him. "By nature, I'm going to be competitive."
Cinnamo competed alongside able-bodied athletes as a high school soccer player and college football player, and in track and field, which he initially got into because his brother was very involved as a runner. He threw the shot put and discus in high school, then threw the javelin and became a sprinter at Luther College in Iowa. He also threw the indoor shot put there, "to score us a few points," he said.
"Competing is very important to me," he said. "It means I'm equal to an able-bodied person, not just in athletics but in life."
At 30, Cinnamo began doing CrossFit and was impressed by the level of athleticism he found in that world. He realized that he wanted to compete again. On a whim, he googled Paralympic sports. He participated in a 2014 Gateway to Gold event in Chicago, where he won the shot put as well as the discus and javelin. But he missed making the 2015 Parapan American Games team by one spot.
"Everything good that has happened in my Para life started with a failure," Cinnamo said. "It sparked a part of me that was determined to work harder and take advantage of every opportunity."
In the wake of his missing that team, Cinnamo vowed to become the strongest Paralympic athlete out there. He worked on transitioning his throwing style from a glide to a rotational style. He trained, and what he described as a "hectic and aggravating" two years turned into a world record of 15.98 meters at a 2017 Gateway to Gold event in Los Angeles.
Then he finished off the podium at the 2017 world championships in London. Spurred once again by a perceived failure, Cinnamo resumed training. He broke his own record at the 2019 Parapan Am Games in Lima with 16.49, then again at the 2019 world championships in Dubai. But he said that the 2017 throw was "more important" to him personally because it meant his work to succeed as an elite athlete had paid off.
This year, the U.S. Paralympic Team Trials were in Cinnamo's backyard, in Minneapolis. Cinnamo, however, made the team on a discretionary selection because he competed on a pulled groin muscle. He said he is thrilled to represent the U.S. in Tokyo regardless, but considers the trials a personal failure.
"If anything," he said, "I'm more motivated than if I had thrown."
He said the diversity of the U.S. makes him proud of representing his country in Tokyo. "It's really cool. Lately, we've had all these discussions around protests," he said, citing Raven Saunders' Olympics stand on the medal podium, with her arms crossed over her head. "Raven can say these things and talk to us about what she's dealing with. What's important for me to remember is that in the U.S., we represent all these types of thought. The U.S. offers people on different ends of the spectrum an opportunity for freedom."
Cinnamo this year stepped back from his leadership role at Team Some Assembly Required, a nonprofit that began seven years ago as a way to offer Para athletes opportunities to compete at a high level. Because of their success, the organization shifted gears and now offers those athletes assistance in funding the equipment and training they require. Cinnamo remains on the board.
Cinnamo and his wife, Kate, have two children: Tess and Tate. Both are involved in sports, Tate in baseball and Tess in softball and basketball, and Cinnamo says he likes that they see all that goes into elite-level competition from the ground up.
"I enjoy that my kids get to see me working," he said. "I want them to see me grinding every day. It's a lot of work carrying this ball back and forth, rolling out, lifting weights. I equate work with success. I explain to them that it's not always about success — you don't know if you'll win or lose, and if you lose, you still did all the work."