Brittni Mason Sprints Her Way To Gold In First Paralympic Games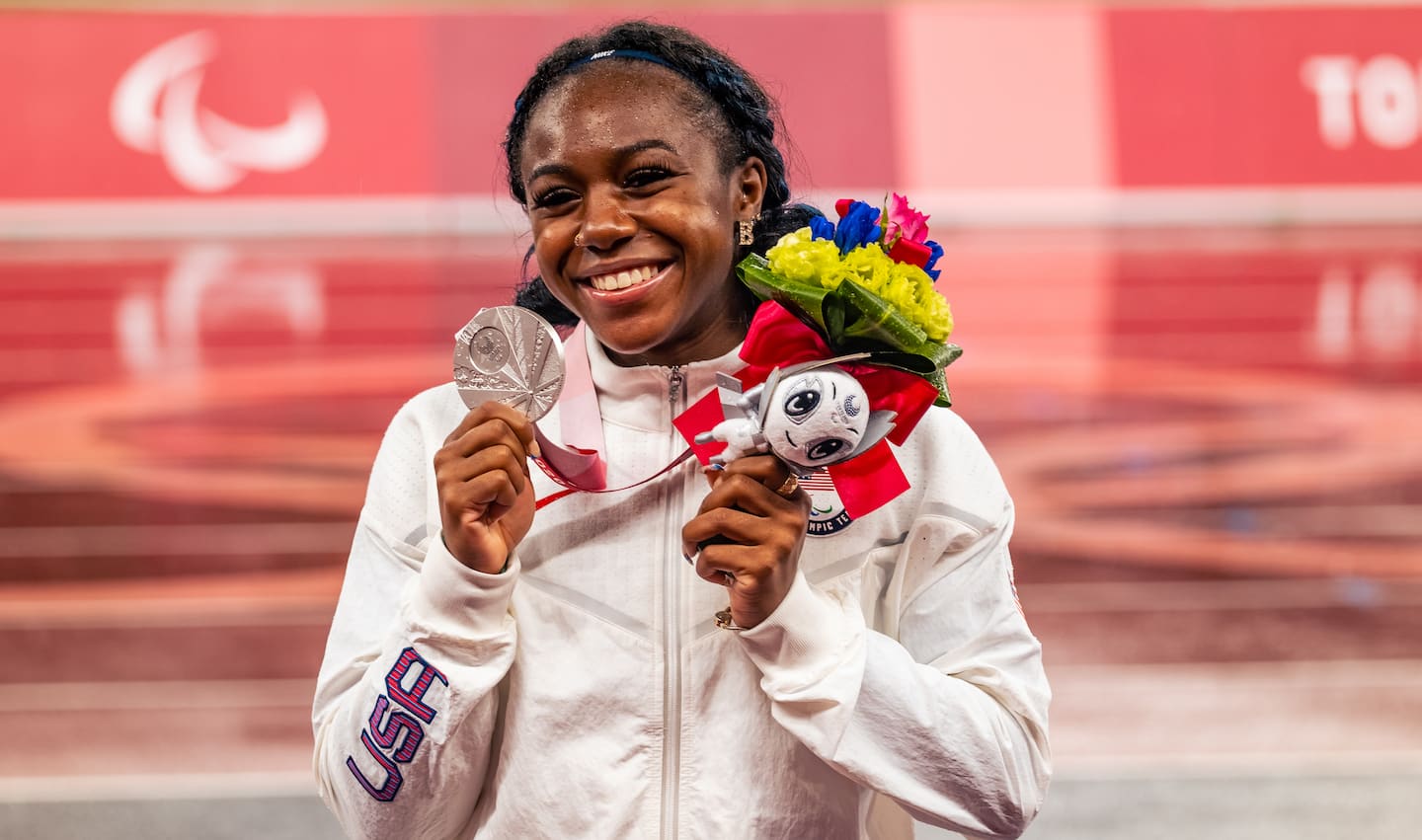 Brittni Mason had three weeks to prepare for her first World Para Athletics Championships in 2019. Prior to flying to Dubai, she had not even known she was eligible to compete in Para sports.
Nonetheless, Mason won gold in the 100-meter on a world-record day in Dubai. She had a lot more time to prepare for the Paralympic Games Tokyo 2020, a year more than expected, in fact, due to the postponement. And while she ended up taking silver in Tokyo in the 100, as well as the 200, she'll be bringing another gold medal back home from the 4x100 universal relay.
"FIRST PARALYMPIC GAMES, THREE MEDALS, AND A NEW WORLD RECORD IN THE UNIVERSAL RELAY TO ADD TO MY 100M WORLD RECORD ??? I AM BEYOND BLESSED TO SAY THE LEAST," Mason excitedly wrote on Instagram.
Tokyo was the culmination of a rocket ship ride to the top of her sport.
Born with Erb's palsy, which affected the nerves in her left shoulder and arm, Mason nonetheless competed against able-bodied opponents in multiple sports from childhood through college. Doctors advised her parents to get her involved in sports to help increase the range of motion in her shoulder. Growing up in Cleveland, Mason was a gymnast and dancer, swam, and played basketball before discovering track and field at age 10. By 11, competing in AAU events, she was ranked fifth in the country in the 100-meter dash. She ran all the way through middle and high school, where she broke a state indoor record in the 60-meter her senior year, and earned a track scholarship to Eastern Michigan University.
So when someone reached out to her coach at EMU and suggested that Mason try competing in Para events, her response was "I'm not disabled."
At that point, she had been running more than half her life, never knowing she could compete in Para events.
"I just have nerve damage," she said. "I can do, you know, everything else that my able-bodied opponents have been doing. Like, it's a little bit more difficult for me in the weight room. And I run a little funny, but you know, I can still get the job done."
Still, she was intrigued by the opportunity to continue competing, as she was not sure she would be able to otherwise.
"I felt like it was the perfect timing," she said. "I had no idea what I was going to do after college. I reached up and grabbed this opportunity."
Mason competed at an event in Chicago to get nationally classified in the T47 category. To compete for a spot in Tokyo, she learned, she would need to compete in an international event to become classified. Three weeks later, she broke the world record in the 100 in Dubai. She also finished fourth in the 200, an event for which she was only lightly trained, but which she said is her favorite because she enjoys running the curves.
"You have three weeks to prepare and go overseas and train, and you've never run overseas in your life. And you're going without a coach and without knowing anyone," Mason said of that whirlwind run-up to a world record. "So it's a little stressful, but once I accomplished that, and I knew what I was capable of with the little preparation that I did have, it gave me a lot of confidence."
After graduating from EMU in May, and with one more outdoor season of eligibility in the NCAA, Mason pursued a master's in sports management through the university. She will graduate in December. She is also enrolled in an online MBA program through DeVry University, courtesy of Team USA.
The delay of the Tokyo Games due to the pandemic helped, rather than hindered, Mason. She was injured following her 2020 conference championship and was going to take a break from running to recover when everything shut down.
"It gave me the opportunity to learn my body more, to focus on nutrition, focus on doing recovery things, focus on strengthening my weaknesses," she said. "At first I was upset about it, but then it was really a blessing in disguise for me."
At the U.S. Paralympic Team Trials in Minneapolis in June, Mason said she was not stressed about making the team. She had been hitting the standards in both her events, the 100 and the 200, consistently, and the 100 in particular was feeling easier for her because she had been competing in it during her final NCAA season.
She won the 200 in 25.14, a personal best. The next day, she won the 100 in 12:05.
"I was super excited to get the official word, because it's what I've been training up to," she said.
Mason topped both those marks in Tokyo, running a 25 flat in the 200 and an 11.97 in the 100. The 200 time was another new personal best. While she didn't quite match her world-record time from Dubai in the 100, she did set a world record time with the 4x100 universal relay time with Noah Malone, Nick Mayhugh and Tatyana McFadden.
Mason said her teammates have become close friends and they've formed an important support system for each other. But Mason's family, who rarely miss her meets — her parents even flew to Dubai in 2019 on very short notice — were not able to join her in Tokyo. She said she was sad about the lack of family and fans as well at first.
"But something I've always had to do is learn to adapt," she said.
Just two years ago, Mason assumed she would never run again after college graduation and had never realized she was eligible to compete as a Paralympian. She's now not only made it to the Games, she brought home the gold.
"And that's just not something that a lot of people get. That's a very rare thing," she said. "I'm really privileged to be chosen, to be able to do this for my country. It's that top one percent of athletes that get this opportunity, so I'm going to take it and I'm going to be grateful for it."