Mixed relay team makes history, Martin gets 10th career medal in five-medal night for Team USA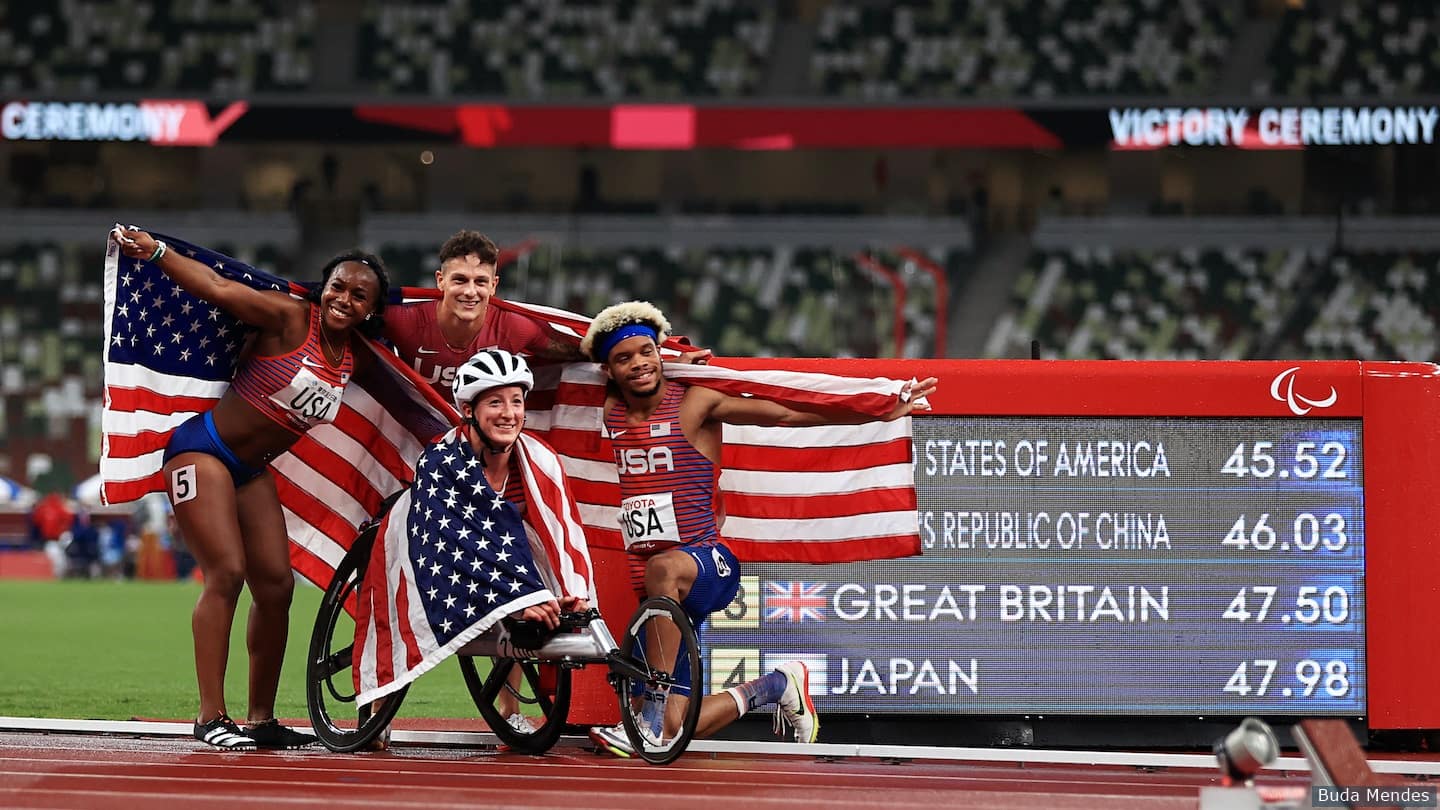 TOKYO, Japan – The American team of Noah Malone (Fishers, Indiana), Brittni Mason (Cleveland, Ohio), Nick Mayhugh (Manassas, Virginia) and Tatyana McFadden (Baltimore, Maryland) found the top of the podium and set a new world record in the 4x100 mixed relay to lead Team USA on the eighth day of track and field at the Paralympic Games Tokyo 2020. In doing so, Team USA made history, becoming the first team to win the event in its Paralympic debut.
All four athletes are ranked top three in the world in their respective classifications, and their world record time of 45.52 beat out the 46.02-second mark set by China in this morning's prelims. The mixed relay was comprised of two men and two women from each country. It included one visually impaired athlete (Malone), one wheelchair racer (McFadden), one athlete with a coordination impairment (Mayhugh) and one athlete with a limb impairment (Mason).
Between them, the foursome of Malone, Mason, Mayhugh and McFadden had already accumulated seven Paralympic medals in Tokyo before tonight's gold. For McFadden, the medal marks her 20th career Paralympic medal, and if she wins a medal in Sunday morning's marathon, she will tie the record for the most Paralympic medals ever won by a track and field athlete. Meanwhile, Malone, Mason and Mayhugh are all enjoying successful Paralympic debuts. It is the first gold medal for Malone and Mason after they've combined for three silvers during the competition. Mayhugh has a gold and a silver from the men's 100m and 400m, respectively.
Mayhugh had a busy night, also breezing to a world record and winning his preliminary heat of the men's 200m T37. Mayhugh's time of 22.26 smashed the previous world record time of 22.59 set in 2015. Mayhugh will make his final appearance in Tokyo tomorrow for the 200m final.
Raymond Martin (Jersey City, New Jersey) powered his way to his 10th career Paralympic medal today in the men's 100m T52 final. Martin raced his way to a 16.99-second victory in a tight competition, edging ahead of Japan's Yuki Oya to claim victory. Martin became the first American track and field athlete to collect three medals in Tokyo. In the three Paralympic Games in which he's competed, he has never missed a podium and all 10 of his medals are either gold or silver.
Speaking after the competition, Martin said he isn't ruling out a run at Paris in 2024. He is currently in graduate school training to be a physician's assistant and hopes to complete his degree in December 2023. In the same race, fellow Team USA athletes Gianfranco Iannotta (Garfield, New Jersey) and Isaiah Rigo (Cheney, Washington) finished sixth and seventh, respectively.
Cassie Mitchell (Warner, Oklahoma) earned her third career Paralympic medal tonight in the women's club throw F51, taking silver with an American record-breaking throw of 24.18 meters. The throw was nearly a full meter better than Mitchell's former personal best, which stood at 23.37, and the silver is an improvement from her bronze medal in the event in Rio.
In his Paralympic debut, Justin Phongsavanh (Des Moines, Iowa) eared his first Paralympic medal in the men's javelin F54, taking home bronze with a 31.09-meter best throw. This is Phongsavanh's first major international medal after he finished fourth at the 2019 world championships. The 24-year-old broke the world record at U.S. Paralympic Team Trials in June, and said he felt the event in Tokyo was one of the best men's javelin F54 competitions in history, and that he was honored to be a part of it.
Hunter Woodhall (Syracuse, Utah) took home a bronze medal in his signature event, the 400m T62. The medal is Woodhall's third career Paralympic medal after medaling twice in Rio, and he ran a season-best 48.61 seconds to earn it.
In his sole Tokyo race, 2016 Paralympic champion Michael Brannigan (Northport, New York) took fourth in the men's 1500m T20 race. Brannigan ran a season-best 3:58.43 to finish just off his second career Paralympic podium. Taleah Williams (Norfolk, Nebraska) also recorded a fourth-place finish in the women's long jump T47. Her best jump of 5.39 meters earned her the position, which is an improvement from her fifth-place finish in the event in Rio.
Luis Puertas (Orlando, Florida) made his Paralympic debut today, taking fourth in the men's 200m T61. The U.S. Army veteran ran an American record 25.40 to just miss the podium. Teammate Regas Woods (Dunellon, Florida) was right behind Puertas in fifth place, finishing the race in 26.74, a season's best.
Rayven Sample (Jamestown, New York) and Tanner Wright (Fort Worth, Texas) both ran personal-bests in prelims to qualify for tomorrow's final of the men's 400m T47. Sample and Wright finished in 50.01 and 50.10 to place top three in their heats and automatically move on to the final. Both first-time Paralympians, this will be Sample's first-ever Paralympic final while Wright qualified for the final of the 100m T47 earlier this week, finishing seventh.
Track and field competition resumes for its last two-session day on September 4 at 9:30 a.m. JST (September 3 at 8:30 p.m. EST). The marathon will conclude track and field competition on Sunday morning (Saturday evening JST). All races will be live streamed through NBCOlympics.com, on Peacock and through the NBC Sports app. A full schedule of events is available here.
For media inquiries, please contact Kristen Gowdy at Kristen.Gowdy@usopc.org.
TEAM USA MEDALS (Day 8)


Gold:
- Raymond Martin (men's 100m T52)
- Noah Malone, Brittni Mason, Nick Mayhugh and Tatyana McFadden (universal mixed relay 4x100)
Silver:
- Cassie Mitchell (women's club throw F54)
Bronze:
- Justin Phongsavanh (men's javelin F54)
- Hunter Woodhall (men's 400m T62)
QUOTES
Tatyana McFadden
History in the making was tonight. I was honored to be chosed for this team. Nick [Mayhugh] and I had really good exchange practices. I was feeling really strong with that. I'm just so happy, happy to get a gold medal at these Games, happy that it's the 20th medal for me and my eighth gold medal so far. It's been really amazing. I wouldn't want to do it with anyone else. This is a really special team. Tonight was really special, it's something I will always remember and keep in my heart. We all wanted it equally. We believed in each other, and it's a really exciting thing for Team USA.
We were a force to be reckoned with. Everyone did such a good job, and they're the future of our sport and have a long road ahead of them. I'm just happy to be along for the ride, and we accomplished our goals and more – we got the world record along the way.
Raymond Martin
It feels amazing. My last two events I came out with silver medals, so it was hard to complain about those events, but it wasn't exactly where I wanted to be, which is at the top of the podium. Coming out at the top of the podium in the 100m is an amazing feeling, finishing off my third Games with a gold medal.
The two silvers gave me the extra edge. This was my last chance to come out on top of the podium. The seventh gold feels just as good as the first one. I'm so excited to hear the anthem of the U.S. and bring a gold medal home for Team USA. I'm really thrilled to have that same excitement going into my 10th Paralympic event as I did my first.
Justin Phongsavanh
It feels incredible. It wasn't the top result that I wanted, but the fact that we got onto the podium in this competition feels incredible. This competition will probably go down in history as the best javelin competition for seated throwers in my class. I'm happy to be a part of that, and be a part of these Paralympic Games.
We've been grinding every day. I've sacrificed a lot of my life to move out and train full-time. We achieved the world record, I went from being a baby going to world championships [in 2019] to a novice, then to intermediate, getting the world record, and now I feel like I'm an advanced athlete. It's fantastic.
Hunter Woodhall
I've been telling myself this whole Games that I was going to go out and give it my best effort and whatever the outcome was, I'd be happy with it. I can't complain about being on the podium. With the 2020 season getting cancelled, it's been extremely challenging in years four and five leading up to these Games.
For me, it's about getting home and recovering now. This whole season has been so up and down, figuring out which direction it's going to go and whether it's going to happen, and now that it's over, we need a mental and physical break.
FULL RESULTS
For full results from Tokyo 2020, please visit Paralympic.org.

SOCIAL MEDIA
Follow U.S. Paralympics Track & Field on Facebook, Twitter and Instagram for Team USA's latest news and updates.