Campbell earns redemption with discus gold to cap four medals for Team USA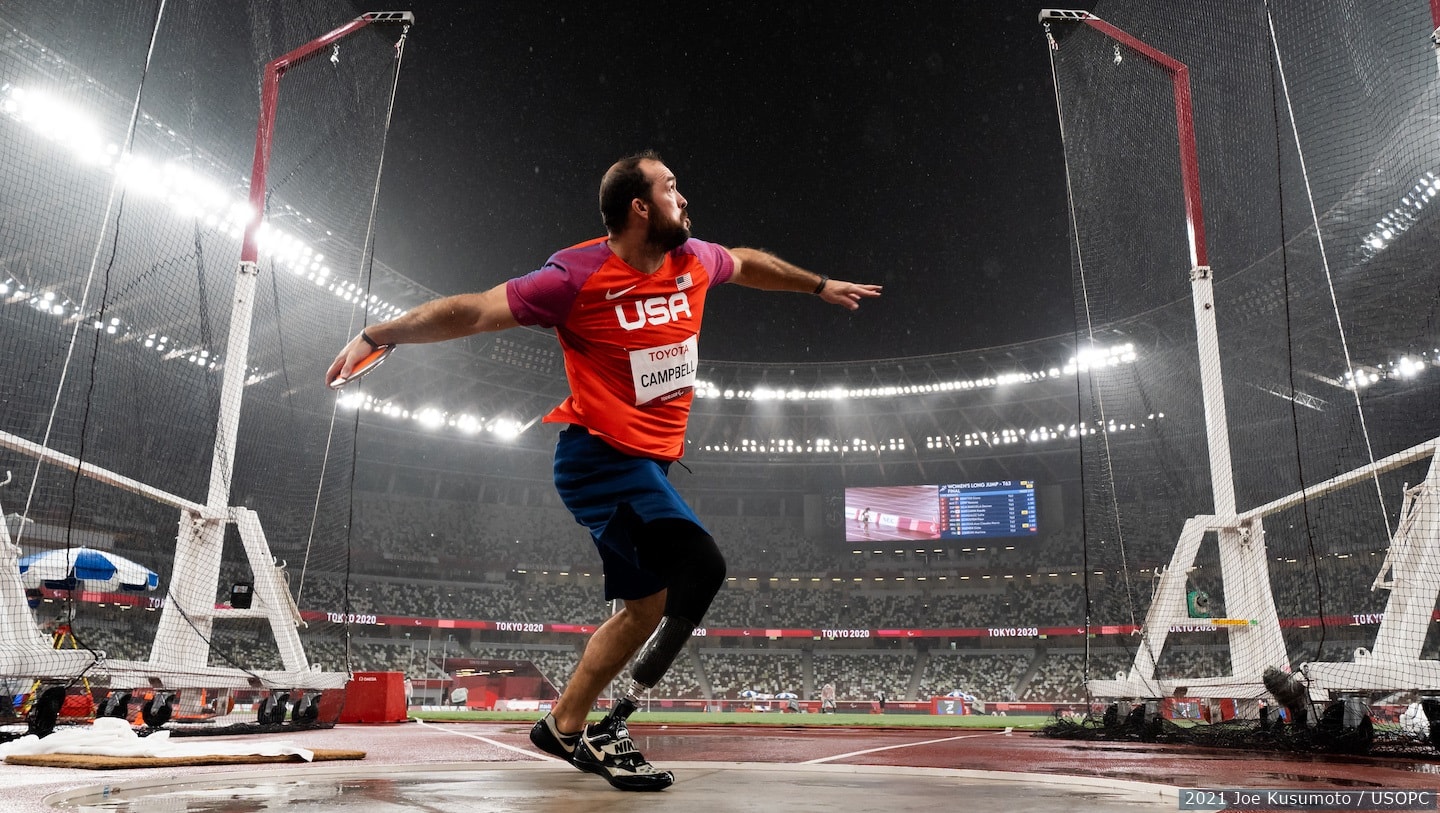 TOKYO, Japan – Jeremy Campbell (Perryton, Texas) took his first throw of the men's discus F64 competition out to 60.22 meters and secured victory early, earning his third Paralympic gold medal in the event at the Paralympic Games Tokyo 2020. The win was redeeming, Campbell said, after he took fourth in Rio, the only time in his throwing career that he hasn't podiumed at a Games. Noah Malone (Fishers, Indiana), Cheri Madsen (Nebraska City, Nebraska) and Jaleen Roberts (Kent, Washington) took home a trio of silvers to round out Team USA's medals on day seven of track and field competition in Tokyo.
Campbell's win came in wet conditions, with steady rain falling on the Olympic Stadium in Tokyo throughout the day and into the evening. Campbell said it was the slickest conditions he's ever thrown in. The weather hampered teammate and 2016 Paralympic gold medalist David Blair (Eagle Mountain, Utah), who finished fourth after slipping several times and uncharacteristically faulting four of his six throws. Blair and Campbell are two of the top Paralympic discus throwers in the world, and Campbell, who set the current world record in May, said after the competition that he would not be on the top of the podium without Blair, that they push each other to be better in training and competition.
In the morning session, Malone and Roberts both repeated as silver medalists, earning their second career Paralympic podiums and their second silver medals in Tokyo. Both first-time Paralympians, Malone and Roberts sped to their medals in the men's 400m T12 and the women's 100m T37, respectively. Malone, who also competes for Indiana State University, said it was just his third time racing the 400m, while Roberts, whose signature event is the long jump, said she came into the 100m without expectations.
Madsen earned her 10th career Paralympic medal today in the women's 400m T54, capping a legendary career that spans 25 years and four Paralympic appearances. After winning her heat in the morning session with a season-best 53.16 effort, she finished behind only Switzerland's Manuela Schaer in a rainy final. The veteran athlete said this would be her last Games, and that she is excited to head home and spend time with her family.
Tatyana McFadden (Baltimore, Maryland) and Daniel Romanchuk (Mount Airy, Maryland) both just missed the podium, taking fourth in the women's 400m T54 and the men's 800m T54, respectively. In the final of the men's 800m T53, Brian Siemann (Champaign, Illinois) finished in eighth place. Siemann still has Sunday morning's marathon as he looks for his first podium of Tokyo.
Beatriz Hatz (Lakewood, Colorado) was the lone American to qualify for the finals of the women's 100m T64 race after taking third in her heat. Femita Ayanbeku (Boston, Massachusetts) and Sydney Barta (Arlington, Virginia) finished fifth and sixth in their heats. The U.S. will have two representatives in the women's 400m T13, as Kym Crosby (Yuba City, California) and Erin Kerkhoff (Coralville, Iowa) both qualified through the prelims. Taylor Talbot (Ontario, Oregon) just missed the final, finishing fourth in her heat.
Other Team USA athletes competing today included Joshua George (Herndon, Virginia), who took fifth in his heat of the men's 800m T53 competition. Yen Hoang (Vancouver, Washington) and Kelsey LeFevour (Chicago, Illinois) took fifth and sixth, respectively, in their preliminary round heats of the women's 400m T53 race, and Hannah Dederick (Mead, Washington) just missed the final of the women's 400m T54 a day after her first career Paralympic final.
Track and field competition resumes on September 3 at 9:30 a.m. JST (August 29 at 8:30 p.m. EST). All races will be live streamed through NBCOlympics.com, on Peacock and through the NBC Sports app. A full schedule of events is available here.
For media inquiries, please contact Kristen Gowdy at Kristen.Gowdy@usopc.org.
TEAM USA MEDALS (Day 8)


Gold:
- Jeremy Campbell (men's discus F64)
Silver:
- Cheri Madsen (women's 400m T54)
- Noah Malone (men's 400m T12)
- Jaleen Roberts (women's 100m T37)
QUOTES
Jeremy Campbell
This one feels better than any other. London was the last time I was on the podium, and it's been nine years. That's the wettest ring I've ever thrown on, it was hard to navigate that. Luckily, the way I throw, everything is based on stability. It's a much slower throw than most. I felt like I did have an advantage because that's just how I throw. I was lucky to execute at least a little bit on the first throw to get past 60 meters. I am surprised that 60.22 won this one. If it wasn't for the weather, we would've seen some discs fly.
On David Blair
Who knows what it would've gone like without the weather. It was horrible circumstances, and I hope to see him keep going in the future. If he didn't come along in the picture, I don't know if anyone in the Paralympic throwing scene would've pushed me to throw as far as we're throwing. He has been crucial in my success and so I'm very thankful for him. It's been fun duking it out with him.
Cheri Madsen
It was a little hard to see out there, I wasn't slipping too bad. I'm just so happy. I didn't know what to expect coming to these Games. The 400 is my favorite, I was way more nervous for the 100. I can get good top speed, my starts aren't the best, so in the 400 I can make up some speed and not everything depends on the start. That's what I like.
In wheelchair racing, I found my independence when I was young. I found a community with people who are just like me. I come from a small town and I was the only one in a wheelchair, so when I found wheelchair racing, it's like it was meant to be.
Noah Malone
It was a hard race, mentally, but I feel like I executed well. I knew from the start it was going to be a very close race. Everyone in that field came to run.
It's a huge honor, especially to have set a personal best in this race. It's my third time running this race, so I can't ask for more. I really can't even put it into words. Coming in, I didn't have any expectations, especially with this race. It's a great feeling to get everything done.
Jaleen Roberts
I'm proud of myself. I've worked really hard, sacrificed a lot of things. I know that people at home are proud of me too. I just pushed and knew I could do it. I pushed through the finish line instead of stopping right before, and that made a huge difference.
I didn't really have expectations for the 100m, but after seeing my performance last night in the prelims and seeing my time, my adrenaline was still going. I just went into it in a really good headspace. My friend passed away in May, this Games is dedicated to her. I want to make her proud. My family couldn't be with me in Tokyo, but I know she's here. I feel her here, and I talk to her, and I know I made her proud.
FULL RESULTS
For full results from Tokyo 2020, please visit Paralympic.org.

SOCIAL MEDIA
Follow U.S. Paralympics Track & Field on Facebook, Twitter and Instagram for Team USA's latest news and updates.