Mayhugh finds podium in first international 400m race to lead four-medal day for Team USA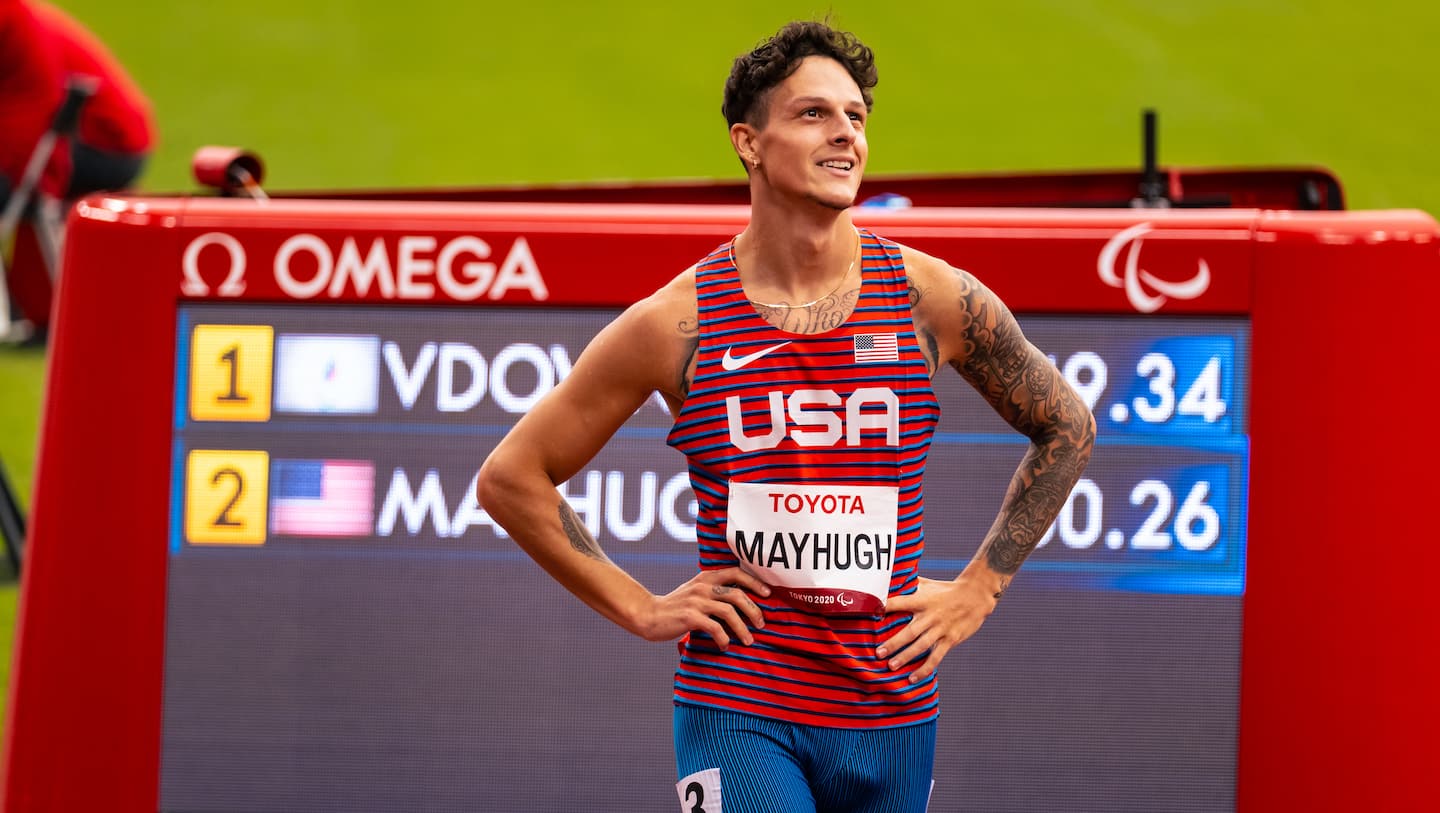 TOKYO, Japan – Nick Mayhugh (Manassas, Virginia) secured his second career Paralympic medal, taking silver in the men's 400m T37 to lead a four-medal day for Team USA on day six of track and field competition at the Paralympic Games Tokyo 2020.
Mayhugh was outrun by only Andrei Vdovin of the Russian Paralympic Committee, who broke the 400m T37 world record. Meanwhile, Mayhugh, who is primarily a short sprinter, said he had not trained the 400m for several months to preserve his physical and mental health. He chose to run the event at the Games, and it was his first-ever 400m run in international competition.
Mayhugh set a world record in a thrilling win in the 100m on the first night of competition, and still has the 200m and the possibility of competing in a relay event as he tries for his third and fourth medals.
In his Paralympic debut, shot putter Josh Cinnamo (San Diego, California) earned the bronze medal in the F46 competition. His 15.90-meter best throw was the farthest he's thrown this season. The Paralympic Games have been a seven-year journey for Cinnamo, who began para sport in 2014, but missed out on a Rio appearance because his class was not included in the Paralympic program. Once it was announced that the shot put F46 would be included in Tokyo, Cinnamo committed himself fully to the sport, winning a world championship and setting the world record in 2019 en route to his first Paralympic team.
Cheri Madsen (Nebraska City, Nebraska), making her fourth Paralympic appearance, placed third in the women's 100m T54, earning her ninth Paralympic medal. Madsen competed in Atlanta 1996 and Sydney 2000 before taking a hiatus from the sport until Rio. The mother of two raced to a season-best 16.33 in the final, finishing just .03 seconds ahead of her 19-year-old teammate Hannah Dederick (Mead, Washington), who finished fourth in her first Paralympic event. Both Madsen and Dederick will compete in the 400m T54 tomorrow.
Two-time Paralympian Trenten Merrill (San Juan Capistrano, California) secured his first Paralympic medal, taking bronze in the men's long jump T64. Merrill took fourth in his Paralympic debut in Rio, making the medal extra sweet. He recorded his best jump – 7.08 meters – on his fourth attempt to earn his spot on the podium. Merrill will compete in the 200m on September 4 to conclude his Tokyo Games.
In other Team USA action, Jaleen Roberts (Kent, Washington) set an American record of 13.41 seconds en route to qualifying for the women's 100m T37 final. Kelsey LeFevour (Chicago, Illinois) made her Tokyo debut, taking 8th in the women's 100m T53 while teammate Yen Hoang (Vancouver, Washington) placed ninth in the event. Joel Gomez (Encinitas, California) ran a personal-best 52.06 in the men's 400m T13, finishing fifth in his heat. David Brown (St. Louis, Missouri) and guide Moray Steward (San Diego, California) missed qualifying for the finals of the men's 100m T11 after they finished fourth in their semifinal heat.
Erik Hightower (Phoenix, Arizona) placed fourth in his heat of the men's 100m T54 race and just barely missed the final. Teammate Brian Siemann (Champaign, Illinois) took fifth in his heat and did not qualify for the final, but will return to the track on September 2 for his 800m race.
Track and field competition resumes on September 2 at 9:30 a.m. JST (August 29 at 8:30 p.m. EST). All races will be live streamed through NBCOlympics.com, on Peacock and through the NBC Sports app. A full schedule of events is available here.
For media inquiries, please contact Kristen Gowdy at Kristen.Gowdy@usopc.org.
TEAM USA MEDALS (Day 8)


Silver:
- Nick Mayhugh (men's 400m T37)
Bronze:
- Josh Cinnamo (men's shot put F46)
- Cheri Madsen (women's 100m T54)
- Trenten Merrill (men's long jump T64)
QUOTES
Nick Mayhugh
I'm happy with it. That was the first 400 I've run in international competition. Almost two months ago, my doctor and my coach shut down my 400 training, so I was unable to train for this. Mentally, I just wasn't really there, it was really hard on my body. My doctor said to put my mental and physical health first, to just run the 100 and the 200, so to come out here and run this and win silver, it feels really nice.
I love pushing myself past my limits, see how far I can push myself and how far I can go.
Josh Cinnamo
I'm a little torn, but obviously the men I threw with today are excellent, and if I'm going to lose to anybody, losing to them is okay. Every meet is different, every circumstance is different, and if you carry in your ego, you're not relying on the things you know you can do, and so I never carry one meet to the next meet.
We didn't have shot put in Rio, so there was some indecision about whether I was going to carry on with Paralympic sport. Once we knew it was on the docket for 2020, I kind of sold out so that I can be here. When you start a journey that long ago [seven years] and you take time away from your family, time away from your job, that's time you don't get back. This is a full-time job. I'm excited to be on the podium.
Trenten Merrill
I was super thankful to medal. It's taken a lot of hard work and dedication, and I had a new coach coming into this season. There were a lot of challenges, but he's just a great coach. I'm so, so thankful for him believing in me and us working together. I've really had a great time training these past five years, I really enjoyed training under him. I've learned a lot, I've progressed a lot as well, and this was five years in the making. I had to continue believing in myself, even after failing a few times.
Cheri Madsen
It feels really good, I've worked really hard. Winning this medal, to me this'll mean that every Paralympics I've ever been to I've medaled. I'm very happy that I was able to pull that off.
On her longevity in the sport
It's really hard. I definitely do a lot of training. This is the most I've ever trained, and I made sure I went and spent a couple weeks in Texas with my coaches before I came here. I'm just trying to give it all that I can for my last Games. This is it.
FULL RESULTS
For full results from Tokyo 2020, please visit Paralympic.org.

SOCIAL MEDIA
Follow U.S. Paralympics Track & Field on Facebook, Twitter and Instagram for Team USA's latest news and updates.