Angel City Sports A New Dream For Frech Family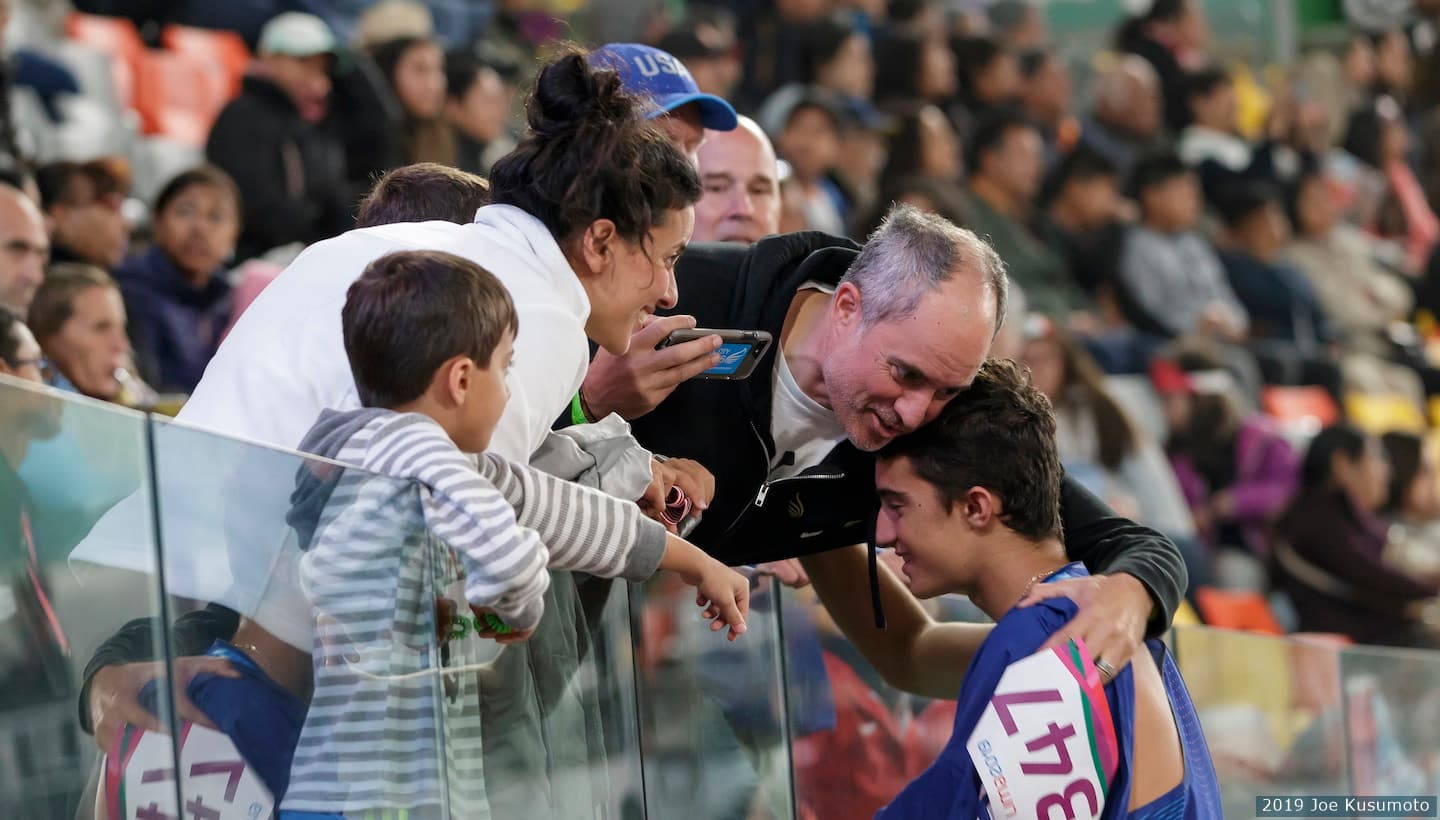 Ezra Frech is embraced by his family at Lima 2019. (Photo: Joe Kusumoto)
Angel City Sports is bringing Hollywood and the Paralympic Games together. While Los Angeles may be known for its celebrities, it's quickly gaining a reputation for its adaptive sport presence.
And thanks to Angel City, the Paralympic presence in the area is showing no signs of slowing down.
Angel City Sports is an adaptive sports nonprofit in L.A. It creates opportunities and provides equipment for people with disabilities to get into adaptive sport. It started in 2013 after Paralympian Ezra Frech, then barely 8 years old, and his dad Clayton came from California to Edmond, Oklahoma, to attend the Endeavor Games.
Clayton signed up Ezra, a sports protege in the making, for nine track and field events as well as archery, table tennis and sitting volleyball.
"The kid just did everything," Clayton said.
While at the Games, Clayton concluded it was unnecessary to travel thousands of miles and spend thousands of dollars for Ezra to play sports. Why not hold a similar event in Los Angeles?
With the help of a couple officials from the Endeavor Games, Angel City Sports was created in 2013 to provide a local option for people with disabilities in Southern California to participate in adaptive sports.
The goal was to offer clinics, equipment and competitive opportunities for all. The organization held its first Angel City Games, a two-day affair, in 2015 with 150 athletes coming together to compete in track and field and wheelchair basketball. Celebrities Adam Sandler and Christian Bale and some professional athletes cheered the adaptive athletes on, and participated in a celebrity wheelchair basketball game.
Providing a place for adaptive athletes to play was in line with the things the Frechs wanted for Ezra ever since he was born.
Clayton and wife Bahar Soomekh were unaware their son would be missing a few bones in his body. The previous ultrasound scans did not find any abnormalities with Ezra, and everything seemed fine.
Still, Ezra was born without his left knee and fibula and some fingers on his left hand. After his birth, Clayton and Bahar developed a plan moving forward to ensure Ezra would live a normal life, though questions remained for the first-time parents.
"Children are blessed because they get a lot of attention," Clayton said. "They're also blessed because they get this asymmetrical experience; you don't know how to raise a child yet."
When Ezra started crawling, Clayton had a realization: Ezra did not have a single ball to play with. This was a "rookie mistake," Clayton, a big surfer and lover of sports, said. He went to Toys 'R' Us, and bought his son a soft and small soccer-like ball.
"You would have thought I brought home a rainbow with a pot of gold at the bottom," Clayton recalls. "This kid went berserk for this ball. … We're just throwing the ball, rolling the ball back and forth, and, honestly, he was hooked on sports. It was never a question."
That purchase and watching basketball lit a fire inside Ezra, though Clayton still felt his own internal fire was in a state of disarray. His vision of fatherhood was not matching up with his reality. He envisioned himself surfing with his son, and traveling the world together.
Clayton "bottomed out" in his first summer as a dad, and he found himself in tears while out surfing.
"I didn't really understand what was possible for my kid," he said. "Then I thought, 'How am I supposed to parent?' I didn't understand my parental journey yet. I would just go, 'What happened here?'"
Clayton Googled "amputee surfing" one day, and learned of a couple small organizations that might bring his dream to fruition. These organizations weren't exactly responsive, and he decided to reach out to the Challenged Athletes Foundation, one of the largest adaptive sport nonprofits in the country. It is headquartered in San Diego.


The CAF invited Ezra, 5 at the time, and Clayton to connect with a Brazilian surfer in town for an upcoming triathlon competition. The surfer was nicknamed "The Pirate" for the wooden prosthetic leg he created for himself. "I went surfing with (him)," Clayton said. "He changed my life. He had Ezra's exact disability"
Ezra became more involved with CAF events, attended the Endeavor Games, and started spending time with Paralympians Scout Bassett and David Wagner. Bassett is a Rio 2016 Paralympian in long jump, and Wagner is a three-time Paralympic gold medalist in wheelchair tennis. Clayton wanted to bring this talent and opportunity back home, where Ezra could thrive even more.


Ezra went on to compete at the Tokyo Games as a 16-year-old, and is expected to become one of the greats. As his talents grow and take off, Angel City will only grow with him. In 2020, Angel City held more than 100 clinics and helped hundreds of athletes.