U.S. Wheelchair Racers Do Double Duty Like No Other In Chicago And Boston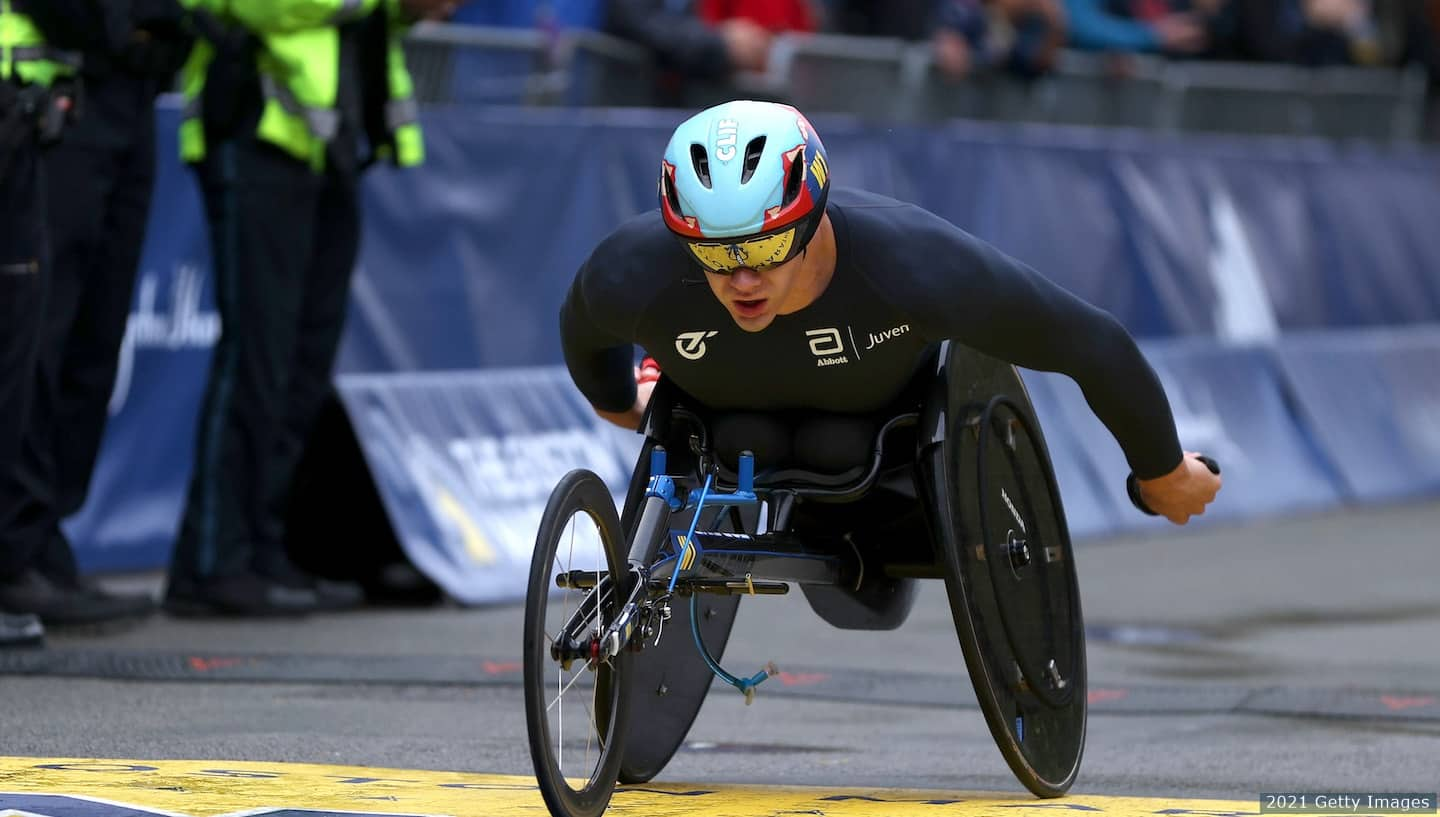 Daniel Romanchuk crosses the finish line at the 125th Boston Marathon. (Photo: Maddie Meyer/Getty Images)
It might never happen again, and that would be just fine with Tatyana McFadden and Daniel Romanchuk of Team USA.
A day after they both won their wheelchair divisions in the Chicago Marathon, McFadden and Romanchuk were back in their racing chairs for the 125th Boston Marathon on Monday. Both placed second in a remarkable show of endurance.
"It was tough," the 32-year-old McFadden told Boston's WBZ TV after the race. "I don't know why I thought this was a good idea — 52.4 miles in 24 hours, but I felt 'Boston Strong' today. This was quite a challenge, and (I was) the only elite female athlete to do it. I was up for it, so I'm pretty happy with second today. I cannot complain.
"I'm in pain. My back really hurts. But I'm so glad I did it. I know that I can do it, and so it's going to look bright for the future of my training."
Romanchuk, 23, won the last Boston, which was held 910 days before the 2021 edition because of the delay due to the pandemic. He said the quick turnaround after Chicago wasn't going to deter him.
"I can't miss any of those majors," Romanchuk told the TV station. "I grew up hearing stories about Boston. My youth coaches are both from Boston, so I just can't miss it.
"We really didn't know what to expect going into this, and (I was) just trying to fuel and rehydrate as fast as I could. Hopefully, we won't have to do this again."
Romanchuk, who had defeated Marcel Hug of Switzerland in Chicago the previous day, switched finishing places with his main rival at Boston. His time of 1 hour, 25 minutes, 46 seconds was 7:35 behind the victorious Hug.
Romanchuk had won for a third time in Chicago and now has wins in seven of the World Marathon Majors to his credit. He brought home a bronze medal this summer from the Paralympic marathon in Tokyo, where he added a gold medal in the 400-meter.
McFadden, a five-time champion at Boston, finished behind Switzerland's Manuela Schar, who had passed up Chicago to focus on Boston. Schar crossed the line on Boylston Street in 1:35:21, McFadden in 1:50:20.
Her Chicago victory was her ninth there and the 24th major marathon win for McFadden, who has also claimed 20 medals over six Paralympic Games, including one in Nordic skiing.
McFadden and Romanchuk weren't the only U.S. Paralympians to pull off this week's back-to-back feat.
In the women's wheelchair division, Yen Hoang (1:51:24) and Jenna Fesemyer (1:59:51), were third and sixth, respectively, at Boston. They had placed second and third in Chicago.
Among the men, Aaron Pike finished fourth in 1:28:55 after a third place showing in Chicago.
"This was definitely an extra, extra challenge," McFadden said of the Chicago-Boston double. "I thought, 'What the heck, sign me up for all of them. This is going to be awesome.'"
McFadden was referring to the five major marathons — Berlin, London, Chicago, Boston and New York – that were scheduled within 42 days this fall because of postponements due to COVID-19. She had medal finishes in the first four, which took place over a span of 16 days. The New York Marathon is Nov. 7.
"I podiumed in all of them, and a great win yesterday, second place today," McFadden said. "It's been an incredible year — three medals in the Paralympics. The season is ending, but it's ending on a high note.
"It's … special running these marathons this year, especially after COVID last year. A lot of us went through hardships. So, we're reunited by running again, and I think we always will be.
"I think Boston is a community where we can all come together from around the world. Everyone was cheering at every single mile. The energy was just incredible throughout the whole course."
McFadden said she was really feeling the effort at the 20-mile mark.
"But I'll come back, and I'll win this race again," she said. "I love coming back to Boston. I would never miss it. I'm so happy I came."
Romanchuk pointed out that conditions were good at Boston.
"Not too windy, it's just an overall great day," he said. "We really enjoy coming to these races. It's amazing to be back."
Bob Reinert spent 17 years writing sports for The Boston Globe. He also served as a sports information director at Saint Anselm College and Phillips Exeter Academy. He is a contributor to USParaTrackAndField.org on behalf of Red Line Editorial, Inc.