Family And Extended Family Support Pushed Mike Gallardo To Paralympic Games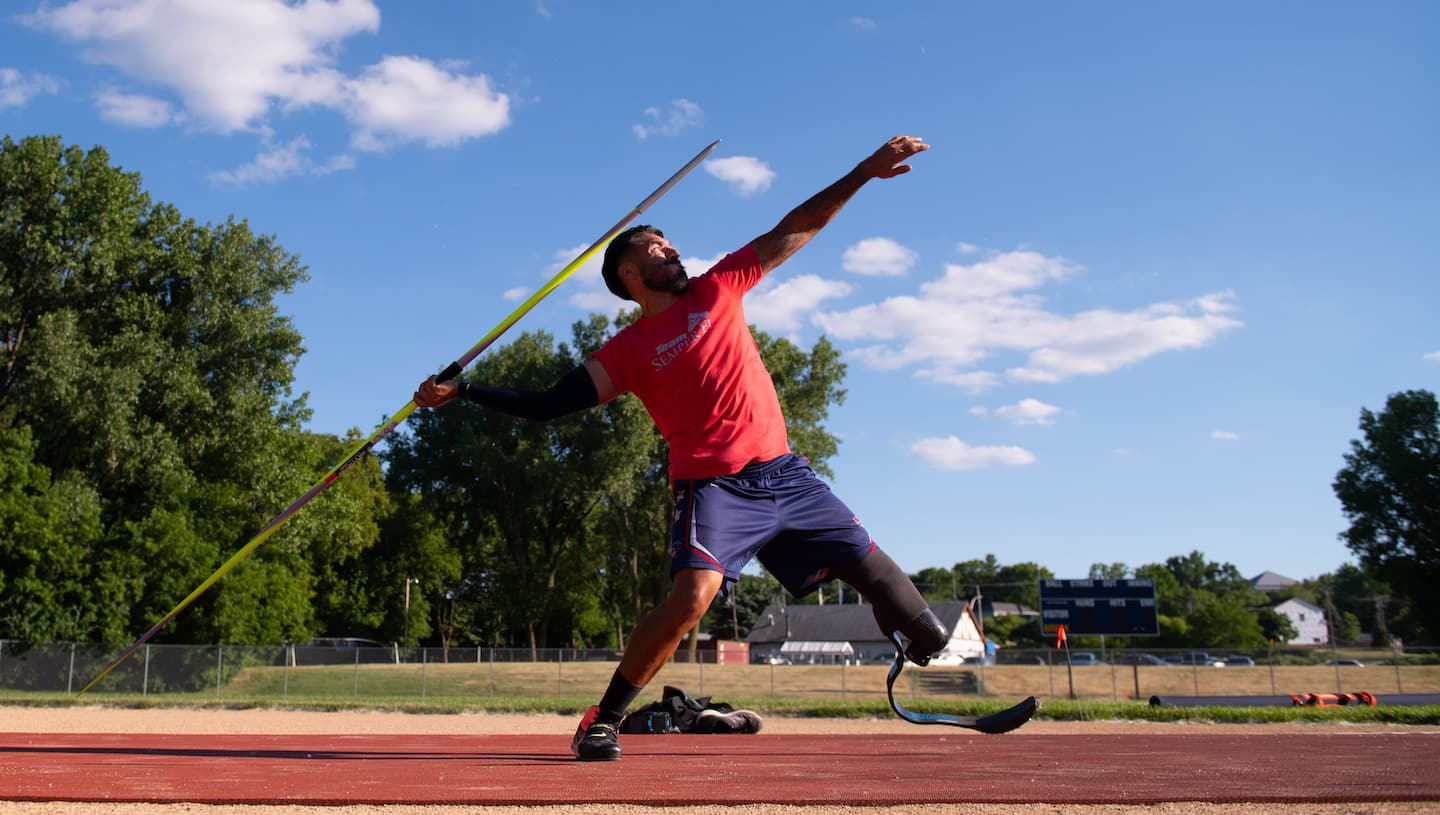 Mike Gallardo competes in javelin at the U.S. Paralympics Track & Field Team Trials in June 2021. (Photo: Mark Reis)
When Mike Gallardo threw the javelin in the F64 category at the Paralympic Games Tokyo 2020 in August, no spectators were allowed. Not his two young sons, Tristan and Oliver. No other family or friends.
But Gallardo was buoyed by the support from afar from his family and from his fellow U.S. Army veterans, he said, who helped push him to the success he has enjoyed. That veteran family was with him all the way for support as he pushed to make his Paralympic debut in Tokyo. Gallardo speaks to the members of his platoon regularly.
"(They) kept calling me and kept pushing me even on the days that I didn't want to train or didn't want to throw," he said.
In turn, Gallardo hopes that his achievements in sport allow other wounded veterans an opportunity to dream beyond their injuries.
Gallardo, whose birthday is Sept. 11, joined the Army after feeling compelled by the events of that day in 2001, during his senior year of high school. He turned down a college baseball scholarship to do so. He survived 26 IED blasts while deployed. But in January 2007, on his first combat tour in Iraq, Gallardo's right Achilles tendon was injured when he ran the Humvee in which he served as a gunner over two IEDs. He had done so on purpose, hoping the tire would take the brunt and save lives in the battalion of vehicles behind them. It did, but it forever changed his. He had the leg amputated below the knee nine months later. He received a Purple Heart for his service.
But doctors told him he wouldn't run again. Gallardo became depressed and self-medicated by drinking. But he saw other wounded veterans he knew turn to drugs and alcohol, and some died by suicide. Gallardo knew he needed to fight the prognosis he was given. He channeled his mom, Debbie, who raised him and his two brothers as a single mom and who died of cancer when Gallardo was 10. Her mantra was "don't quit."
Hoping to inspire other veterans with injuries like his, Gallardo trained for and finished the Ironman Kona in 15 hours and 36 minutes just nine months after his amputation. He then began competing in CrossFit.
That led him to pursue his dream of competing at the Paralympic Games. Though he began running track, he switched to the javelin after discovering that his baseball skills transferred well. His coach, Erica Wheeler, competed in the javelin at the 1996 Olympic Games. Gallardo gave up his work as a graphic designer with the MLB Network, for which he had won an Emmy, to train full time with Wheeler. Letting his baseball dream go to fuel another had become a theme in Gallardo's life. But he said it was important to him to show his fellow veterans a new way to live after service and even after life-changing injury.
"It's just showing them that they could do anything they want to do. You can put your mind to it and, you know, focus on your goal and then just complete it," he said. "It's more than just Team USA."
The training meant time away from his sons, who are 10 and 8.
"I couldn't do it without their support," he said.
Oliver, his youngest, helped Gallardo monitor his cookie intake with an eye on the prize.
"Cookies are my weakness," Gallardo said. "There'll be some times where I grab a cookie and Oliver will be like, you gotta be strong. You gotta go really far."
Gallardo hopes his sons are also learning that mantra of tenacity, handed down from his mother. He wants them to see all the possibilities around them.
"Anything is possible as long as you put your mind to it and you really go after it, you can accomplish anything. And if you fail, you know, you're gonna fall down, and all you do is you get back up and you keep trying and keep going."
In Tokyo, Gallardo finished 7th. He said he was nervous at first, but left it all out on the field.
"It's hard to describe the feeling," he said. "You get those butterflies but you go out there and compete, and you know, I just laid it all on the line and just really gave it my all."