Racing Goes Well With Josh George's Barbecue Business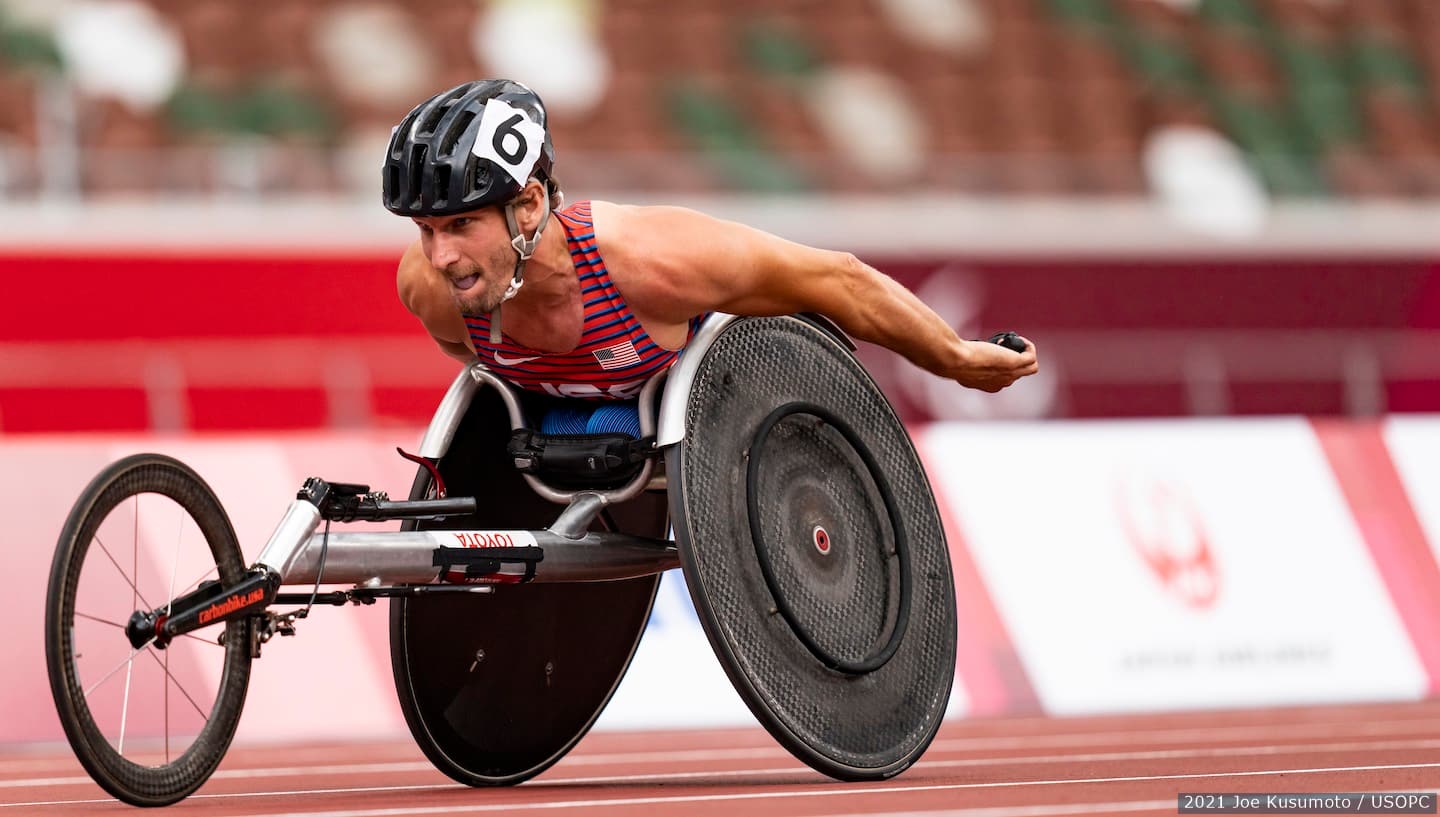 Josh George competes at the Paralympic Games Tokyo 2020. (Photo Joe Kusumoto)
While brisket, pulled pork and an array of barbecue delights roasted on grills for 12 to 16 hours before the Paralympic Games Tokyo 2020, Josh George nestled in six to eight rounds of training a week.
"I would go knock out a hard workout in the morning, grab something to eat as I was driving to the restaurant, and then work anywhere from eight to 12 hours in the restaurant, go to bed, and do it again," George said. "That's not exactly a schedule to maintain an elite level of athletics."
George, his brother, Jeremy, and Jeremy's wife, Mckenzie, split the ownership of Smokin J's, a barbecue restaurant in the San Diego suburb of Poway that serves the aforementioned favorites and much more, all slow-cooked. It takes a half a day or longer for the meats to cook on smokers that are fueled by white oak.
The restaurant was founded by Jeremy and Mckenzie in January 2017 as a mobile food business that would dish out food from makeshift tents around San Diego County. Josh, at the time, was still living in Australia. After some convincing from his brother, he moved to San Diego, and became the third owner of Smokin J's.
"My first task, when I moved to California, was to hit the road," Josh said. "Go to all the apartment complexes I could find, and try to get us on their food truck schedule."
Serving apartments became lucrative as Smokin J's began to take off. The business did not have a traditional food truck, instead setting up a tent and smoker on the apartments' property and serving residents. Smokin J's started doing 50-plus gigs a month, and they expanded out to three smokers and three separate teams of cooks and cashiers.
That growth led Smokin J's to open a brick and mortar restaurant and stop its mobile business. Three months later, the COVID-19 pandemic forced shutdowns of indoor dining, meaning Josh and the team had to adapt.
"When a new round of restrictions came in, we could change our operations in a day, and it wouldn't take us any time at all to adapt to restrictions," Josh said.
They pushed carryouts and online orders, and fed and grew off the customer base they spent the three years prior establishing. They went on to have a successful 2020.
As the restaurant expanded, Josh's racing took a hit. With 12- to 16-hour workdays, he noticed it was harder to maintain healthy habits — like resting, recovering, and eating right.
After making the Tokyo Games by the "skin of my teeth," Josh said he is now going to focus on Smokin J's for some time.
"It's just all kind of weighed on me mentally and physically," he said.
That doesn't mean a vacation or break from any high-demand work.
"This past month we were doing major renovations to the restaurant, expanding it, making it nicer, drastically improving the customer experience," Josh said. For that entire month, I don't think there was a single day, where Jeremy, his wife or myself weren't at the restaurant. We weren't taking days off."
Over the years, Josh said Smokin J's' customers have taken an interest in his athletic background. He, too, has found a way to serve the customers slices of Team USA.
Before the Tokyo Games, Josh invited Olympians and Paralympians from the USOPC training center in nearby Chula Vista to Smokin J's. In exchange for free barbecue, they spoke about their Olympic and Paralympic journeys and took questions from those in attendance.
"It turned out to be a super successful evening," Josh said.
He said his experience on Team USA helped him mentally prepare for the demands of running a business. While having the ability to push a wheelchair fast is not necessarily advantageous for Smokin J's, the mental skills he learned racing are.
"There will never be an occasion in business that gets me as nervous as I was before major marathons," he said. "All of that mental preparation to be able to handle these moments actually does cross over into being able to handle the business world when every other day something catches fire. … Instead of flailing around and not being able to control your emotions and your nerves, I am able to very calmly and collectively step back and assess the situation."