Hannah Dederick Continues Quick Rise In Track With Paralympic Debut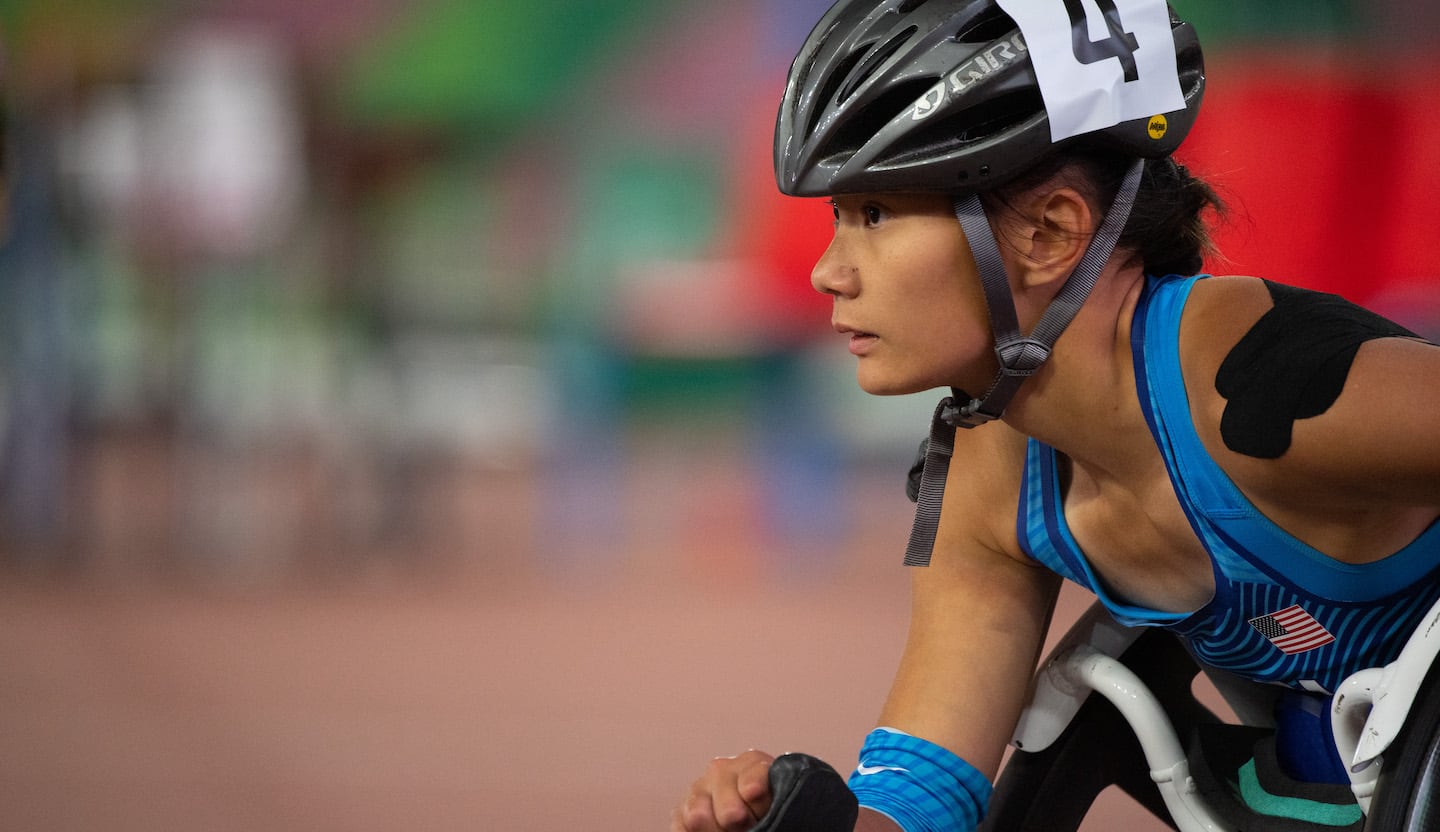 Hannah Dederick competesin wheelchair racing in 2019. (Photo: Mark Reis)
Hannah Dederick graduated from high school in Spokane Valley, Washington, in the spring, and this fall, she's beginning her college career at the University of Illinois.
But she had an even bigger milestone event in between.
Dederick, 18, was the youngest athlete on the U.S. track team at the Paralympic Games Tokyo 2020, her first, competing in the 100- and 400-meter races. There she shared the track with such established Team USA names as two-time Paralympic gold medalist Cheri Madsen and eight-time gold medalist Tatyana McFadden. And Dederick more than held her own, making the final in the 100 and finishing fourth, just three-thousandths of a second behind Madsen.
Dederick began wheelchair track and wheelchair basketball with her club team, ParaSport Spokane, at age 12, after a recommendation from her care team at Shriners Hospital for Children — Spokane. After just four years, she competed at a world championships, and after six (including the year of postponement), she was headed to the Paralympic Games.
Dederick was born in 2003 in China with spina bifida and was abandoned as a baby, then lived in an orphanage. While there, she underwent corrective surgery on her spine but was left a paraplegic. She was adopted by an American family living in China when she was 3; her mother, Lori, was a volunteer at the orphanage where Hannah lived and met her there. Hannah has five siblings. The Dedericks moved to Alabama in 2006, then to Spokane in 2012.
Once she began racing, Dederick progressed quickly. In 2017, she made the World Para Athletics Junior Championships team for the U.S. and won gold in the 100, 200, 400 and 800 (and a silver in the 1500); she repeated as a gold medalist in all four of those events at the 2019 junior worlds. She said she knew she was good and had made quick progress, but had never tested herself at the elite level.
"It was very nerve-wracking," she said of her first junior world championships. "I never raced outside the country and never raced against people from other countries. But once I started one event, I became more comfortable."


In 2019, she also competed in the World Para Athletics Championships in Dubai, where she finished 6th in the 100 with a personal record of 16.77 seconds.
"I knew it was going to get better and I was going to get fast if I continued," she said of her world championships finish.
At the U.S. Paralympic Team Trials in June, Dederick edged out Madsen by 1/100 of a second to win the 100, matching her time from Dubai. The 100, she said, is both her strongest and favorite event. She made it her goal to qualify for Tokyo after her junior worlds win in 2017, she said. "It's a dream come true."
She finished third in the 400 in 55.49, behind McFadden and Madsen.
The COVID-19 pandemic and subsequent postponement of the Games meant that Dederick got inside her own head a bit. Adjusting to remote school was hard, she said, with sometimes day-to-day changes in her schedule, and 2020 was her toughest year of training.
"I had a lot of mental things going on in my head with training," she said. "It was hard all around."
She was back on schedule in 2021, and said she was able to refocus on qualifying for Tokyo. She was able to do a chunk of her training at Central Valley High School, where she raced track and cross country. She holds Washington state high school records in the 100, 400 and 800.
Dederick credits her club coach with ParaSport Spokane, Teresa Skinner, for keeping her on track for Tokyo.
"Making (the Paralympic) team means a lot before going to college, having my coach be a part of this journey and to experience these last few races as her athlete," Dederick said.
Next up for Dederick is racing with Illinois, which has one of the top wheelchair athletic programs in the U.S. She will do so having just raced against some of the best in the world in Tokyo.
"I'm very new to racing against these elite racers," Dederick said. "They're incredible athletes and incredible people."