Veteran Scot Severn 'Still Serves' In Different Uniform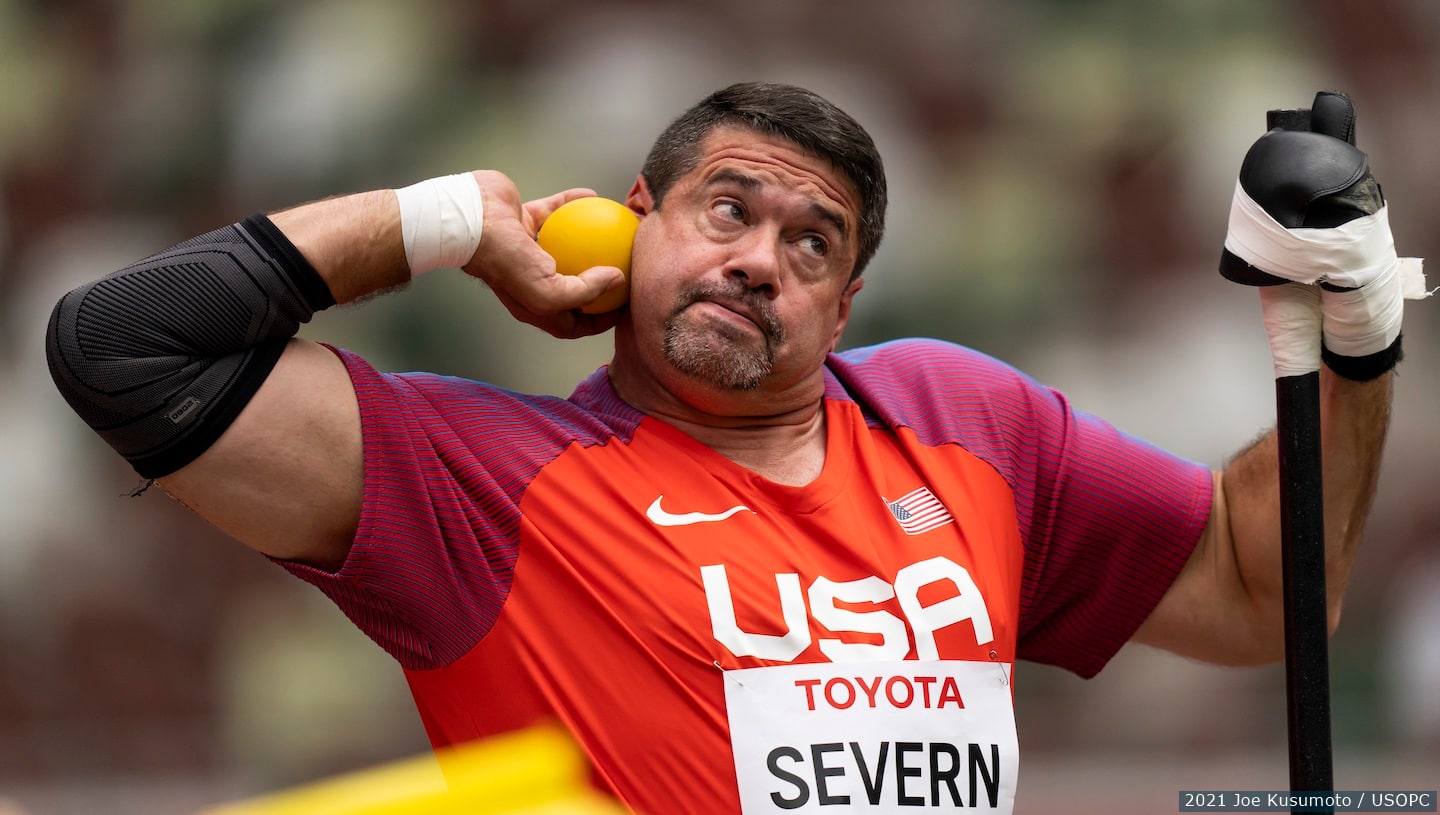 Scot Severn competes in shot put at the Paralympic Games Tokyo 2020. (Photo: Joe Kusumoto)
The list of unfinished business is pretty short for an athlete who's won two Paralympic medals across four Paralympic Games.
But for Scot Severn, a 53-year-old shot putter who recently came home from his fourth Games in Tokyo, there's still much to be done. When we spoke, the thrower was busy "taking care of some leaves" at his Michigan home. His manner unassuming, you would never guess that the U.S. Army Reserves veteran is also a legendary Para athlete. But what comes through loud and clear is his passion, for advocating for veterans who are paralyzed like him and for the sport that has given him so much.
Today, long after most athletes have hung up their sneakers, Severn still has unfinished business with both.
Severn wasn't athletic as a kid — he didn't play sports in high school — so it's a wonder that at 53, that's where his legacy lies. For a while, he thought the military was his calling: As a college student in the 1980s, Severn took ROTC classes at Saginaw Valley State University, and enlisted in the U.S. Army Reserves because, as he said, "I just wanted extra money to pay for college." During his service, he became injured in a freak accident — he was struck by lightning, thrown 40 feet into the air, and left paralyzed.
Fourteen years went by, and Severn's life moved forward, though it would be a while before throwing made an appearance.
"I finished up college, got married, had three kids," he said.
The only sport he did was league bowling, until he was recruited to start doing wheelchair sports while competing at a bowling tournament. Wheelchair rugby became his new passion. By that time, though, he was in his 30s, and when he tried out for the national team, "I was kind of told that I was basically too old."
Luckily, he had a fallback. Severn had tried different sports through his competitive experience in wheelchair games, and one stood out — as it turned out, Severn was a gifted thrower. So gifted, in fact, that when he flew to Arizona for the U.S. Paralympic Team Trials in 2008, he made the team.
With the Paralympic Games on the horizon, Severn's life started to look quite different.
"It made my life very busy," he said. "I had three young kids at home; I was doing wheelchair rugby just about every other weekend in the wintertime."
His family became involved in his new career, helping him with throwing practice in the backyard or at gym sessions.
The hard work paid off: Severn has competed in four Games so far, from 2008 to 2020, and has silver and bronze medals in addition to four world silver medals. That, Severn said, is part of what's made throwing so fulfilling.
"I'm good at it," he said. "And I just like to excel and be the best that I can at whatever I'm doing."
Unfortunately, that doesn't extend to his performance at the latest Paralympic Games in Tokyo. As he described it, Severn has been "stuck on silver" for most of his career, and hoped to earn gold in Tokyo after earning a worlds silver in 2019. Instead, he finished off the podium entirely.
"Gold was my original goal," he said. "But at the beginning of this year things just weren't going very well and I figured just to medal would be great. But I didn't even do that."
Now, he sets his sights on the future.
"I want to be known as somebody who was around for a long time and successful," he said.
If he knows that he's already accomplished that, he doesn't show it. Severn has no intention of retiring, at least not until after the Games return to Los Angeles in 2028, when he'll be 60.
"But right now I've got to figure out what's going on with my body and why I kind of failed this year at my goals," he said.
He has goals outside the sport as well, like getting more and more people in wheelchairs involved in the sports that have done so much for him. As the sports director at Michigan Paralyzed Veterans of America, Severn hosts throwing clinics and partners with other organizations around the state, sponsoring wheelchair events. He's proud of the work he's done. But his biggest hurdle today is bringing attendance back up after the COVID-19 pandemic canceled so many events. After canceling an event one year, he said, "it's hard to bring it back." He hopes to see attendance go back up soon, to see more wheelchairs at Para events, and to see more veterans get involved in the sport.
That's in part because, as a veteran himself, he understands everything they go through.
"Any veteran has signed up to serve his country; basically, they've signed up to die for their country," he said. "Nowhere in that contract does it say you're going to sign up to be disabled for your country."
Now, through his throwing as well as his off-field advocacy, he's still able to make a huge difference. "I just wear a different uniform than I did in the Army. I still serve."
Jessica Taylor Price is a sportswriter from Somerville, Massachusetts, whose work has appeared in various publications. She is a freelance contributor to USParaTrackandField.org on behalf of Red Line Editorial, Inc.