McFadden, Romanchuk end historic 2021 marathon season with podium appearances in New York City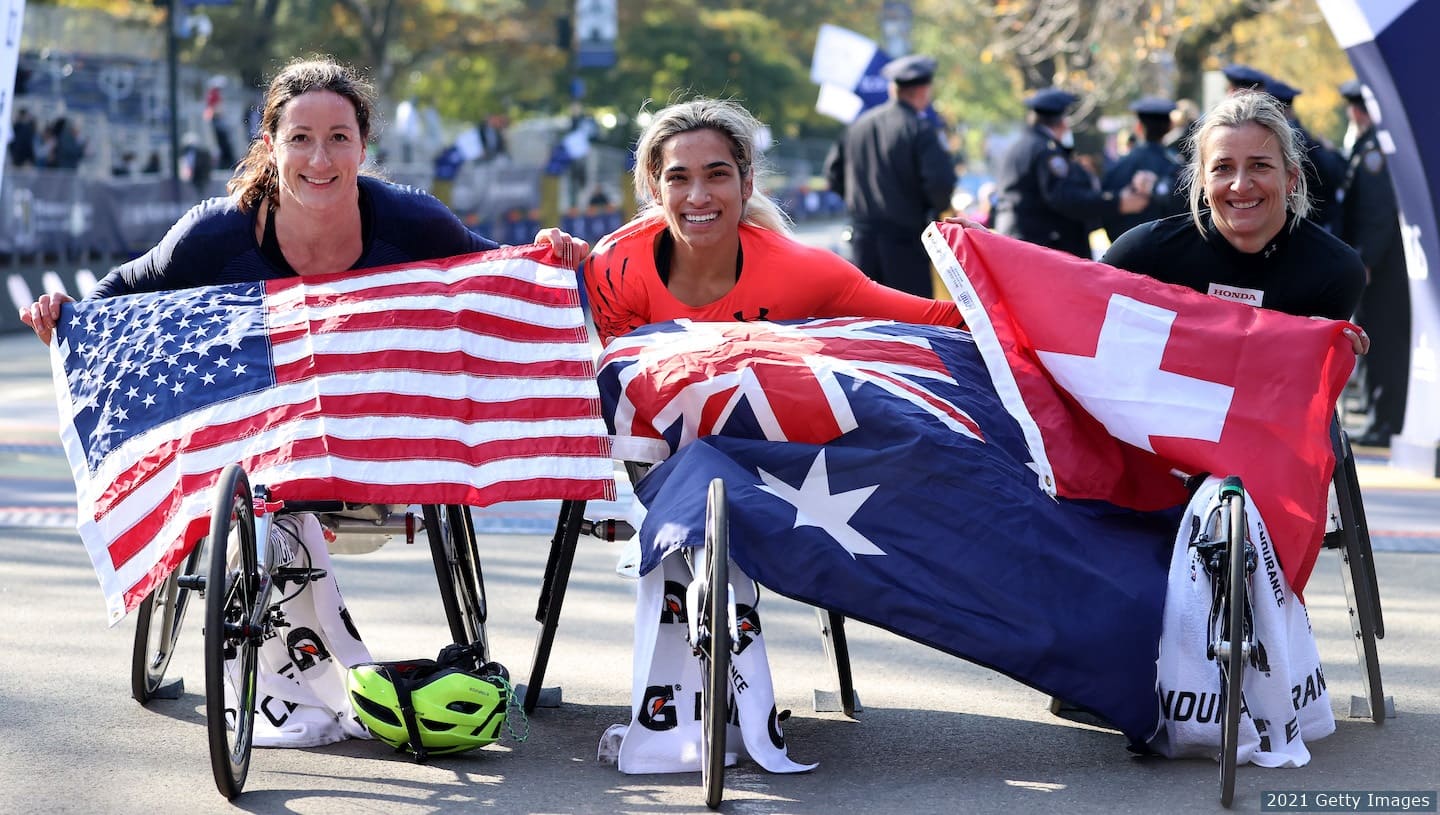 Tatyana McFadden, Australia's Madison de Rozario and Switzerland's Manuela Schär pose with their country's flags. (Photo: Getty Images)
Daniel Romanchuk is happy with his 2021 marathon season, but he hopes he never has to do it this way again.
After rounding out the Paralympic Games Tokyo 2020 with the men's marathon T54, Romanchuk and several of his U.S. teammates have been on a tear, racing up to six marathons each since early September.
The grueling season culminated with a final podium for both Romanchuk and 20-time Paralympic medalist Tatyana McFadden, who placed third and second, respectively, in the TCS New York City Marathon on Sunday. The 2021 marathon season – condensed into just over two months due to last spring's COVID-19 postponements – saw Team USA athletes compete at the Paralympics in Tokyo, followed by Berlin, London, Chicago, Boston and finally New York.
In the middle of the season, McFadden and Romanchuk, along with fellow national team members Yen Hoang, Aaron Pike and Jenna Fesemyer, competed in the Chicago and Boston marathons on back-to-back days.
"It's certainly been busy," said Romanchuk. "When everyone started to reschedule their marathons to the fall, it started to look a little busy, then it was 'Okay, this could be really busy.' Then there came a point where it was like 'Okay, this is hopefully only going to happen once.'"
Six marathons in two months may be a feat Romanchuk hopes to only conquer once, but you wouldn't know it by looking at his results. After earning a Paralympic bronze in the marathon in Tokyo, Romanchuk raced his way to podiums in all five of his subsequent marathons, including a win in Chicago. The 23-year-old finished second in the Abbott World Marathon Majors rankings behind only Switzerland's Marcel Hug, who won Sunday's race.
Pike, who is also on the U.S. Paralympic Nordic Skiing national team and is training for the Paralympic Winter Games Beijing 2022, also had a stellar marathon season, finishing on the podium in Chicago and just missing it in Boston and London.
Romanchuk said he is looking forward to the offseason and a couple months of rest and training before competitions pick back up again in the spring. His packed schedule over the past few months was something he said he'll never forget.
"We love all of the races," he said. "It was a historic set of events this year, and I wouldn't want to have missed any of them."
The 32-year-old McFadden, who brought home three medals from Tokyo, rebounded from fifth in the Paralympic marathon to medal in her other five marathons this season, snagging a second-place finish in the Abbott World Marathon Majors rankings.
Highlighting her season was a dominant Chicago race, in which she led an American podium sweep that also saw Hoang take second and Fesemyer third. McFadden and Hoang went on to take second and third, respectively, in Boston the next day, and McFadden also finished second in Berlin and New York and third in London.
McFadden was happy with her performance in New York on Sunday to conclude her season. She said the hilly course plays into her strengths, particularly at the start on the Verrazano Bridge and in the last few miles, where she was able to edge Swiss star Manuela Schär in a tightly contested finish.
"I'm really proud of my goals today," she said. "I really like this race, and I like ending the season in New York. It's been a good year, it's been a fun year, and it's been nice getting back into the swing of things."
In addition to the major marathons and other meets in 2022, U.S. Paralympic Track & Field athletes will also look to qualify for next year's world championships in Kobe, Japan, in August 2022. With a packed schedule again next year, the distance athletes will look forward to what will hopefully be a more normal marathon schedule in 2022.
"This season been tough and unique, but I'm an athlete that thrives on competition, so each marathon was just a chance to refocus," McFadden said. "I feel like each race gets better and better for me. But I'm also exhausted and definitely ready for the holidays."