The Track And Field Roundup For November 3 2021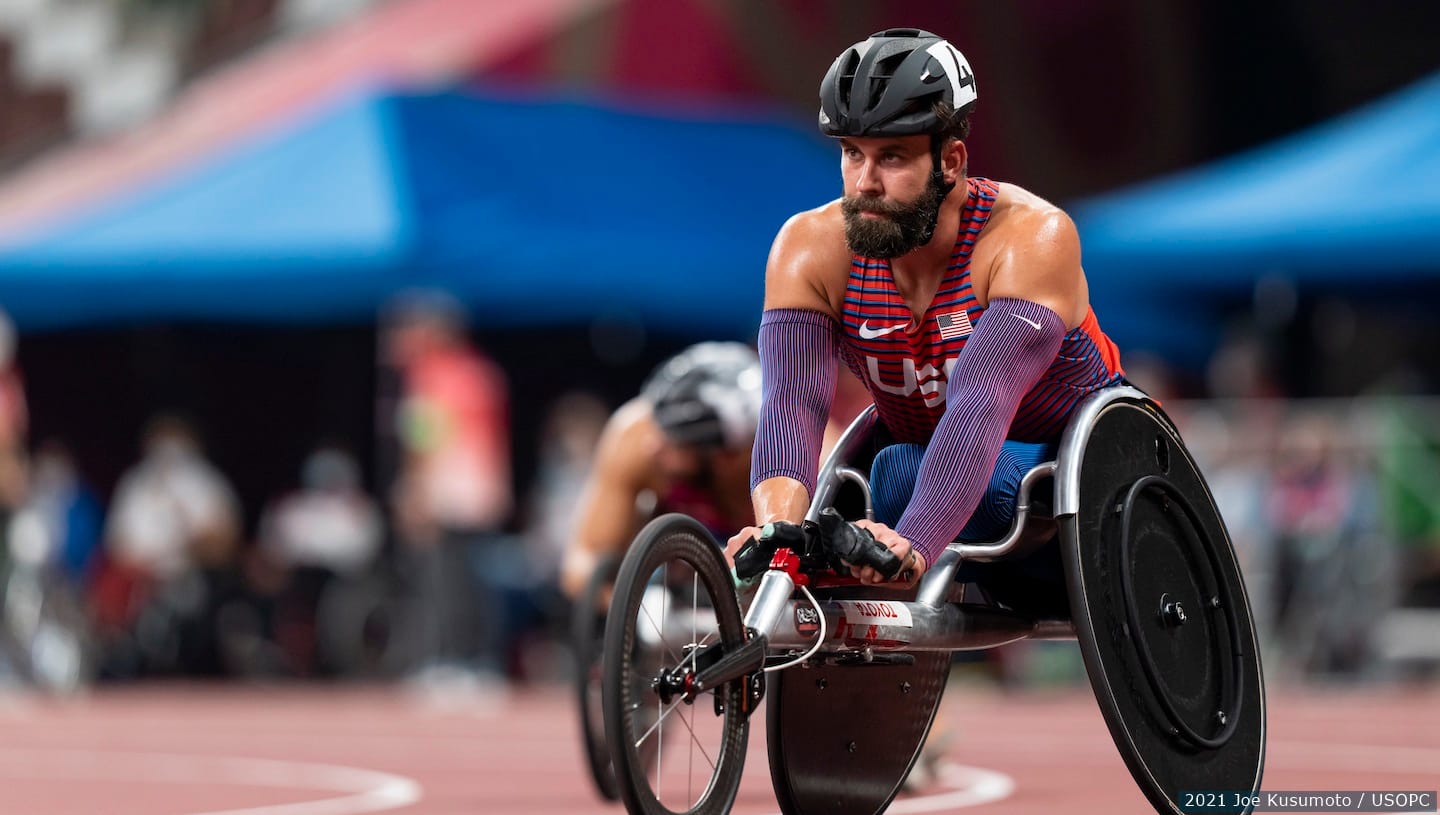 Aaron Pike looks up at the scoreboard after competing in wheelchair racing at the Tokyo Paralympics. (Photo: Joe Kusumoto)
Every other week we scour the web for the latest going on in the world of U.S. Para track and field. Here's what you missed!
Social Media Roundup
Aaron Pike was one of the members of Team USA to take part in the London, Chicago and Boston marathons, and posted a video of what that monumental challenge was like.
And speaking of huge physical challenges, Femita Ayanbeku ascended 86 flights of stairs, or 1.576 steps, to the top of the Empire State Building on Oct. 28. She also got to ring the bell at the New York Stock Exchange.
"A very eventful week to say the least!"
***
Several members of the U.S. Para track and field team got into the Halloween spirit, such as Hunter Woodhall who went as an astronaut. Erin Kerkhoff was a pirate. Dani Aravich channeled Jamie Lannister from "Game of Thrones." And Luis Puertas gave his kids a little scare.
***
Justin Phongsavanh and Kym and Erik Hightower received the Trail Blazers Award from the Challenged Athletes Foundation for their work coaching adaptive high school sports in Southern California over the past two years.
"Coaching what could be the next generation of Paralympians in sprints, wheelchair racing and seated throws is a privilege and wouldn't (have) been possible without the unconditional support of Challenged Athletes Foundation and the incredible staff and donors," Phongsavanh wrote.
***
Georgia alum Jarryd Wallace was recognized at a Bulldogs football game along with the school's other Olympians and Paralympians.
***
Indiana native Sam Grewe was given a special honor as the recipient of the Sagamore of the Wabash award, "The highest honor bestowed upon a Hoosier," Grewe wrote. "This award is given to Hoosiers who are 'distinguished by his (her) humanity in living, his loyalty in friendship, his wisdom in council, and his inspiration in leadership.' Thank you (Indiana Governor Eric Holcomb) for granting me this special privilege."
***
Noelle Lambert is already in the swing of winter sports, hitting the slopes for some snowboarding runs.
***
Tatyana McFadden now has some more hardware to display alongside all those Paralympic medals, the Sports Emmy award for her documentary "Rising Phoenix."
***
High jump to the top shelf at the grocery store isn't yet a Paralympic event. But should it be added to the program, look for Hagan Landry to bring home the gold.
***
A few Team USA athletes made the highlight reel of the IPC's "funniest moments" from Tokyo, including Roderick Townsend's, "I crown myself the champion" moment, championship belt and all, after winning gold.
***
Lex Gillette celebrated birthday No. 37 on Oct. 19.
In the News
Hunter Woodhall and fiancée Tara Davis were guests on "The Ellen Degeneres Show" on Oct. 19, discussing their respective Paralympic and Olympic performances plus the exciting news of their engagement. "Ellen" is familiar ground for Woodhall, who first went on the show back in January 2020 after a TikTok he made telling his life story went viral.
Woodhall and Davis famously celebrated Davis' clinching an Olympic berth while wearing cowboy hats, so Degeneres prepared Mr. and Mrs. hats for their wedding, complete with an accompanying veil on Davis's white version. But that wasn't all. They also got a honeymoon to St. Croix in the U.S. Virgin Islands.
***
Zion Clark is a Paralympic hopeful in wheelchair racing, nearly making the team for Tokyo at this summer's U.S. Paralympic Team Trials. But the 24-year-old has even bigger goals in mind. The 24-year-old wants to become the first American to compete in both the Olympic and Paralympic Games. A star wrestler in high school, Clark planned to attend the Olympic trials for wrestling before sustaining a shoulder injury. Clark also plans to pursue a career in mixed martial arts.
***
Jarryd Wallace is one of the keynote speakers at the Bicycle Leadership Conference presented by PeopleForBikes. The virtual conference brings together people from around the bike industry to discuss issues of the day.