Keep An Eye On These Eight Women At Para Track Trials In Minneapolis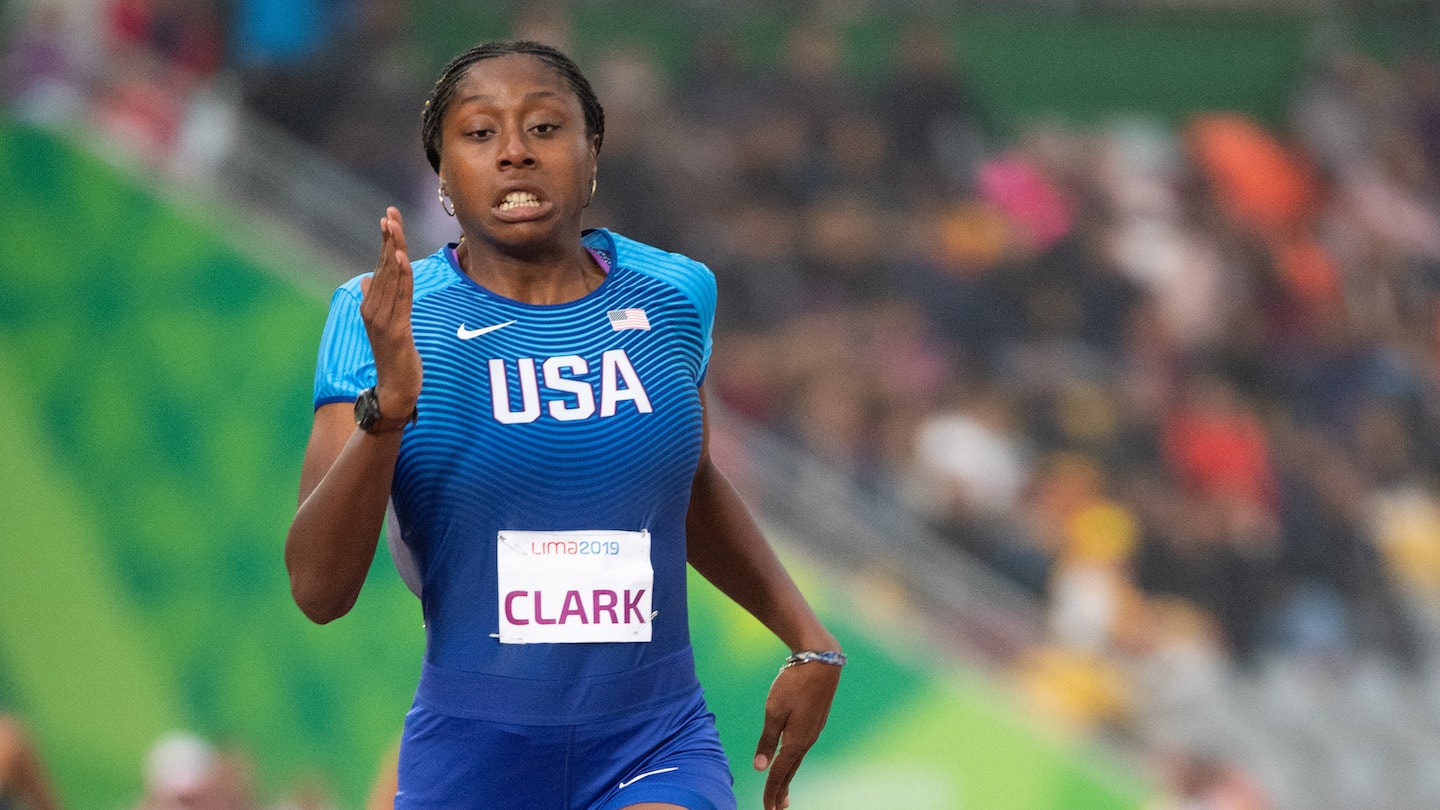 Breanna Clark competes at the 2019 Parapan American Games in Lima, Peru. (Photo: Mark Reis)
From June 17-20 in Minneapolis, the nation's fastest and strongest women will take part in the U.S. Paralympic Team Trials for Track and Field to qualify for the Paralympic Games Tokyo 2020.
Here's a look at some of the women who could make the biggest headlines in Minneapolis, as well as Tokyo later on this summer.
The Los Angeles native will be aiming to qualify for her second Paralympic Games after winning gold at the Rio 2016 Games over 400 meters. Her medal in Rio came exactly 40 years after her mother, Rosalyn, won a silver medal for Team USA at the 1976 Olympic Games in the 400 and 4x400. Breanna's achievement also marked the first Paralympic medal by an American woman with an intellectual disability. Entering this season, Clark is the two-time defending world champion in the 400 and is the world record-holder at the distance in the T20 classification.
Nicknamed "The Flash," the T13 athlete won bronze in the 100 at the Rio 2016 Games and silver at the 2019 world championships. Now, she is returning from an injury and hopeful for gold in Tokyo.Born with albinism and with 20/400 vision in both her eyes, she is married to U.S. Paralympic track and field teammate Erik Hightower and idolizes U.S. sprinter Allyson Felix as her hero.
Competing in the sprint and middle-distance wheelchair events, she was the youngest American at the Rio 2016 Games, winning two silvers and a bronze at age 16. It has been a quick journey from learning about wheelchair racing as a kid at a farmer's market in Oklahoma to now training with the prestigious University of Illinois program; and four years post-Rio she is expected to steal the headlines.
The Cleveland native played a wide range of sports growing up, including gymnastics, swimming, dance, basketball and track, and shortly after settling on track sprinted to gold at her first world championships in 2019 in the 100-meter dash. She regularly finished on the podium as a member of Eastern University's Division I track team before being classified as a T47 Para athlete and going on to compete internationally in 2019. She now hopes to qualify for her first Paralympic Games and use her platform to inspire other children with Erb's palsy.
With 17 Paralympic medals and 22 major marathon titles, the queen of U.S. Paralympic track and field needs no introduction. McFadden, who averages 115 miles a week in her training, will attempt to qualify for her sixth consecutive Paralympic Games fresh off her stardom in the Netflix documentary, "Rising Phoenix." In the T54 category, in Tokyo she is expected to compete in every distance from 100 meters to 5,000 meters on the track, as well as the marathon on the road.
This is expected to be the fourth and final Paralympic go-around for McGrory, who now works as an archivist for the U.S. Olympic and Paralympic Committee. She came away with three medals from the Rio 2016 Games, added to the four she already had including gold in 2008, and three medals from the most recent world championships. Never count out an athlete with 13 career world championship medals to their name and more historic knowledge of their sport than arguably anyone else on the team.
Competing in the 100, 200 and long jump in the T37 category, Roberts has five world championship medals to her name but is going for her first Paralympic Games. Born with cerebral palsy, she struggled mentally and physically when the Tokyo Games were postponed, but has used her struggle to help others along the way remember that they, too, are also human.
After winning gold in the 100 and 200 T46 sprints in Rio, Young remained at the top of her class with world titles in both distances in 2019. The Wichita State University product who has limited mobility in her right shoulder is in a better place mentally now than in 2016 when she dealt with a suicide attempt and in 2017 when she got into a serious car accident. Now, she balances her career as a social worker with training for Tokyo.
Stuart Lieberman covered Paralympic sports for three years at the International Paralympic Committee, including at the London 2012 and Sochi 2014 Games. He is a freelance contributor to USParaTrackAndField.org on behalf of
Red Line Editorial, Inc.