Noelle Lambert Hopes Extra Year Of Prep Time Pays Off At Paralympic Games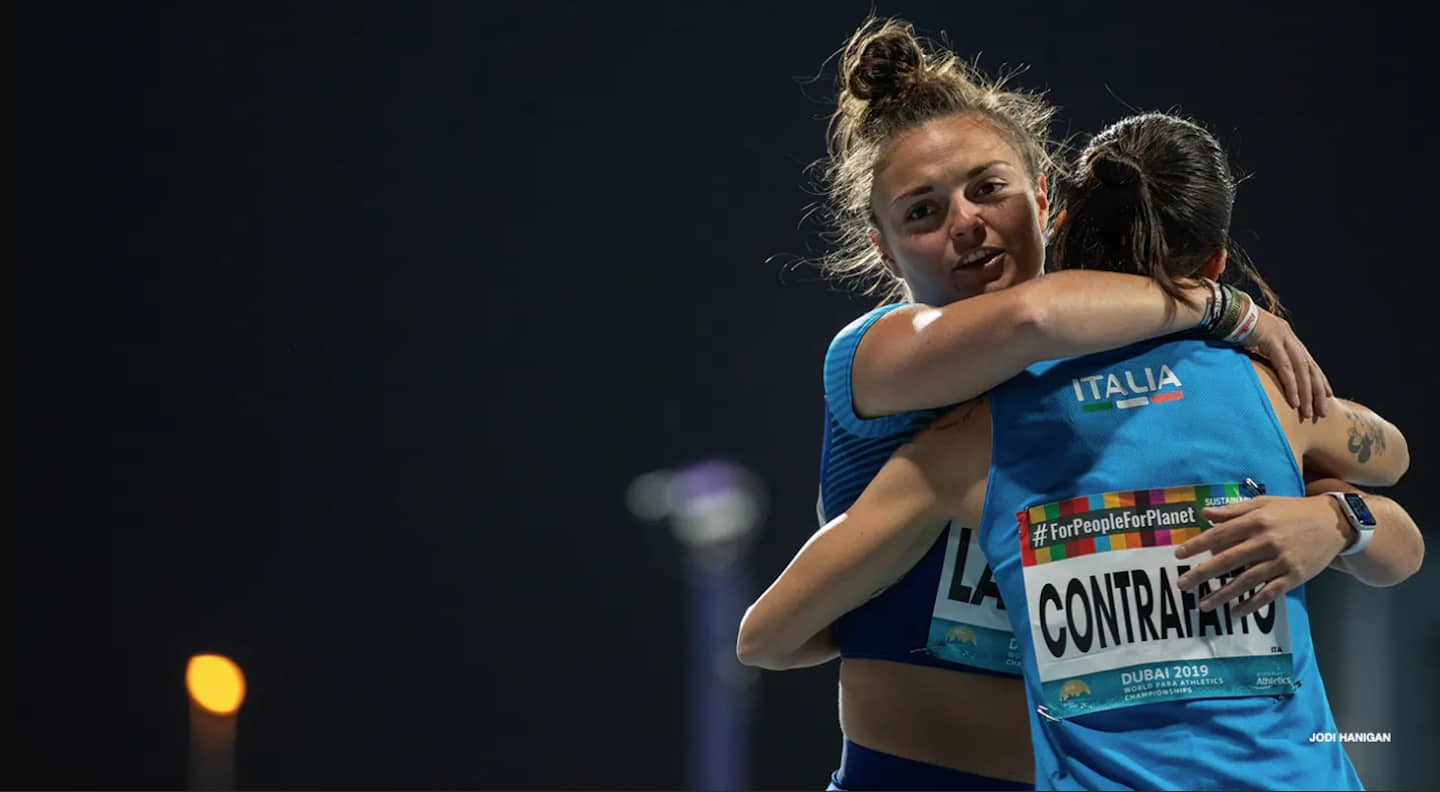 Noelle Lambert hugs a fellow competitor after a race. (Photo: Jodi Hanigan)
The postponement of the Olympic and Paralympic Games Tokyo 2020 was devastating for athletes around the globe. After training for so many years to realize their dreams, Olympic and Paralympic hopefuls would have to wait one more.
For Noelle Lambert, though, it was "a blessing in disguise."
The world champion in the 100-meter dash knows that postponing the Games was an unfortunate necessity in the face of a global pandemic. At the same time, as someone who describes herself as "still new to the sport," extra time was just what she needed to hone her craft.
"I just took it as a whole extra year to get better," she said, "and to work on the things that I needed to improve on."
At the moment, Lambert is living at the U.S. Olympic & Paralympic Training Center in Chula Vista, California. There, she's training full-time — five days a week, with weekends off, plus two or three days a week of lifting. There, she's able to focus on meeting her goals.
"We always get our training done and then we have all day to just hang out," she said. "Basically, I have all the time in the world."
The primary goal? Making it to the Paralympic Games, where she hopes to compete in the 100-meter dash. It's a big stage for a rookie Paralympian — since an accident took her from NCAA lacrosse player to para runner just five years ago, Lambert estimates that she's only competed seven or eight times, including the world championship where she broke the 100-meter record.
This lack of competitive experience wasn't helped by the pandemic, which put a stop to races — and everything else — last year. When the country shut down, "It was very easy to not do anything," she said. Gyms closed, and many athletes were forced to pause their training.
She could have done the same. Instead, Lambert said, she discovered something about herself. "I'm the type of person now that every single day I need to be doing something active and always finding a goal," she said. Before her accident, Lambert would have been content with staying put. But last year, in spite of everything, Lambert always ran. "There's a track about 10 minutes away from my house," she said. She went there every day when there were no other options available, and never took a break.
When she was finally able to get back to formal training, Lambert and her coach found themselves in a mad scramble to find training facilities. "We've been everywhere," she said. Sometimes, she drove three hours a day just to run. She trained at a gym in Boston until it became a vaccine distribution center, and then moved to a New Hampshire facility instead.
Despite the setbacks, Lambert was able to make the most of her new training schedule. Plus, the extra time, it turned out, was a gift for a relatively inexperienced athlete like her. She and her coach decided to take it as an opportunity, and to use it to work on her weak points — like starting on the starting blocks.
She was also able to work more with her teammate, Femita Ayanbeku, a Paralympian and Lambert's full-time training partner. Ayanbeku and Lambert room together at camps and competitions, and Lambert looks to her for support. She hopes they can go to Tokyo together.
"I feel like I would be lost without her," she said.
Ayanbeku beats Lambert at every turn, making her a challenging training partner that inspires Lambert to become faster.
"I always say if I had two legs she would still kick my butt," Lambert said. "It's just very humbling to get my butt kicked by her every single day."
Now, in the wake of the biggest meet of her life, Lambert's focus is on getting back into competition shape, mentally and physically. Last month, at Lambert's first meet in a year and a half, she felt an anxiety that was all too familiar. "It was like all my nerves coming back to me from my very first track meet, just because I kind of forgot how to compete and how to ease my nerves," she said. She ran the 100 meters, but "I knew that I could run a lot better than I did."
With just that one competition under her belt, it's hard to gauge whether the gift of extra time has yet had a positive impact on her performance. Lambert will continue to work on her starts in the coming races, and getting used to the racing environment again. She's hopeful that the work she put in will pay off.
"I'm just feeling a lot better than where I was last year," she said. "I'm running a lot more smoothly than I was."
Lambert's next big competition will be the Desert Challenge Games at the end of May, and in late June, she'll race in the U.S. Paralympic Team Trials. Then, it's on to Tokyo.
As for what she's looking forward to there, after all this time?
"Just being in that environment," she said. "That's a gold medal in itself."