The Track And Field Roundup For May 13, 2021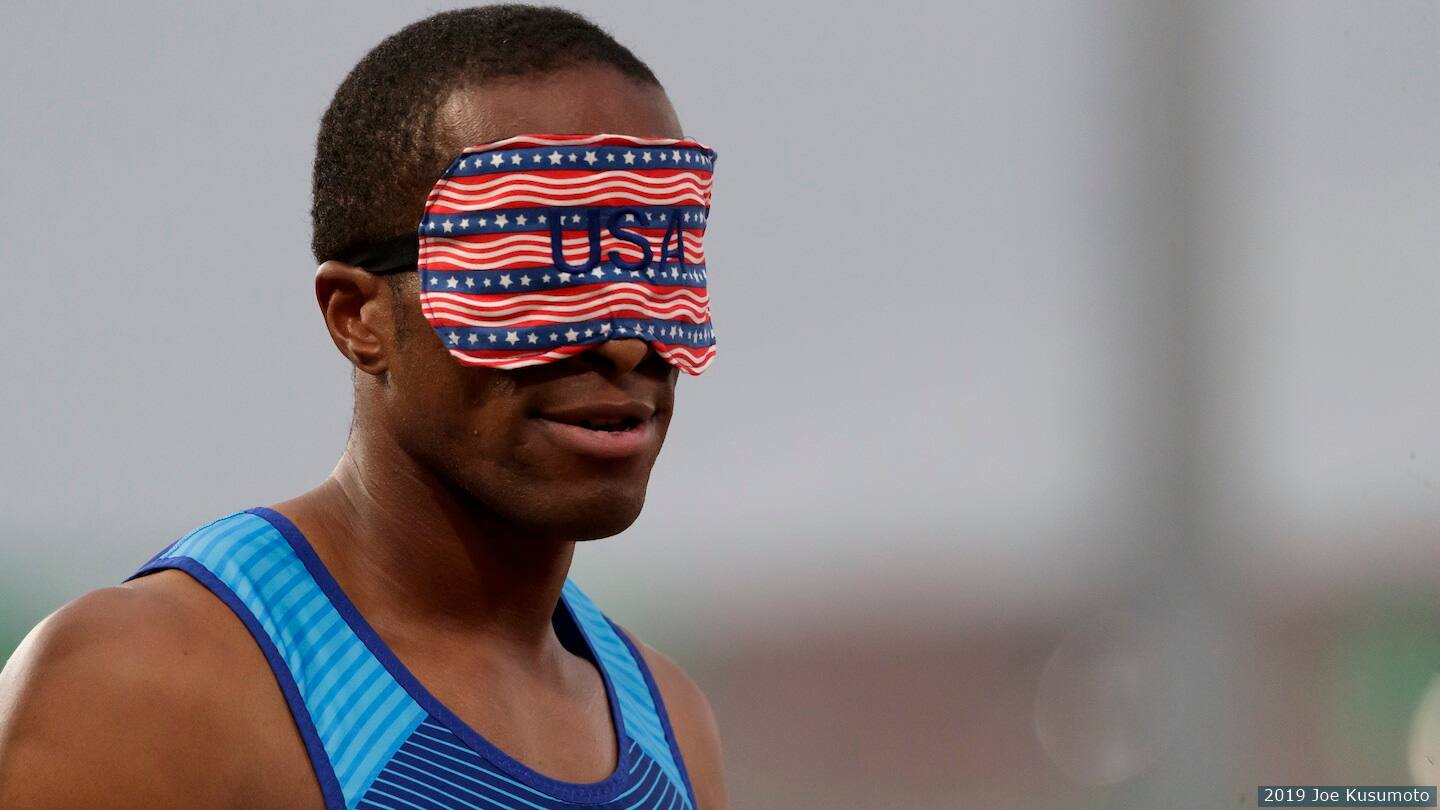 David Brown, who announced his engagement this week, prepares for a race. (Photo: Joe Kusumoto)
Every other week we scour the web for the latest going on in the world of U.S. Para track and field. Here's what you missed!
David Brown shared some exciting news on May 1, his engagement to fiancée Rebekah Hill.
"She put up with me for 21 months now she has to put up with me for the rest of our lives," Brown wrote in announcing the news on Instagram."This is @reb.hill aka Rebekah. My fiancé and soon to be wife."
It's a union of one of the world's fastest Para sprinters and a U.S. archer in Hill. Hill is a former USA Archery Achievement Award winner and competed at this past weekend's Gator Cup in Florida. She posted on her own Instagram account with the happy news.
"<insert cute caption here>," the post began. "This is David @iamdavidrbrown He was my boyfriend. Now he's my fiancé. And soon he will be my husband. I'm so blessed and thankful that God has brought you into my life."
Noah Malone, currently a freshman at Indiana State, set a new school record for the Sycamores with the men's 4x100 team with a time of 39.76 seconds.
Some other collegians marked the end of their college careers in May. Jessica Heims graduated from the University of Northern Iowa with a degree in biology, hoping to go into the medical field and possibly physical therapy. And Sam Grewe wrapped up his time at the University of Notre Dame. The University of Michigan medical school awaits Grewe next, as he pursues a medical career of his own.
Isaac Jean-Paul enjoyed getting back to high jumping for the first time in more than a year due to COVID shutdowns and injuries.
Some of Team USA's athletes took some time to give a shoutout to some significant mothers in their lives for Mother's Day, including Jarryd Wallace paying tribute to his wife Lea, and Tatyana McFadden, showing some appreciation to her and all the other moms out there.
***
McFadden also had some exciting news to share regarding the Netflix documentary film "Rising Phoenix" that she appeared in. The film received four Sports Emmy nominations, including Outstanding Long Sports Documentary. The 42nd annual awards will be announced during a virtual ceremony on June 8.
***
McFadden is currently in Switzerland training with some of her fellow U.S. wheelchair racers in Susannah Scaroni and Daniel Romanchuk. No fans are allowed, but "They never told the cows."
***
Ezra Frech celebrated his 16th birthday in style.
***
Lex Gillette is working his way up in a Toastmasters speaking competition, moving onto the District-level competition taking place May 15. It's free to watch but registration is required.
***
In the News
A sure sign that the Paralympic Games are just around the corner is the staging of the Para track and field test event, taking place this week at the National Stadium in Tokyo. No fans will be in attendance but the event is designed to test everything that Olympic and Paralympic runners alike will need this summer.
***
Georgia native Jarryd Wallace was featured by the Atlanta Journal-Constitution, telling his story of losing his lower right leg due to compartment syndrome to getting involved in Para track and field. Wallace was also involved with the Wings for Life World Run that took place virtually on May 9, along with hundreds of thousands of other people around the world helping to raise millions of dollars for spinal cord research.
***
Paralympic John Register was interviewed by KKTV in Colorado Springs, Colorado, about overcoming adversity and what he's now doing in life. The prosthetic he used to win a silver medal at the 2000 Games in Sydney is now on display at the U.S. Olympic & Paralympic Committee Museum in Colorado Springs. And Register is the founder of Inspired Communications International, an organization dedicated to inspiring people to overcome adversity in their lives. Register leads talks in person and virtually.