The Track And Field Roundup For May 3, 2021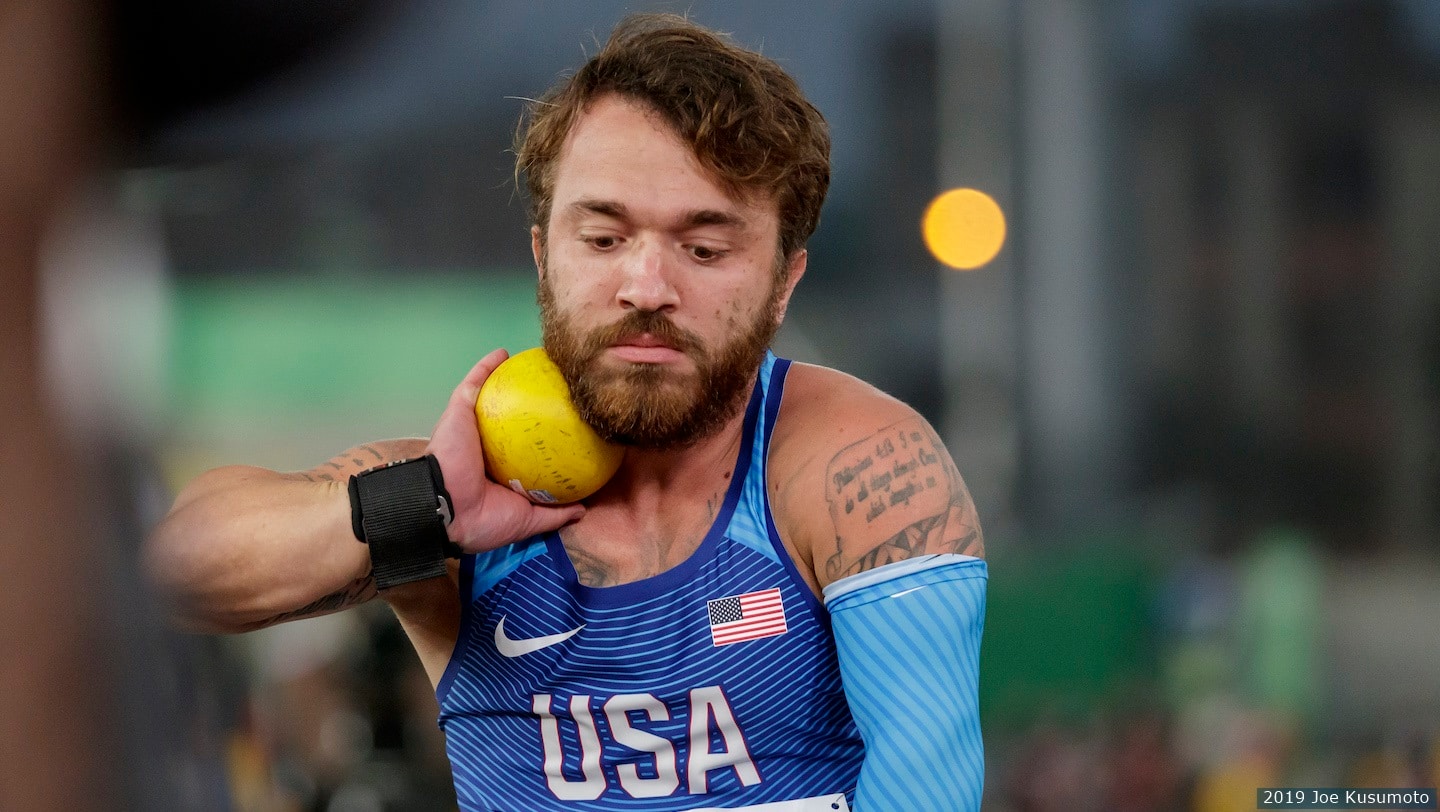 Hagan Landry competes in Lima in 2019. (Photo: Joe Kusumoto)
Every other week we scour the web for the latest going on in the world of U.S. Para track and field. Here's what you missed!
Social Media Roundup
They say hope springs eternal, and spring is bringing a lot of hope for members of the U.S. Paralympics Track & Field National Team as they're finally getting back to doing the things they love. Paralympic Team Trials are just around the corner and numerous athletes have gotten back to competition in April, in many cases with success. Femita Ayanbeku recorded a personal best of 13.00 seconds in the 100-meter … Or maybe that was Femita Ayanbek?
"P.S: They forgot the U at the end of my name #Ayanbeku."
Running just behind Ayanbeku was Beatriz Hatz, who also recorded a personal best of 13.05 seconds, hitting the B standard, but she's not satisfied:
"It just adds more fuel to the fire I want that A standard!!"
Shot putter Hagan Landry recorded a personal best and set a new Americas record with a throw of 13.70 meters.
"Currently 2nd in the world! Round 3 next weekend," Landry wrote. "All ima say is 'STAY TUNED.'"
Javelin's Justin Phongsavanh hit a personal best of 31.73 meters, currently the best in the world.
"2 meets down and 4 more to go before Tokyo selection trials in Minneapolis," he said.
***
Just high jumper things, courtesy of Ezra Frech and Sam Grewe.
***
Brittni Mason celebrated birthday
No. 23
on April 19 … And Tatyana McFadden celebrated birthday
No. 32
on April 17.
***
While it wasn't exactly a birthday present, McFadden did get a little help from her friends on the U.S figure skating team. The skaters were in Japan for the World Team Trophy and helped shepherd McFadden's new racing frame home.
"When we say we are one team we are really one team," McFadden said.
***
Lex Gillette was
interviewed
by ABC News on his training for Tokyo and his "No Need For Sight When You Have A Vision" mantra.
***
Any published author remembers the moment they first saw their labor of love on a bookshelf, and Isaac Jean-Paul got that exact experience with his book on April 26.
***
Have you been wondering just how Para long jumpers reach those amazing distances? Trenten Merrill has you covered. Merrill makes it look easy, but we're guessing it's probably easier said than done.
***
Dogs are man's best friend, and for Michael Wishnia, man's best lifting partner?
In the News
Brittni Mason wrote about her career and off the track pursuits for TeamUSA.org. In addition to going after her first Paralympic Games this summer, Mason is a graduate student pursuing an MBA, hoping to one day coach and/or open her own business.
***
A high school Para athlete was in the news for a history-making achievement. On April 16, Jadyn Marstella of Springfield, Ohio, became the first Para athlete in Springfield High School history. She qualified for the state championships in June, and has since become the state's No. 3 seated shot putter. Marstella had been the track team student manager when her coach had the idea for her to compete.
***
Favorite daughter of Iowa Jessica Heims was featured by a pair of outlets from her home state, talking about not only her performance at last weekend's Drake Relays in Des Moines, but also her plans for 2021. Besides hopefully the Paralympic Games, Heims will be getting married in October.
***
Two-time Paralympic medalist Blake Leeper had his latest appeal denied in his bid to run in the Olympic Games. Leeper had been seeking to run using prosthetics but a panel from World Athletics judged those prosthetics to be too long, giving him an unnatural leg length. Leeper has maintained he would not be able to learn a new running stride with shorter prosthetics. He is able to appeal, and still plans to compete for a spot at the Paralympic Games regardless of how his Olympic pursuit is resolved.