Sprinter Nick Rogers Enjoys Giving Back To Same Organizations That Helped Him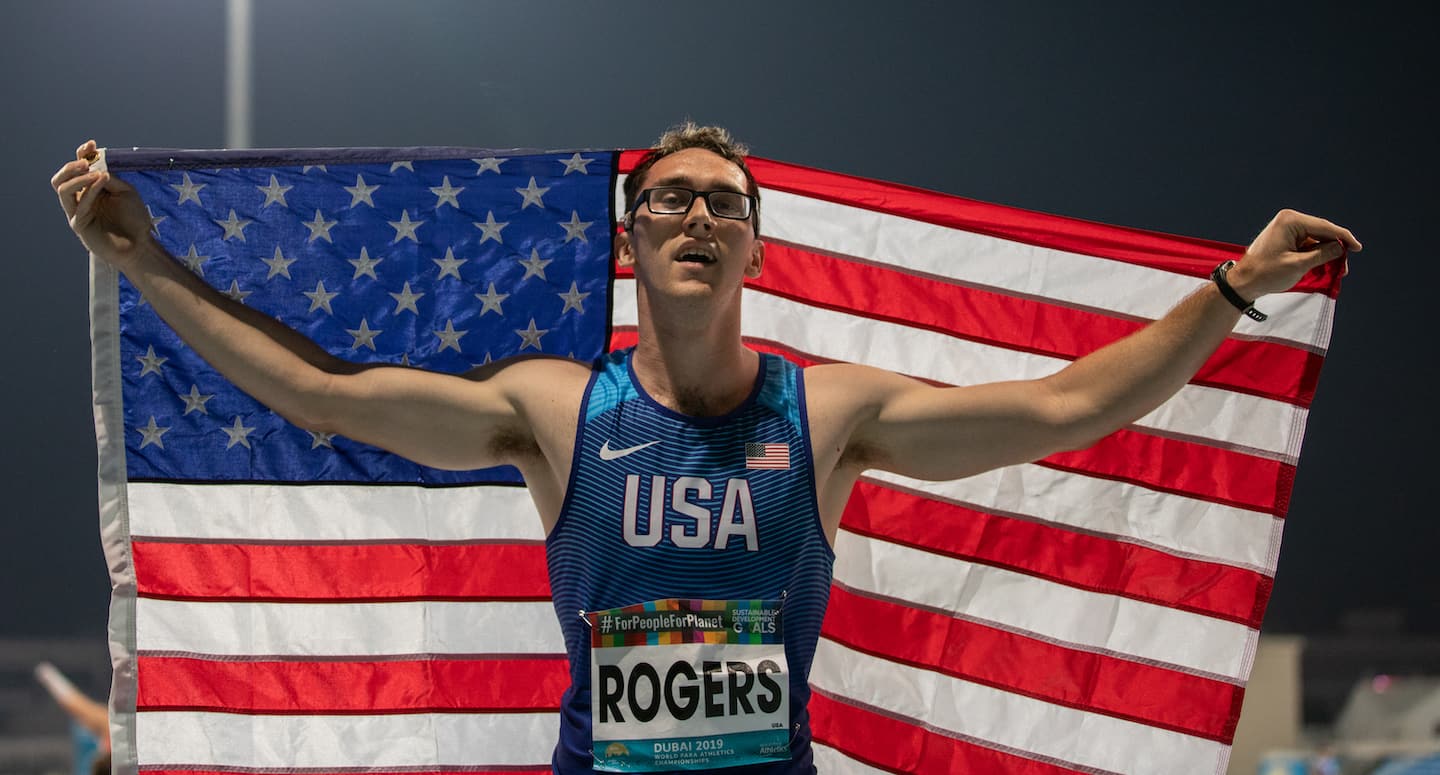 Nick Rogers holds up an American flag after a race.
Nick Rogers wasn't a breakout running prodigy. In fact, when the Paralympic sprinter first started running his sophomore year of high school, "I was beating the slower kids," he said.
A double amputee, Rogers wasn't breaking any records against his able-bodied competitors. But there was one big caveat: At the time, he had no running blades. "I happen to come from a family that's poor," he said. Running blades typically aren't covered by insurance, and the cost starts in the thousands.
That's where the Never Say Never Foundation came in. During one of his stays at Camp No Limits, a summer camp for kids with limb differences, the foundation gifted Rogers with a pair of running blades.
"When I first received those blades, it was one of the most exciting, happiest moments of my life," he said.
He wouldn't know it then, but the donated blades would do more than bring him on a level playing field with other high school runners — they would get him all the way to the Paralympic Games and beyond. Rogers is now in San Diego, training for this summer's Tokyo Games. After a grueling training session and a quick stop to grab lunch, he was excited to talk about all the people who helped him get to where he is today, and how he's helping to pay it forward.
Rogers' story has some twists and turns, but there are a couple of constants that have carried him through. One of them is his grandmother, whom he calls "a huge light in the darkness for me." Rogers played baseball as a kid growing up in a small town in Maine, but struggled with bullying. He didn't know any other kids like him, and grew up in a tumultuous household.
"I had a very, very crazy childhood and my grandmother was the person that always was like the stability in my life," he said. "I always knew she was there."
Not only that, but she was also the subject of a chance encounter that would change Rogers' life.
"It was just a crazy, by-chance thing," he said. "One day, my grandmother was sitting there reading the newspaper, and she saw an ad for Camp Ability."
Now called Camp No Limits, the summer camp — then only in its third or fourth year — provides a supportive environment for kids with limb differences. Rogers' grandmother knew the 9-year-old had to go, so she scraped together the funds to send him.
The experience was life changing for Rogers.
"It was very cool to see that I wasn't alone," he said.
Rogers became a regular at the camp, returning at 14 during the summer before his sophomore year of high school. That's when Rogers first encountered his other big benefactor, the Never Say Never Foundation. One day, Rogers was working out on an obstacle course at the camp. "I was having a really good time with it," he said. "I was doing flips and cartwheels, having fun." He was wearing pants at the time, and he said the Foundation representatives assumed he was a sibling of one of the campers, not a camper himself.
They realized their mistake the next day. "I wore shorts because I was kind of coming out of my shell," Rogers said. He had never considered running track, but when the members of the Foundation approached him, it suddenly became his extracurricular activity.
After running in walking prosthetics his sophomore year, receiving running blades during his next year at camp was a game-changer.
"I always viewed it as something that was unattainable for me. And receiving those and then running on them for the first time was just joy, pure joy," he said. "And then I was just so excited because I felt like I was on a level playing field (with able-bodied competitors)."
Rogers ran his junior and senior year in his new blades, graduating in June of 2015, and then placed fifth in the country at nationals the next month. He realized he had a real chance at making it to the Paralympic Games — and so did Nick Stilwell, the president of Never Say Never. Stilwell, who gave Rogers his nickname "Quick Nick," invited Rogers to move in with him and train full-time in Florida. Rogers went home to his grandparents to discuss it, but in the end, it was a no-brainer. In Florida, Rogers would train six days a week and work part-time at a fried chicken restaurant. In July, he made the Paralympic team, and in September, just over a year after went to his first nationals, he was in Rio.
It was only Rogers' second international competition. "I was over the moon to just even be there," he said. Originally sent as a relay specialist, he was able to run the 100- and 400-meter dashes after a teammate was disqualified. He made the finals in both — for the 100, it was by eight thousandths of a second.
All of this got the attention of U.S. Paralympics Track & Field, which offered Rogers a spot at the training center in San Diego in 2017. He's been there ever since, working towards his bronze medal at the 2017 world championships and another in 2019, and honing his craft in a brand new way — by optimizing his blades. After the International Paralympic Committee placed height restrictions on blade runners, Rogers said, he found himself at a disadvantage as a shorter athlete. "I know if I was at my proper height I would most likely be in a position to be on top of the podium," he said. "But unfortunately, with the blades it's like people have a mechanical advantage over me."
He's frustrated, but he's not giving up. "I'm still just trying to stay positive and focus on the things that I have control over and be a student of my craft," he said. He's doing that in part by figuring out how to engineer blades that will maximize his speed, with the help of the non-profit Wiggle Your Toes. "It makes a big difference," he said.
He still hopes to medal in Tokyo, and to continue on to at least Los Angeles in 2028. But Rogers' voice lightens up the most when he talks about his non-profit work.
"I love working with nonprofits," he said. "I love to use my story to get ahold of any people that are in similar situations as me, to show that they can truly do anything they can put their mind to."
Rogers acts as an ambassador for Never Say Never, and has volunteered at the same camp that brought him to running a decade ago.
In that respect, his story has come full circle.
"If I hadn't gone to that camp I certainly probably wouldn't be where I am today," he said. "I'm awfully thankful my grandmother saw that ad in the paper 15 years ago."