Retired Wheelchair Racing Coaching Legend Marty Morse Stays Committed To Para Athletes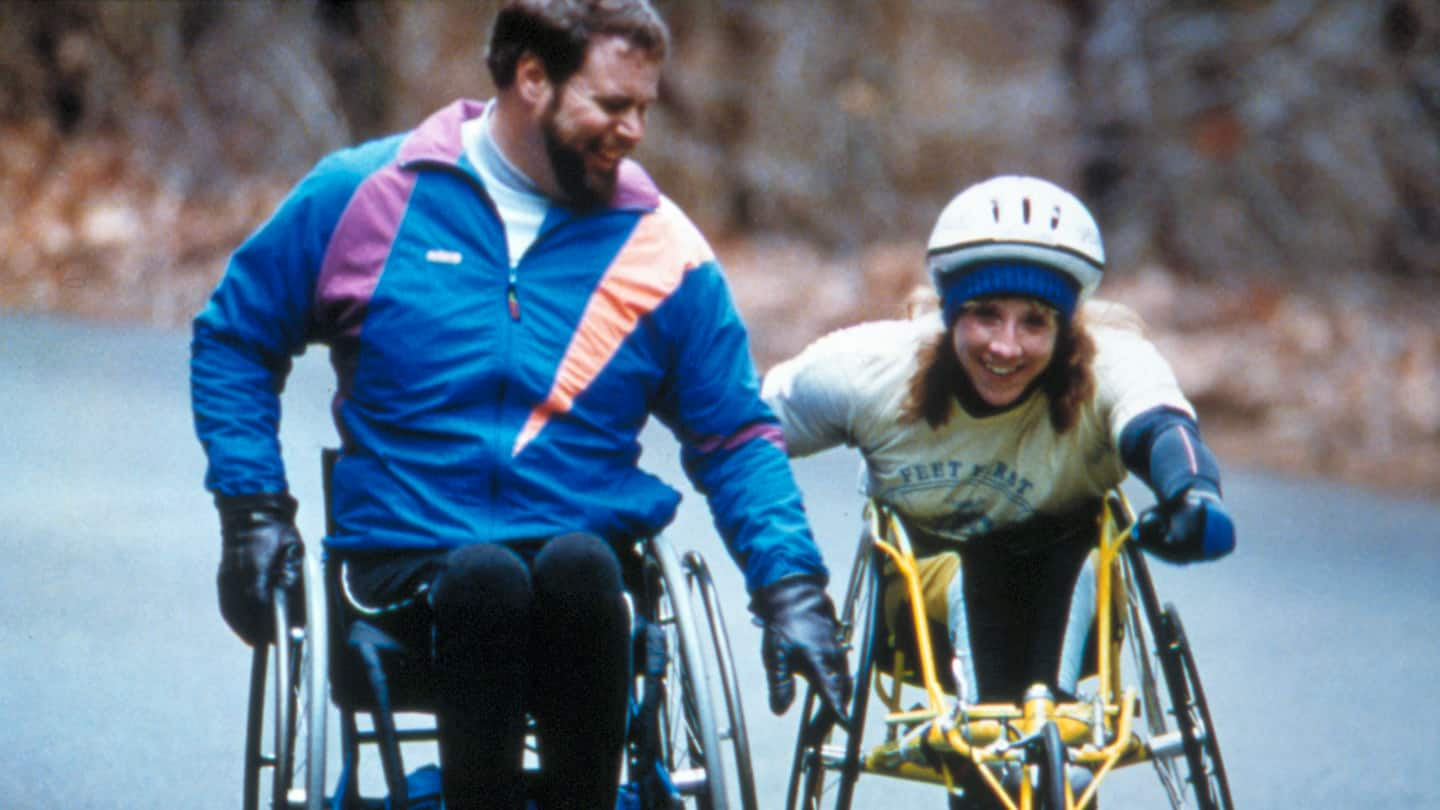 Marty Morse and Jean Driscoll. (Photo: Curt Beamer)
In 2005, Marty Morse went in for a "regular" MRI on his back and brain. He was having tremors and pain, and he wanted to get them checked on. The doctor said the MRI on his back was fine, so Morse started to head out.
"Oh, by the way, how was the brain MRI?" he remembered to ask.
The doctor then reaches over, grabs Morse's folder, and screams at his nurse.
"Can you call Mr. Morse, and tell him he's got a brain tumor?" Morse recalls.
A couple days later, Morse met with Brad Hedrick at the University of Illinois Urbana-Champaign's Disability Resources and Educational Services (DRES), and Morse felt it was time to retire. It was hard to do his job with the tremors and pain he was having, and he could not hear on one side.
Morse had filled a multitude of roles at Illinois. He arrived on campus in 1981 as a student, and he played wheelchair basketball, raced wheelchairs, threw the javelin and discuss, and competed in the pentathlon. Still, his mind was focused on being a coach. He could not believe the wheelchair athletics program at Illinois was coached by recreational, physical and occupational therapists who had no sport background.
"They were just great volunteers, and were helping people," he said. "They were sort of winging it."
Morse knew the athletic trainer who helped with the university's able-bodied women's basketball and track and field teams. This trainer, who later became his wife, found room for Morse to volunteer on the track team for two years.
Hedrick was technically a coach of wheelchair athletics, and he let Morse serve as a part-time coach. Morse worked 75 to 80 hours a week, coaching, leading strength and conditioning for the wheelchair athletics program, and offering his strength and conditioning knowledge to any student with a disability seeking such services.
He was a student at Illinois from 1981 to 1987, finishing with a master's degree in exercise physiology. As an alum, he continued as Illinois' first wheelchair track coach. In 1987, Morse signed a contract with Eagle Sports Chairs, which manufactures sports wheelchairs, to get free chairs for all Illinois athletes who needed them.
When it was time to put the brakes on his coaching career, Hedrick wanted to make sure Morse left with respect.
"'We feel like we owe you something,'" Morse remembers Hedrick telling him. "'Is there anything I can do?' I said, 'Well, I only have one request, and that is you hire Adam Bleakney. Or you consider him as a hire.'"
Bleakney was an up-and-coming wheelchair racer, and Morse thought he had the aptitude to coach. Morse spoke with Bleakney about the upcoming job before talking with Hedrick, and Bleakney was interested in coaching the racing team. Bleakney went through the interview process and was named the coach.
"He'll never tell you (that story)," Morse jokingly said. "Adam's not a talker like I am. He is a true intellectual, and a very, very bright guy. … I think he really believes in the system that I had put in place."
Bleakney focused solely on track and took the program to a new level. Illinois quickly gained a reputation for fostering the best wheelchair racers in the world. Multi-medal Paralympians Tatyana McFadden, Amanda McGrory, Chelsea McClammer and Susannah Scaroni are all products of Bleakney's.
After handing the racing torch to his friend Bleakney, Morse still woke up early in the mornings, thinking it was time for practice. He read any research journal and book he could find about "anything I thought would help wheelchair racing or track and field." His wife reminded him he was retired, and he knew it was Bleakney's time to run the racing program.
"I wanted Adam to know I wasn't looking over his shoulder, and I wasn't criticizing him. I was there to support him. And if there was anything I could do to support him, I would, but I pretty much stayed out of his way."
Morse went to practices off and on for the next few years, and led team practice in Champaign while Bleakney and his Paralympic racers competed at the Paralympic Games London 2012.
Two years later, Morse put together a curriculum for a wheelchair sports summit, and he offered his services for free to coaches. He also asked the coaching community "if they had any problem child athletes" who needed assistance or a mentor.
Now, Morse stays close to his Savoy home a couple miles south of the Illinois campus, too weak to go too far. He helps coaches remotely, and, prior to the pandemic, he got occasional visits from Daniel Romanchuk. Morse would advise Romanchuk on race-like scenarios and tactical skills.
"He's already the best male athlete this country has ever produced," Morse said. "Actually, he's probably the greatest racer in the world. Daniel is completely unaffected by that."
Morse added: "If I'm having a bad day and I'm in bed, he'll come in the room. He doesn't seem to be affected by it, and the two of us can talk. Let's face it, my wife has seen about anything that can happen in wheelchair sports. The last thing she wants to hear after 35 years of marriage — we've been together for 38 years — is anything related to wheelchair sports. But she seems to like Daniel."
The former racing coach shares informal racing and exercise advice on the History of Wheelchair Racing Facebook page, providing any input he can. The page is designed to help former athletes reflect on their careers.
After reflecting on his coaching career for an hour, Morse said he had to spend the next three hours developing a workout for his son's girlfriend.
Whether in Savoy or online, Morse remains committed to helping Para athletes get the exercise they need.
"I really enjoy doing this, and I'm going to do it as long as I can."