Taleah Wiliams Overcomes Fears On Way To Becoming World Champion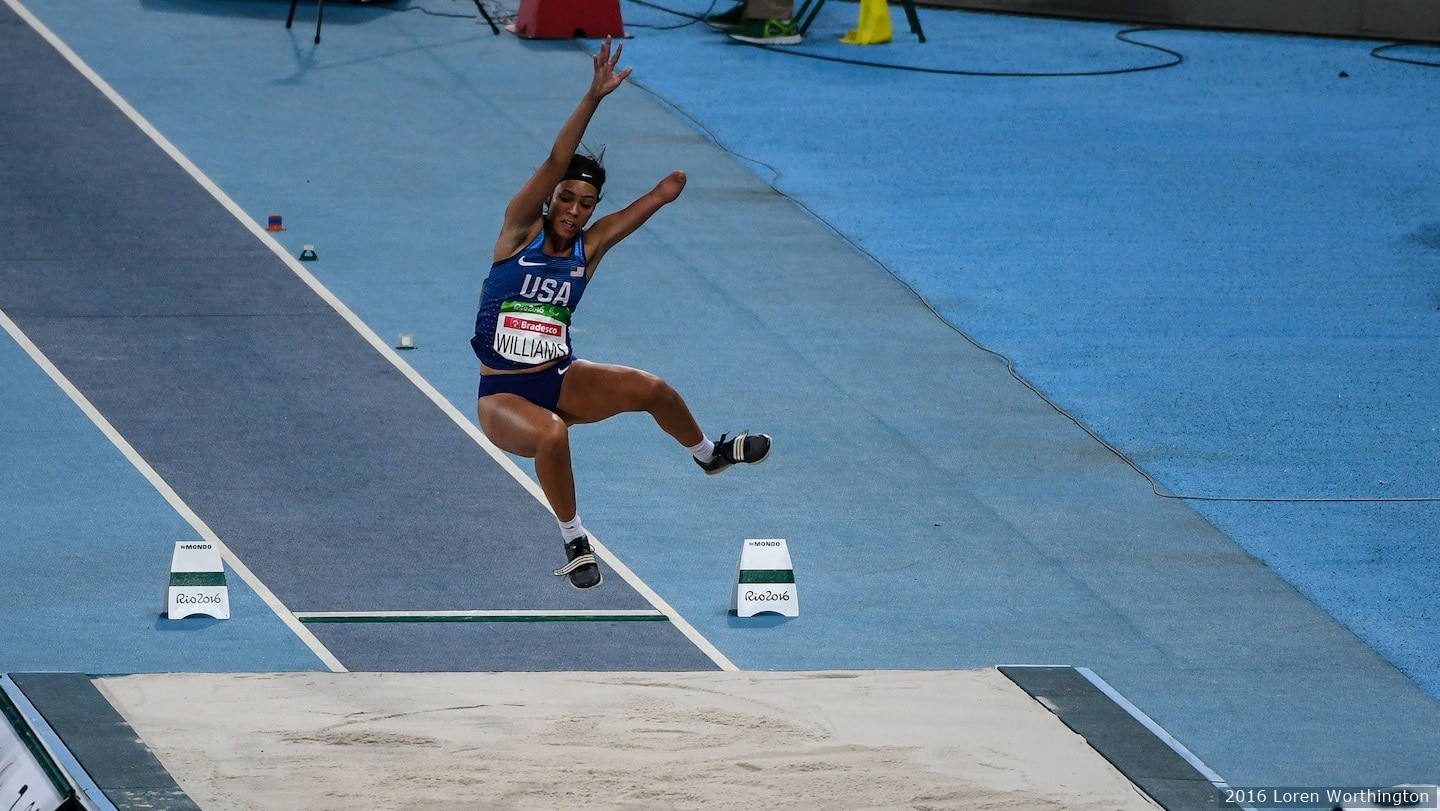 Taleah Williams stood at the end of the runway, preparing herself to take flight. She arched her torso backwards, then propelled it forward, sprinting, knees high, before taking off at the line and landing feet first in the sand.
From the looks of it, Williams was all business at the Paralympic Games Rio 2016. Game face on, she jumped six times, walking away with a Paralympic best of 5.17 meters. At her very first appearance in international competition, she placed fifth.
It was a respectable outing for a rookie. But on the inside, Williams was terrified.
"I was scared. I'd never done anything like that, didn't know anybody," she said. "I'd never left the country, never competed against other people like me."
Williams has come a long way since Rio. Today, she's a long jump world champion preparing for this summer's Paralympic Games in Tokyo, where she'll be in the spotlight as she attempts to nab her first Paralympic medal. But can she once again put aside her fears and perform her best when it matters most?
It wasn't clear from the beginning that attention and success would be a package deal in track and field. Instead, it was just something to do — Williams' mother enrolled her in a track club in their native Norfolk, Nebraska, as a young kid, and she started jumping right away. "I've just been doing that since super young, I think first or second grade," she said.
Williams, who was born without her lower left arm, continued to run and played basketball in high school before becoming a long jump specialist at the University of Nebraska. She always competed against able-bodied runners, and didn't know Para sports were an option until someone spotted her at a meet and approached her coach, who relayed the message to Williams.
Just four months later, she was in Rio, with all eyes on her.
"I think I found out about (Para sports) in April of '16," she said, before getting classified as an F47 at a meet in Chicago. Then, she went to trials, and "made the team that weekend."
Rio was a whirlwind for someone like Williams. "I was just scared just because I'm not good at meeting new people and doing new things," she said. But then, "It ended up being a lot of fun," she said. Williams connected with her teammates, with whom she'd spent a week in Houston before the Games. She still meets them at training camps, and always rooms with the same teammate.
Her next stop was the 2017 world championships in London, where she would face an even greater challenge: Williams said that in London, Para track crowds were known for making a loud, supportive atmosphere. And while she called this experience "scary," at the same time, she said, "that was the best part." She won a gold medal with a 5.27-meter jump.
Now 23 and a graduate of Doane College, where she transferred halfway through her college career, Williams looks forward to 2021 as a seasoned, more confident athlete.
"I've been out of the country now multiple times, I know my teammates, I know the people I'm competing against," she said. "It makes the nerves less frazzled."
After struggling with motivation when the Games were postponed last year, now Williams also has renewed focus, working full time at an optometrist's office and training after work.
"It makes for really long days," she said. "But I gotta do what I gotta do I guess."
In the minimal spare time she has, she spends time with her new cat Ripley, and makes bracelets.
Williams wants a Paralympic medal. "I want to do the world record as well," she said. She hopes to compete through the 2028 Games in Los Angeles— "I think that would be a lot of fun" — before retiring, when she plans to go back to school and have a career in medicine. At the end of the day, though, "my goal is always just to compete the best," she said, "whether that leaves me on top or not on top."
Having a career in the spotlight can be scary. But it's something Williams has had to overcome in order to follow her calling. Indeed, when asked why she likes long jump, she said, "It's like I've been doing it for so long, that it's all I know." She laughed at herself trying to think up a better answer.
"I think I've always just been drawn to it," she said. "You get to land in sand … you can't pass that up."