Trials Performances Signal Statement Of Intent From U.S. Paralympic Track And Field Team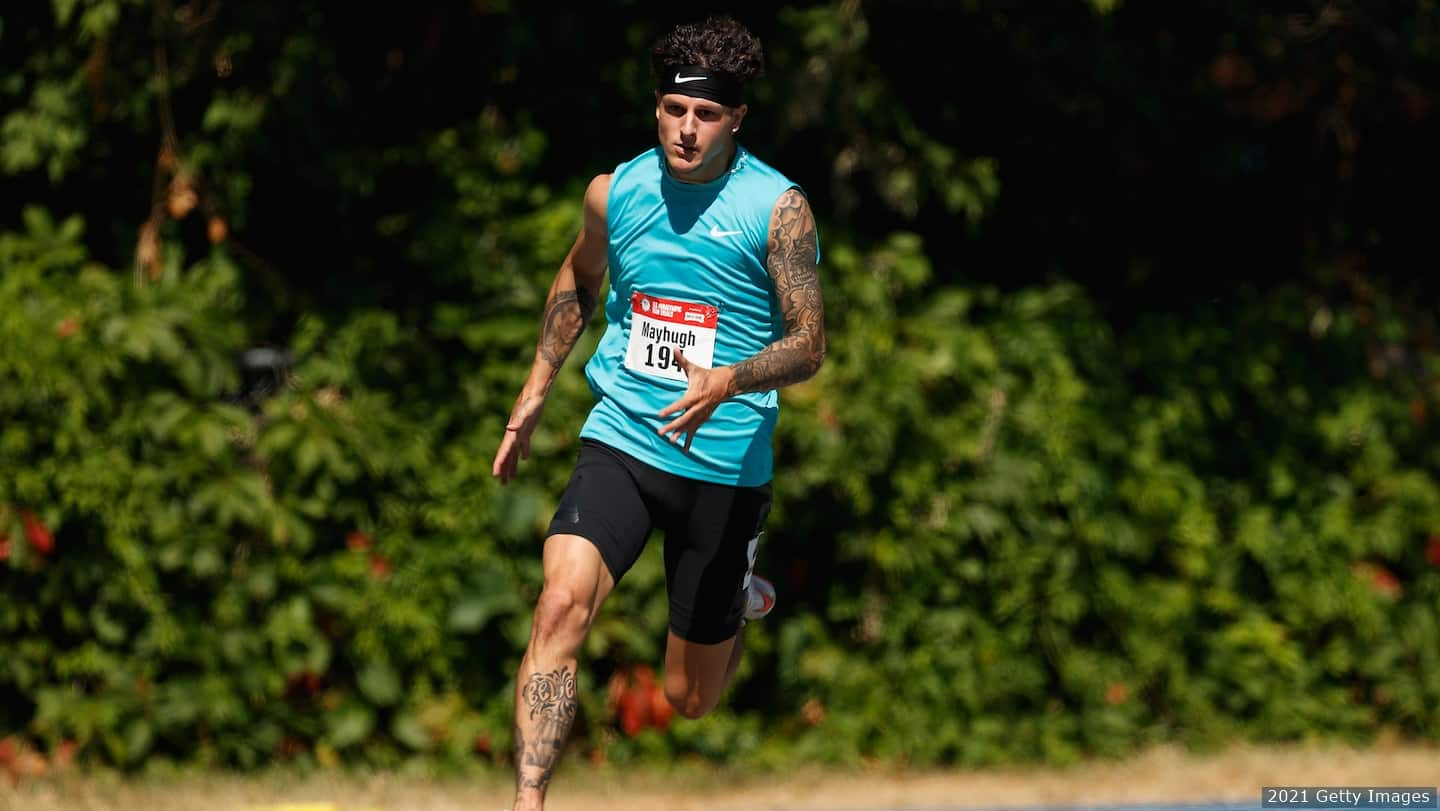 Nick Mayhugh competes in the men's 200m T37 at team trials. (Photo: Getty Images)
The best of U.S. Para track and field laid it all on the line June 17-19 in Minneapolis for spots at this summer's Paralympic Games Tokyo 2020.
It wasn't until Thursday that 61 athletes — 35 men and 26 women — officially earned their tickets to Tokyo as part of the U.S. Paralympic Team. But waiting hasn't been anything new for the members of Team USA, who have endured more than a year of disrupted training and competition schedules due to the COVID-19 pandemic. Any signs of rust were not evident at trials as athletes picked up their Paralympic pursuits right where they left off.
For two-time Paralympic medalist Cassie Mitchell, these trials were nothing compared to the personal trials she faced ahead of the 2016 Rio Games when she qualified in the midst of treatment for leukemia. In Minneapolis she went out and set the world-leading distance this year in the club throw. And that was after she'd already broken the discus world record in May at the Desert Challenge Games.
Fellow throwing athlete Josh Cinnamo admitted that he wasn't quite where he wanted to be after the first day of trials, held just a short drive from his home in the Twin Cities. He was dealing with an injury, and the 2019 shot put world champion felt he had more to give. But he rose to the occasion and is headed to his first Paralympic Games.
"I'm still on the path I want to be on," Cinnamo told TeamUSA.org after his first day of throwing. "It's a little bit of a mixed feeling, as I'm dealing with a bit of an injury right now, and the last four days I've been doing everything I can to get it ready for today. It's been fatigued from all the work I've put on it, but the fact that I even went out and threw today is a revelation."
On the track, Tatyana McFadden provided a preview of the ambitious schedule she has planned for Tokyo, where she hopes to compete in five events. McFadden won the 400- and 800-meter at trials. McFadden will look to add to her total of 17 Paralympic medals, including seven gold.
"I have a really busy full schedule ahead, so I'm going to take it event by event," McFadden said. "I really hope with the increased broadcast coverage and media attention people will be tuning in to watch the athletes in Tokyo."
The trials were a big success on the coverage front, as for the first time fans were able to watch a U.S. Paralympic Team Trials via live streaming through NBCOlympics.com, the NBC Sports app and Peacock, NBC's live streaming service. That visibility is huge for the Paralympic Movement and also for the family and friends of Team USA who got to see their loved ones compete live.
"With the live stream at Trials, the sport being more exposed is huge for us," said T54 racer Daniel Romanchuk."I have people reaching out to me now asking how to get into adaptive sports, so coverage like this is an amazing thing."
Romanchuk finished off a clean sweep of all five events he competed in at trials, with a hat trick of wins on Day 3 in the 400, 1,500 and 5,000. Romanchuk earlier had scored wins in the 100 and 800. Romanchuk has resumed where he was in 2019, atop the racing world when he won world championships in the 800 and 1,500. A 2016 Paralympian, Romanchuk will be looking for his first Paralympic medal.
U.S. sprinters showed they'll be forces to be reckoned with in Tokyo. Brittni Mason already held the T46 record in the 100 but set a personal best in the 200 to become the world No. 1 at that distance as well. Femita Ayanbeku nearly broke the world record in the T64 100.
On the men's side, two-time Paralympian Jarryd Wallace ran the fastest time in the world in the T64 100 at 10.99 seconds. That time would've been good enough for a silver medal at the most recent world championships. Nick Mayhugh set a national record in the T37 100, and just missed the Americas record. But for Mayhugh, a converted soccer player, it was a major sign of his progress in the sport.
"I was a soccer athlete and was told it was impossible to become a track athlete," Mayhugh said. "Now, I'm here proving everybody wrong."
In long jump, a pair of athletes set Americas records. Paralympian Trenten Merrill jumped 6.96 meters to break the T64 record while 16-year-old Ezra Frech jumped 5.90 meters to break the mark in T63. Frech, a junior world champion, will make his Paralympic debut while still a high school student.
"I felt very good," he said. "I would have loved to get the six-meter mark, but this season has been full of ups and downs so I'm grateful to even have a trials and Games this summer."
On the final day of trials, Justin Phongsavanh blew away the rest of the javelin field by setting a new world record with a throw of 33.29 meters. A quick riser in the Para world, Phongsavanh picked up the javelin in 2016 and now is on the U.S. Paralympic Team. He finished in fourth place at the 2019 world championships.
"My performance was fantastic, and a better result than I could have ever imagined," he said after the world-record throw. "It was an incredible experience and everything worked out well."
Todd
Kortemeier
is a sportswriter, editor and children's book author from Minneapolis. He is a contributor to TeamUSA.org
on behalf of
Red
Line
Editorial
,
Inc
.