U.S. Paralympics Track & Field Nominates 61 Athletes to Compete in Tokyo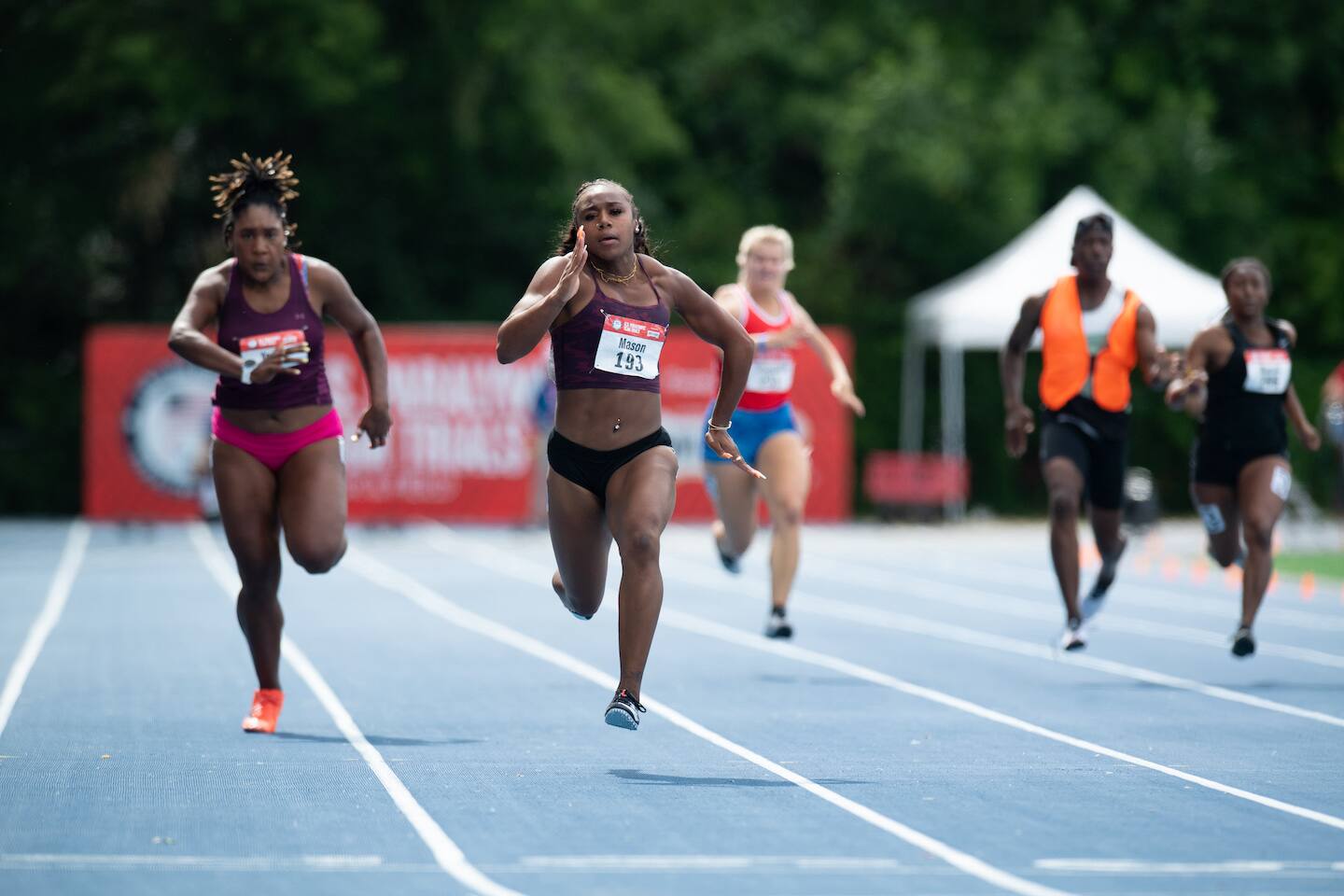 Brittni Mason competes in the women's 100m T47 at U.S. Paralympic Team Trials – Track and Field. (Photo: Mark Reis)
MINNEAPOLIS – After a show-stopping three days of U.S. Paralympic Team Trials - Track and Field, 61 athletes – 35 men and 26 women – were nominated to compete for Team USA in this summer's Paralympic Games Tokyo 2020. A mix of established veterans and up-and-coming stars making their first Paralympic appearance will take to the world's biggest stage beginning August 24 with sights set on the top of the podium.
Veterans Tatyana McFadden (Clarksville, Maryland), Lex Gillette (Raleigh, North Carolina), Cheri Madsen (Nebraska City, Nebraska) and Raymond Martin (Jersey City, New Jersey)all have at least four Paralympic medals apiece for a combined 36. They will make highly anticipated Paralympic returns to lead a squad that also includes Paralympic champions Roderick Townsend (Stockton, California), Jeremy Campbell (Perryton, Texas), David Blair (Eagle Mountain, Utah), Michael Brannigan (Northport, New York), David Brown (St. Louis, Missouri) on the men's side, and Breanna Clark (Los Angeles, California), Deja Young (Mesquite, Texas) andAmanda McGrory (Kennett Square, Pennsylvania) from the women's roster.
In the wheelchair racing category, McFadden, Madsen, McGrory and Martin are joined by teammates Daniel Romanchuk (Mount Airy, Maryland), Aaron Pike (Park Rapids, Minnesota), Brian Siemann (Millstone, New Jersey), Alexa Halko (Williamsburg, Virginia), Kelsey LeFevour (Chicago, Illinois), Hannah Dederick (Liberty Lake, Washington), Chelsea McClammer (Benton City, Washington), Yen Hoang (Vancouver, Washington), Jenna Fesemyer (Ravenna, Ohio), Eva Houston (Omaha, Nebraska), Erik Hightower (Glendale, Arizona), Susannah Scaroni (Tekoa, Washington)and Isaiah Rigo (Cheney, Washington). Romanchuk had one of the most dominant performances at trials, winning all five races he entered to secure his second Paralympic berth. The list also includes promising newcomers like Dederick, who went head-to-head with and beat some of the best in the world over the course of the three days to earn her spot. Scaroni, primarily known as a marathoner, also had an impressive showing at trials in both the 5000m and 1500m T54 races, winning both events.
Javelin thrower Justin Phongsavanh (Ankeny, Iowa) made a statement by setting a world record in the men's javelin F54 and will compete alongside F64 javelin thrower Michael Gallardo (Los Angeles, California), who also had an impressive trials performance en route to his Paralympic debut. To round out the throwers, Campbell and Blair will be joined by two-time Paralympic medalist Cassie Mitchell (Warner, Oklahoma), world champion Josh Cinnamo (San Diego, California) up-and-coming shot putter Hagan Landry (Delcambre, Louisiana)and discus thrower Jessica Heims (Swisher, Iowa).
All four high jumpers who competed at trials will have another chance to shine in Tokyo. Townsend, two-time Paralympic champion and the current world record holder in the T46 class, and 2016 Paralympic silver medalist Sam Grewe (Middlebury, Indiana) will be joined by newcomers Ezra Frech (Los Angeles, California) and Dallas Wise (Irmo, South Carolina). Frech is just 16 years old, and Wise is brand new to adaptive sports, having competed at his first Paralympic events this year after completing his sophomore season at Coastal Carolina University.Gillette,past Paralympians Taleah Williams (Norfolk, Nebraska) and Tobi Fawehinmi (Arlington, Texas), and long jump T37 silver medalist Jaleen Roberts (Kent, Washington) round out the marquee jumpers.
The women's 200m T47 world record holder Brittni Mason (Richmond Heights, Ohio) and Young, the 2016 Paralympic gold medalist in the same event, headline an exceptionalsquad of women's ambulatory runners. Other veterans making the roster are Clark, past Paralympians Femita Ayanbeku (Boston, Massachusetts) and Paralympic bronze medalist Kym Crosby (Yuba City, California), who are both seeking their first coveted Paralympic golds. A septet of women's runners will hit the Paralympic stage for the first time in their careers – Beatriz Hatz (Lakewood, Colorado), Danielle Aravich (Eagle, Idaho), Sydney Barta (Arlington, Virginia), Noelle Lambert (Londonderry, New Hampshire), Elizabeth Corso (Newmarket, New Hampshire) and Erin Kerkhoff (Solon, Iowa) all put together strong performances at trials and punched their tickets to Tokyo.
Rounding out the roster are the men's ambulatory runners. After setting a world record in the men's 100m T37 at trials, former Para soccer 7-a-side star Nick Mayhugh (Manassas, Virginia) completed his transition to the track after Para soccer 7-a-side was cut from the Games program. Two-time Paralympic medalist Hunter Woodhall (Syracuse, Utah) will seek his first Paralympic gold medal in the T62 class alongside 2016 Paralympian Nick Rogers (Bingham, Maine).In the T64 class, Jarryd Wallace (Athens, Georgia) and Trenten Merrill (San Juan Capistrano, California), as well as newcomer Jonathan Gore (Fayetteville, West Virginia) all qualified after stellar trials showings. Distance specialist Brannigan, Brown, 2016 Paralympian Desmond Jackson (Durham, North Carolina) and first-time Paralympians Isaac Jean-Paul (Grayslake, Illinois), Noah Malone (Fishers, Indiana), Luis Puertas (Orlando, Florida), Tanner Wright (Fort Worth, Texas), Rayven Sample (Jamestown, New York) and Joel Gomez (Encinitas, California) round out the 2020 Paralympic team. Guides for visually impaired athletes will be announced at a later date.
The Tokyo Paralympic Games run from August 24 – September 5. Track and field competition kicks off on August 27 and concludes September 5. In a historic move, NBC announced that it will be broadcasting more than 1200 hours of Paralympic coverage including primetime, a first for the Games. Don't miss as NBC relives all the best moments from the U.S. Paralympic Team Trials this Sunday, June 27 from 1:30-3:00 p.m. EST.
For media requests and inquiries, please contact Kristen Gowdy at Kristen.Gowdy@usopc.org.
2020 U.S. Paralympic Track and Field Team
Women:
Danielle Aravich, T47
Femita Ayanbeku, T64
Sydney Barta, T64
Breanna Clark, T20
Elizabeth Corso, T13
Kym Crosby, T13
Hannah Dederick, T54
Jenna Fesemyer, T54
Alexa Halko, T34
Beatriz Hatz, T64
Jessica Heims, F64
Yen Hoang, T53
Eva Houston, T34
Erin Kerkhoff, T13
Noelle Lambert, T63
Kelsey LeFevour, T53
Cheri Madsen, T54
Brittni Mason, T47
Chelsea McClammer, T53
Tatyana McFadden, T54
Amanda McGrory, T54
Cassie Mitchell, F51
Jaleen Roberts, T37
Susannah Scaroni, T54
Taylor Talbot, T13
Taleah Williams, T47
Deja Young, T47
Men:
David Blair, F44
Michael Brannigan, T20
David Brown, T11
Jeremy Campbell, F64
Josh Cinnamo, F46
Tobi Fawehinmi, T47
Ezra Frech, T63
Michael Gallardo, F64
Joshua George, T53
Lex Gillette, T11
Joel Gomez, T13
Jonathan Gore, T64
Sam Grewe, T63
Erik Hightower, T54
Gianfranco Iannotta, T52
Desmond Jackson, T63*
Isaac Jean-Paul, T13
Hagan Landry, F40
Noah Malone, T12
Raymond Martin, T52
Nick Mayhugh, T37
Trenten Merrill, T64
Justin Phongsavanh, F54
Aaron Pike, T54
Luis Puertas, T61
Isaiah Rigo, T52
Nick Rogers, T62
Daniel Romanchuk, T54
Rayven Sample, T45
Scot Severn, F53
Brian Siemann, T53
Roderick Townsend, T47
Jarryd Wallace, T64
Dallas Wise, T47
Hunter Woodhall, T62
Tanner Wright, T46
*voluntarily withdrew