Phongsavanh closes Para Track and Field Trials with a Bang, Sets Javelin World Record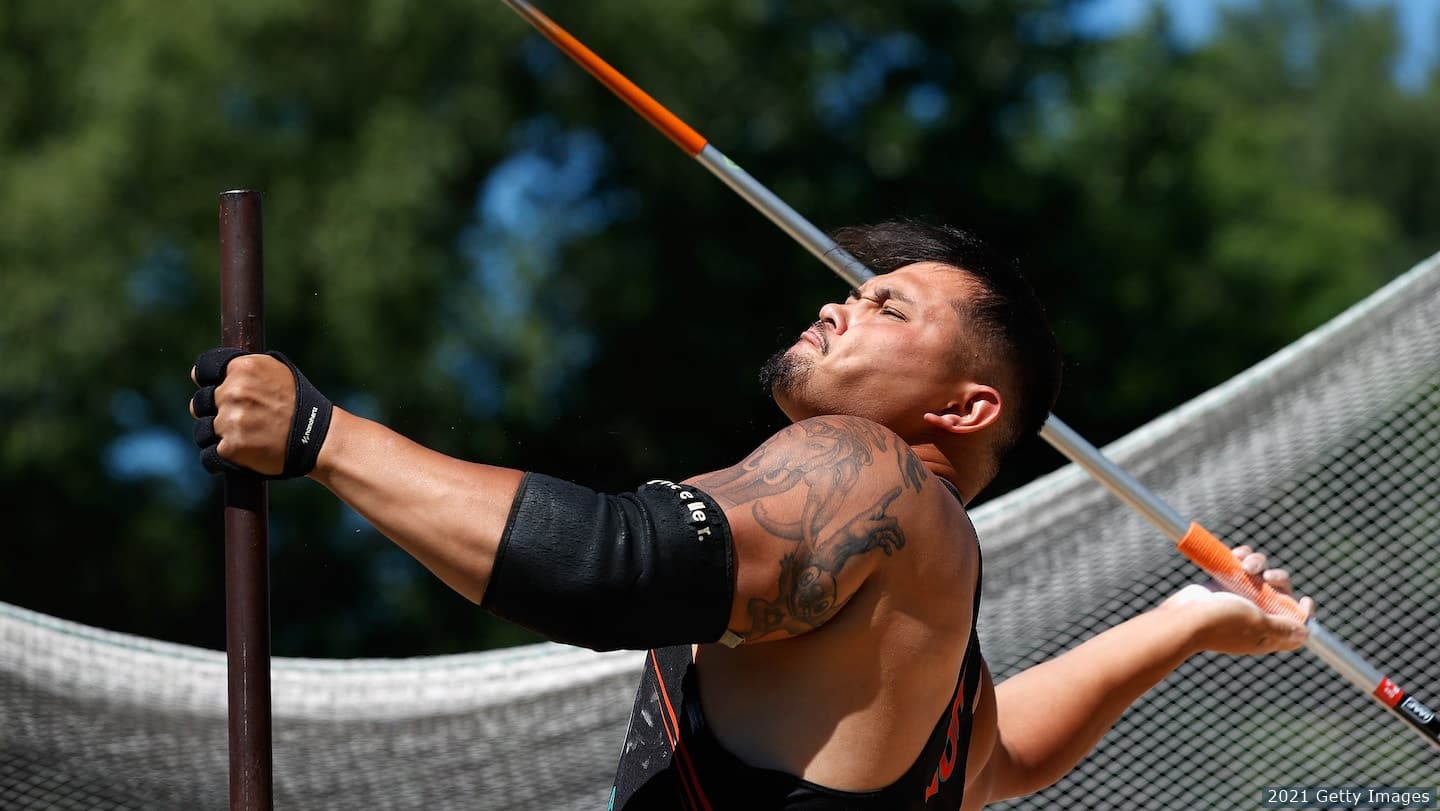 Justin Phongsavanh throws javelin on day three of U.S. Paralympic Team Trials – Track and Field. (Photo: Getty Images)
MINNEAPOLIS – Justin Phongsavanh (Ankeny, Iowa), who is looking to qualify for his first Paralympic team, made his case in a big way on the final day of U.S. Paralympic Team Trials – Track and Field. The 24-year-old obliterated the previous world record distance in the men's javelin F54, throwing 33.29 meters to beat the mark by more than four feet.
Phongsavanh took fourth in the event at his first world championships appearance in 2019, and said he looks forward to redeeming himself in Tokyo. The 24-year-old has been competing in Para track and field since 2017. He previously competed in able-bodied athletics, including football and rugby, until 2015, when he and a friend were gunned down in a parking lot. As a result, Phongsavanh was paralyzed from the waist down. He found Para sport through the Challenged Athletes Foundation and Disabled Sports Iowa.His record today was the second world mark broken at trials – Nick Mayhugh (Manassas, Virginia) also broke the men's 100-meter T37 mark in yesterday's competition.
Cassie Mitchell (Warner, Oklahoma) also had a strong showing at trials, recording a 14.05m throw in the women's discus F51 to build upon her success in club throw on Friday. Mitchell's discus mark was just short of the world record she set in the event last month at the Desert Challenge Games.
Two-time Paralympic champion Roderick Townsend (Stockton, California) topped the field in the men's high jump F46/47 with a 2.08m jump, while reigning world champion Sam Grewe (Middlebury, Indiana) took the men's F42 category with a 1.85m effort. Teammates Dallas Wise (Irmo, South Carolina) and Ezra Frech (Los Angeles, California), were not far behind, with 2.02m and 1.80m jumps in their respective classes.
On the track, Daniel Romanchuk (Baltimore, Maryland) completed his sweep of the men's T54 events by winning the 400m, 1500m and 5000m today. The 2016 Paralympian had an ambitious trials schedule and also asserted himself in the 100m, and 800m over the course of the weekend. Luis Puertas (Orlando, Florida) set an impressive American record in the men's 200m T61, finishing in 25.69.
Susannah Scaroni (Tekoa, Washington) beat out a competitive women's T54 class in the 1500m, finishing in 3:23.16, just .35 ahead of Tatyana McFadden (Clarksville, Maryland).
Current world record holder Brittni Mason (Richmond Heights, Ohio) added to yesterday's 100m victory by edging out 2016 Paralympic gold medalist Deja Young (Mesquite, Texas) in the women's 200m T46.
Jeremy Campbell (Perryton, Texas) and David Blair (Eagle Mountain, Utah), two of the best discus throwers in the world, battled it out today. Campbell, who set the world record in the Desert Challenge Games last month, took the victory with a 61.46m toss.
Up-and-coming star Jonathan Gore (Fayetteville, West Virginia) put together an impressive performance in the men's 200m T64, finishing in 22.96 and beating out Paralympians Trenten Merrill (San Juan Capistrano, California) and Jarryd Wallace (Athens, Georgia), the latter of whom helped recruit Gore to the sport.
Full results from trials can be found here. The 2020 U.S. Paralympic Track and Field Team will be announced Thursday, June 24, on USParaTrackAndField.org.
It was a better result than I ever could have imagined. These trials have been incredible for Paralympic sport, it's awesome that it's being live streamed and that we're spreading awareness. In terms of Tokyo, first thing was just to make sure we made the team, but now it's back to training and preparing for the Games.
This is the first meet this year that I haven't been able to clear the 2.15-meter [world record] height. But I'm feeling good. Just being able to come out here and jump at the Paralympic trials is always fun. We've got some great new faces coming up in the high jump with Dallas Wise and Ezra Frech, so just being able to be around that next generation has been amazing. Come LA 2028, those are the only names you are going to hear.
I'm feeling spectacular. The main thing here is to try to make the team, and the best way for me to do that is to go out and kick a discus way out there, so I'm anxious to hear the announcement next week and hopefully go to Tokyo and win the gold. It's really special. I had the leukemia diagnosis right before Rio, so that kind of put a kink in things. I'm still doing chemotherapy but I've adapted and I'm hoping to step it up in Tokyo.
It was a great experience to be here. It was great meeting new people. Before I got my blade, I was researching Paralympic track and field and reached out to Jarryd [Wallace] on Instagram. He got back to me that day, and helped me make sure I did what I needed to do to get my blade right and fit, and that's what started this process. It would be a dream come true to make it to Tokyo.