Records Fall, Veterans and Newcomers Shine on Penultimate Day of U.S. Paralympics Track and Field Trials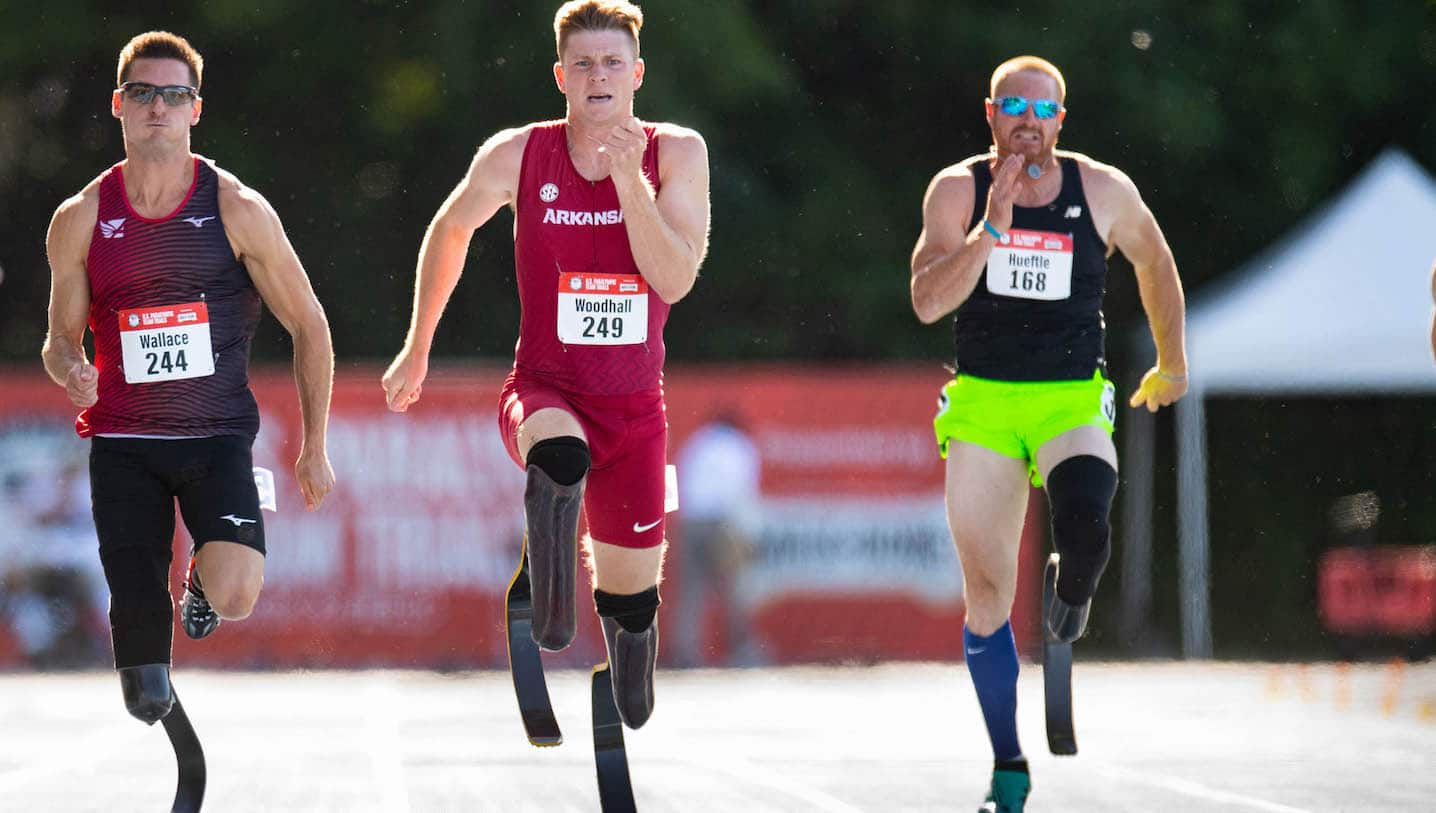 Hunter Woodhall and Jarryd Wallace compete in the 100m T62/64. (Photo: Mark Reis)
MINNEAPOLIS – On the second day of U.S. Paralympic Team Trials – Track and Field,several events came down to the wire, and Team USA saw standout performances from both veterans and Paralympic hopefuls on the first double session day of competition.
The men's 100m sprint T62/64 saw two-time ParalympianJarryd Wallace (Athens, Georgia) edgeout two-time Paralympic medalist Hunter Woodhall (Syracuse, Utah) by .05 seconds for the overall victory. Para track newcomer Jonathan Gore (Fayetteville, West Virginia), also a T64 athlete, took third behind Wallace and Woodhall, but was second in the T64 class behind only Wallace, who he calls his mentor.
Wallace spoke highly of Gore after the race, emphasizing that he'd be one to watch in the future of Para track and field.
On the women's side, sprinters FemitaAyanbeku (Boston, Massachusetts) and Beatriz Hatz (Lakewood, Colorado) took the 100m T64 down to two-hundredths of a second, with Ayanbeku eking out a 12.84-second win, an Americas record and just .02 ahead of Hatz, who is looking to make her first Paralympic team.
Meanwhile, in the women's 200m T47, world champion Brittni Mason (Richmond Heights, Ohio) took the first place finish in a heated match-up over rival and two-time Paralympic champion Deja Young (Mesquite, Texas) by less than a second in just her third 200m race in the past two years.
Paralympians Roderick Townsend (Stockton, California), Lex Gillette (Raleigh, North Carolina) and Trenten Merril (San Juan Capistrano, California), as well as Paralympic hopefuls Ezra Frech (Los Angeles, California) and Dallas Wise (Irmo, South Carolina) all had strong showings in their respective long jump competitions. Frech, who just turned 16 in May, set the Americas record with his 5.90m jump in the T63 category.
Eighteen-year-old Hannah Dederick (Liberty Lake, Washington) beat Paralympic veteran Cheri Madsen (Nebraska City, Nebraska) by .01 in the women's 100m sprint T54. Dederick is an up-and-coming athlete in one of the most competitive classes in wheelchair racing, and has been praised this weekend by teammates Tatyana McFadden and Jaleen Roberts as one to watch. The third and final day of competition kicks off tomorrow at 10:15 a.m. local time as athletes vie for their spot on the U.S. Paralympic Team which will be named officially on June 24. The remaining events will be streamed live at no cost on NBCOlympics.com, the NBC Sports app and Peacock. Full results from today's program can be foundhere.
My time has dropped consistently ever since I started running the 200. I was even more pumped because I found out I ran that one into a negative headwind, so next time with a nice little breeze at my back I can go even faster. It would be amazing to make it to Tokyo. I thought that after college I was done running, I was ready to hang up my spikes. When someone reached out to me with the opportunity to run Para, I said I'm going to take it and see where it takes me. So far it's been an amazing journey.
I felt really good today. This is not my event, so I'm really just trying to learn a lot. But I ran a season's best, so I'm happy with it. The biggest reason to tune into the Paralympics this summer is just the stories, the things that everyone here has had to fight through and go through just to be here. Just being able to look at these people and look at the things they're doing and apply that to yourself. At the end of the day, we're all human, we're all on the same field, and if people can come out here and still be chasing their dreams, then likewise for anyone else.
I can't put [how I'm feeling about this race] into words. These athletes out here are so incredible, and they're people I've looked up to since I started racing 10 years ago. I really adore these athletes. It means so much to me that I get to be a part of such a competitive class with some of the best athletes in the world, and that I get to race with them. I can't even put into words how much it would mean to me to qualify for Tokyo. I have chills all over just thinking about it. It would be extremely emotional for me.
I felt pretty good, I can't complain. I would've loved to hit the six-meter mark, but this season has been so full of ups and downs, I'll take it. It's awesome to be at my first trials. I've competed at junior nationals since I was 8 years old, so to finally compete at the senior level is pretty cool. It's a cool environment, super competitive, but I love all of the guys who are out here with me. It's a dream come true for sure.
I feel great. Our race standard is 10.99 seconds and that's what I hit, so I'm excited about it. We've got about eight more weeks to get ready for Tokyo, so I'm really happy with where I'm at and excited to start in front and end in the front today. Training during the pandemic wasn't easy for anybody. We did what we could and did our best to follow CDC protocol. It was a little bit of a hiccup but at the same time was a little bit of a break and allowed us to set up for a really good training cycle into trials.