U.S. Paralympic Track And Field Trials Kick Off in Minneapolis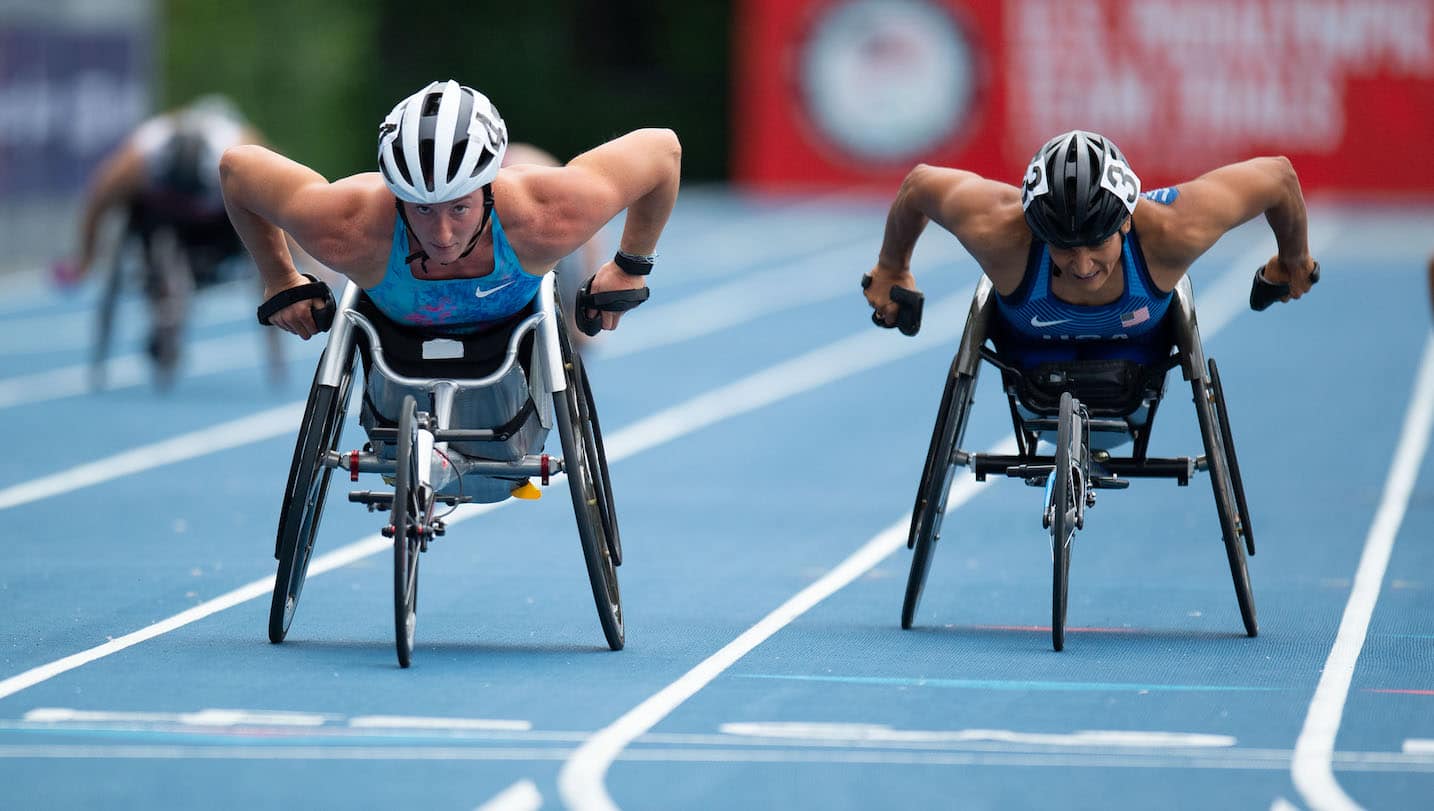 Tatyana McFadden and Cheri Madsen battle toward the end of the women's T54 800m final. (Photo: Mark Reis)
MINNEAPOLIS, Minn. – After five years of training, the best Para track and field athletes in the country reunited today at the Breck School in Minneapolis for the inaugural day of the U.S. Paralympic Team Trials – Track and Field. In an exciting first day of competition, established stars such as Tatyana McFadden (Clarksville, Maryland), Cassie Mitchell (Warner, Okla.) and Cheri Madsen (Nebraska City, Nebraska), who have 27 Paralympic medals between them, were joined by hopefuls like 2019 shot put world champion Josh Cinnamo (San Diego, California) looking to make their first Paralympic team.
In a tight women's T54 400m race, McFadden edged Madsen by .25 seconds, finishing in 53.50. Up-and-coming wheelchair racer Hannah Dederick (Liberty Lake, Washington) took third behind the two veterans in 55.49.
2016 Paralympian Lacey Henderson (Denver, Colorado) set an Americas record in the women's F63long jump, recording a 4.10m effort to lead the way in her classification. Mitchell threw 23.15m in the women's F51 club throw, an event in which she won silver at the 2017 world championships.
Other standout athletes included three-time Paralympic medalist Alexa Halko (Williamsburg, Viriginia), who won the women's T34 800m race in 2:08.76. Daniel Romanchuk (Baltimore, Maryland) cruised to victory in the prelims of the men's T54 100m, earning a spot in the final. Shot putter Hagan Landry (Delcambre, Louisiana), who just missed the podium at the 2019 world championships, threw 13.59m as he hopes to qualify for his first Paralympic team. In his shot put class, F46, Minneapolis local Cinnamo posted a 14.70m throw for his best mark of the day.
On a historic day for Paralympic sport, Team USA launched its first-ever Paralympic awareness campaign, #ShowTheWorld, and both the Para track and field and swimming trials were streamed live for the first time on NBCOlympics.com, Peacock and the NBC Sports app.
Full results from today's competition can be found here.
"It was a great race. Just working through the nerves and getting used to what it feels like to compete again, physically and mentally. Cheri is always so strong and a force to be reckoned with, and Hannah raced really well, she's coming up. It is so good to see young people coming up in our sport.
On the #ShowTheWorld campaign:
"The campaign is awesome and so good to see. It goes to show that the dominoes are falling. People want to watch us, and Team USA is giving us that attention and I think people are really curious, and I think we're really building momentum toward LA 2028. It's wonderful."
"All things considered, given the past year we've had, I'm relatively happy with this performance. It's not as consistent as what I've seen in practice, but anything over four meters in my class is something to be proud of."
"It's a mixed feeling. I'm dealing with a little bit of an injury right now and have been doing everything I can to get it ready for today. From a mark standpoint, it was a disappointing day, but just the fact that I was able to get out and throw was a positive."
On competing in Minneapolis:
"It was nice to be home. I'm a little bit of an away player though. It's tough to put in a full day's work as a dad and as a worker and then come out here, but it is really nice to come out here to compete at home."
"I thought it was a good race. I had been trying to hit a standard this season, so it was really nice to hit a B standard.
On being the youngest Team USA Para track athlete in Rio, and coming back to her second trials:
"It's definitely cool to see all of the younger athletes come up like I did when I was at trials last. Now it feels like I'm more experienced, which is crazy to say."