Jonathan Gore Hopes To Reach Peak Of Quick Para Track Ascent With Tokyo Berth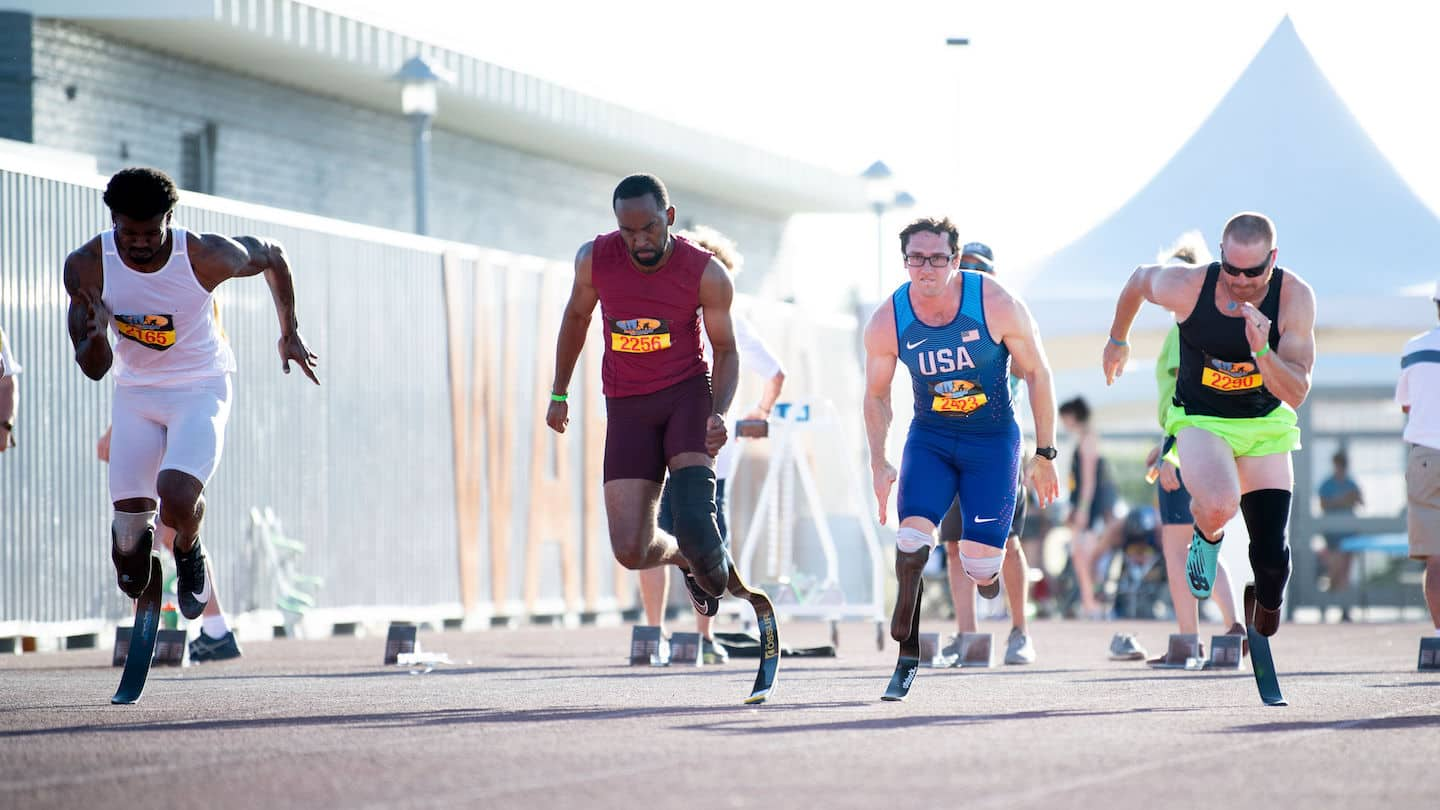 Jonathan Gore (second from left) competes at the 2021 Desert Challenge Games alongside (L-R) Richard Browne, Nick Rogers and Kevan Hueftle. (Photo: Sandra Tenuto Photography)
Three years ago, when he lost his lower left leg to an accident with a zero-turn lawn mower, Jonathan Gore began thinking about the Paralympic Games. After all, he had just concluded an impressive career as an able-bodied track and field athlete at Concord University.
Knowing little about Para sports, Gore did some research and came across Team USA sprinter Jarryd Wallace, a two-time Paralympian who had won the 2017 world championship in the 200-meter. He messaged Wallace on Instagram one evening, and that began a relationship that Gore hopes will lead to a spot on the U.S. team bound for Tokyo.
"The person that really got me going into the Paralympic world was Jarryd Wallace," Gore said. "I'm just thankful (to) God for this opportunity, and I'm thankful for Jarryd being the mediator for the Paralympics and for myself and helping me in every step of the way."
Ironically, Wallace and Gore currently rank 1-2 nationally in the men's 200-meter among runners with lower leg amputations. Gore's top time for Para ranking purposes is 23.3 seconds, though he has run as fast as 23.0 this spring. His best 100-meter this season was 11.29 seconds.
"I feel like I'm still getting used to racing again," Gore said. "I'm still getting used to the blade, getting the feel on how to take curves.
"We've been mostly just base training. We haven't really done speed work yet."
Gore said he thinks it's possible for him to eventually match the times he ran as a collegiate sprinter.
"I felt like I was just reaching my potential, and I felt like I could go faster," Gore said of his college days. "So, I'm using this as an opportunity to see if I could hit the times that I know I could hit from college."
Before he graduated from Concord in 2017 with a bachelor's degree in social work, Gore starred as a sprinter and long jumper for the Mountain Lions. As a senior, the Fayetteville, West Virginia, native was named Mountain East Conference MVP at the conference championships. He also set the school record of 7.16 meters in the long jump.
The 26-year-old Gore is now a graduate assistant track and field coach at Concord, where he's pursuing a master's degree in health promotion.
"Actually, I competed with our team this spring, and that's what really kicked off my Paralympic run," said Gore, who competed against other Para athletes for the first time May 28-30 at the 2021 Desert Challenge Games in Mesa, Arizona. He won the men's T64 100m dash with an impressive time of 10.95.
Gore was back running on a regular prosthesis just months after his accident, and he ran with his blade the day he got it in June 2019. He was obviously eager to return to the sport.
"I was practicing starts and stuff in physical therapy," Gore recalled. "I think the biggest thing that helped me … was that I had the muscle memory, and I knew what running felt like. I just had to get back into it and get back running again."
Gore said he's still working on getting back the proper competitive mindset.
"Each race has gotten better and better where I actually feel like myself again," Gore said.
It's best not to ask Gore about his goals. He'll tell you that he'd rather not discuss them and then fall short.
"Whatever time comes," said Gore, "it comes."
Right now, everything is focused on the U.S. Paralympic Team Trials for Track and Field June 17-20 in Minneapolis. Look for Gore in the individual sprints and relays.
"I just want to see what I can do, mainly," Gore said. "Even if I don't make it in my open events, if I just make it in a relay … I'm fine with (it)."
Since he's just now getting accustomed to Para track and field, Gore is unlikely to walk away from the sport anytime soon.
"I feel really good about it," Gore said. "After this year, for me, it's just let me get a feel of traveling, meeting people, let people see me and see how I compete."
If Gore has his way, the first stop would be Tokyo.
"It would be fun," said Gore, "running with Jarryd and running with the rest of the team."
Bob Reinert spent 17 years writing sports for The Boston Globe. He also served as a sports information director at Saint Anselm College and Phillips Exeter Academy. He is a contributor to USParaTrackAndField.org on behalf of
Red Line Editorial, Inc.