ParaSport Spokane Alums Shine In Making U.S. Paralympic Team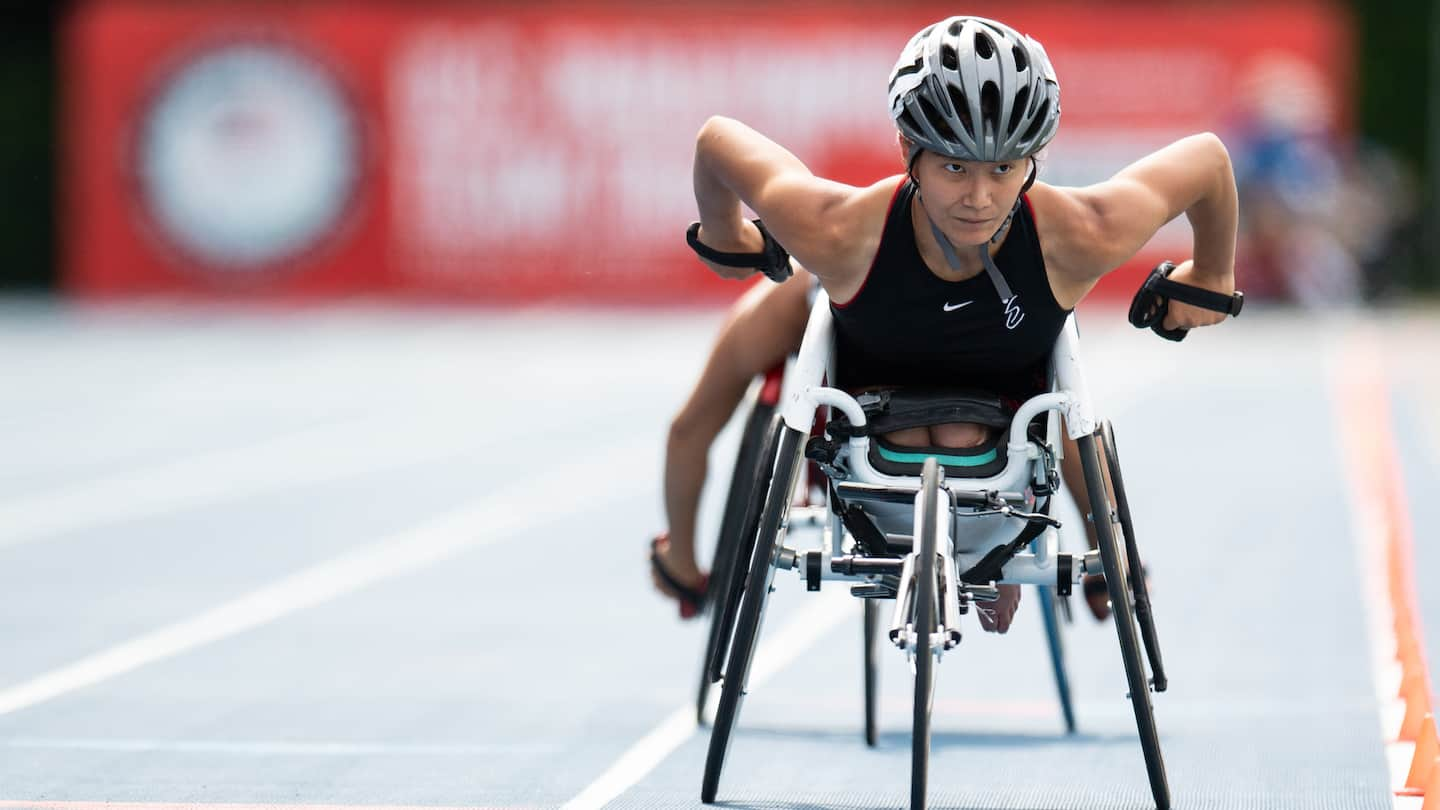 Hannah Dederick competes at U.S. Paralympics Team Trials – Track and Field. (Photo: Mark Reis)
As the Paralympic Movement continues to grow around the United States, so does the caliber of U.S. Paralympic sport clubs and the athlete development pipeline.
At the U.S. Paralympic Team Trials for Track and Field in Minneapolis, that was on full display by the 11 athletes representing ParaSport Spokane. As one of hundreds of U.S. Paralympic sport clubs around the country, the program provides training, recreational and competitive opportunities for youth and adults with physical disabilities.
Several of ParaSport Spokane's track and field athletes have gone on to compete at the Paralympic level, including two-time Paralympian Susannah Scaroni (Tekoa, Washington), three-time Paralympic medalist Chelsea McClammer (Benton City, Washington) and Isaiah Rigo (Cheney, Washington).
While all three qualified for the Paralympic Games Tokyo 2020, it was the Trials performances of two rising stars from the program who made Team USA that showcased its depth: 18-year-old Hannah Dederick (Liberty Lake, Washington) and 22-year-old Jaleen Roberts (Kent, Washington).
Dederick was born in Suzhou, China, and abandoned on the steps of a hospital as a young child. After being placed in an orphanage, she was adopted by the family of a volunteer at the orphanage and moved to Washington state.She was introduced to ParaSport Spokane 10 years ago by her local hospital, and at trials raced against some of the best wheelchair racers in the world in the T54 class, including 17-time Paralympic medalist Tatyana McFadden, eight-time Paralympic medalist Cheri Madsen, seven-time Paralympic medalist Amanda McGrory, Scaroni and McClammer.
Dederick beat Madsen by one-hundredth of a second in a squeaker of a finish in the 100-meter sprint in Minneapolis.
"It was a really tight race. I really had no idea who won that one after. When I saw my name up there, I was speechless," she said. "I feel like I'm in a very special spot coming up as a racer while also being able to compete with the world's best athletes."
Dederick, who is expected to attend the University of Illinois next year following the Tokyo Games, also finished third in the 400, and fifth in the 800 and 1,500.
"She's a T54, which is a very tough class, and I've just seen immense growth from her since the time I joined Para sport in 2017," said Roberts. "She has really high motivation and she gets to race with some of the world's best athletes, so I think that's good for."
Roberts, who will also be making her Paralympic debut in Tokyo, was born with cerebralpalsy and grew up playing a variety of sports before being introduced to Para track and field in 2017. Nicknamed "Jumpin' Jay,"she is already a five-time world championship medalist, including two silvers in the long jump. She finished first in the T37 classification in the long jump, 100 and 200 in Minneapolis.
Roberts credits much of her and her teammates' success to the camaraderie and advice brought to them by athlete alumni, coaches and staff at ParaSport Spokane, including that of two-time Paralympian Tyler Byers, who has been around the sport for two decades and watches the team's practices to offer tips on training, mentality, health and nutrition.
"What he says to our athletes — how he speaks and the advice he gives — is really good for all the younger athletes," Roberts said. "ParaSport Spokane has also had a lot of success because of our team leaders and our coaches. Even throughout COVID they made sure that we stayed engaged. We did Zoom workouts with everyone at our own houses, but we were still able to see each others' faces as well as getting our training in."
Roberts has been making a name in her own right recently on the national stage, taking to social media to candidly share how difficult the postponement of the Tokyo Games was for her mentally, losing all of her motivation and drive at the time.
"It's important to speak out and reach out," she said. "My biggest thing is that I want to show younger athletes with disabilities and people in general that athletes are human. People aren't alone in their struggles. If I can do that by sharing my story, then I'm all for it. I'm always willing to talk about it if anyone has questions. It's important to spread awareness and work on all of the stigmas that surround it."
Roberts advises other athletes, whether they have a disability or not, to always communicate properly with their team leaders and coaches, otherwise it will hinder their performance. She suggests "finding your niche" to help keep a positive mindset, whether it be meditation, journaling or going on walks and being outside in nature.
In other words, take pleasure in the simple things in life.
Stuart Lieberman has covered Paralympic sports for 10 years, including for the International Paralympic Committee at the London 2012, Sochi 2014 and PyeongChang 2018 Games. He is a freelance contributor to TeamUSA.org on behalf of
Red Line Editorial, Inc.