Two Guide Athletes named to U.S. Paralympics Track & Field Roster for Tokyo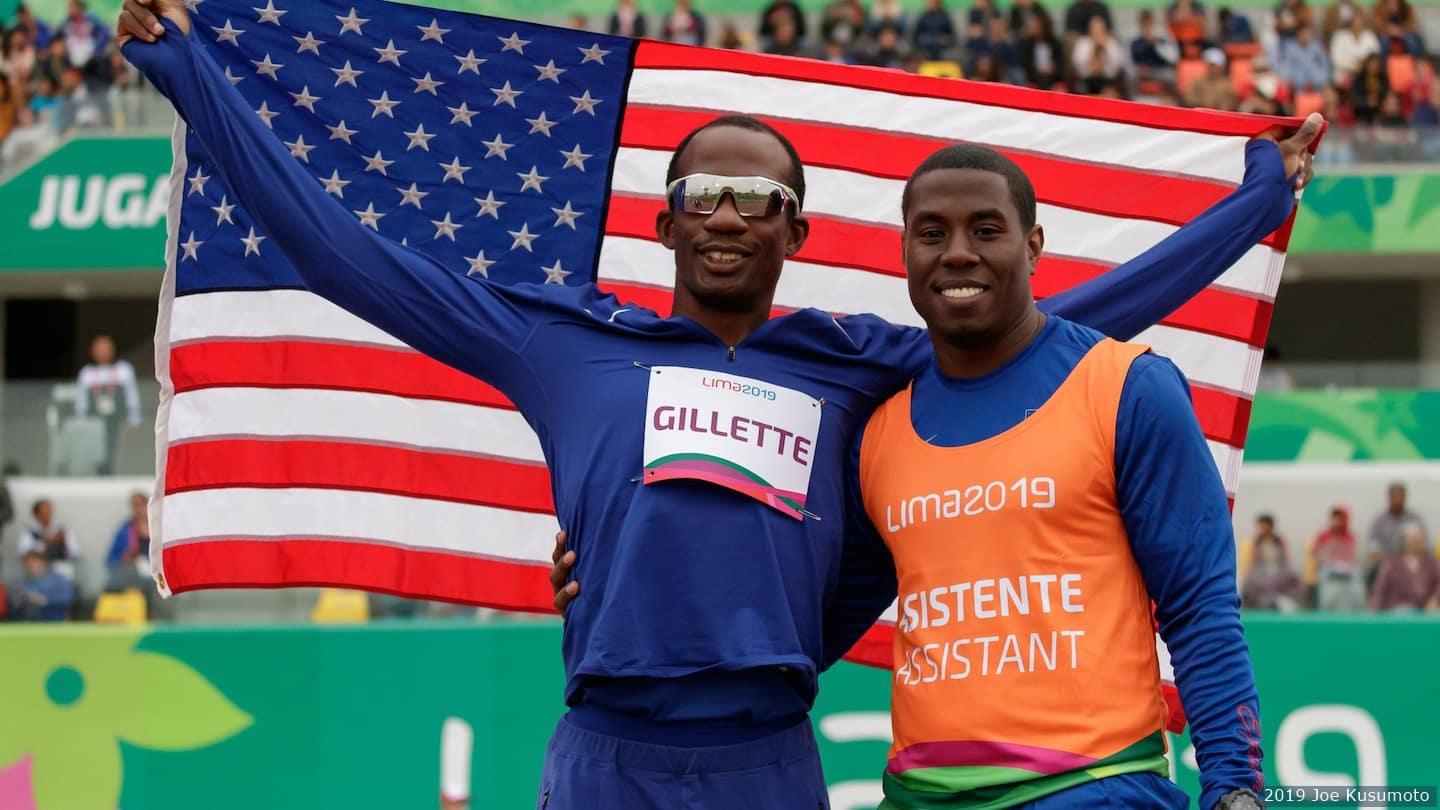 Lex Gillette and Wesley Williams pose with an American flag in 2019. (Photo: Joe Kusumoto)
COLORADO SPRINGS – U.S. Paralympics Track & Field today announced that Wesley Williams (Visalia, California) and Moray Steward (Escondido, California) will guide T11 athletes Lex Gillette (Raleigh, North Carolina) and David Brown (St. Louis, Missouri), respectively, at the Paralympic Games Tokyo 2020. As guides, Williams and Steward are considered full members of the 2020 Paralympic Track and Field team.
Williams earns his fourth Paralympic berth after guiding Gillette to three consecutive long jump silver medals in Beijing 2008, London 2012 and Rio 2016. He also has guided both Gillette and Brown to world championships in the long jump, and has accumulated six world championship medals, including four golds, in his career as a guide. He is set to guide Gillette once again in the T11 long jump in Tokyo.
Steward is a relative newcomer to para track and field, but was set to compete in the 100m as a freshman at San Diego Mesa College during the 2019-20 season. When his collegiate track season was cancelled due to the COVID-19 pandemic, he discovered adaptive athletics and the potential to serve as a guide. Now, he will compete at the highest level the sport has to offer. He will guide Brown in the men's T11 100m in Tokyo.
Williams and Steward join the 62 athletes announced to the Tokyo team following the U.S. Paralympic Team Trials – Track and Field, which took place in Minneapolis, Minnesota, in June.
The Paralympics run from August 24 – September 5. Track and field competition kicks off on August 27 and concludes September 5. In a historic move, NBC announced that it will be broadcasting more than 1200 hours of Paralympic coverage including primetime, a first for the Games.
For media requests and inquiries, please contact Kristen Gowdy at Kristen.Gowdy@usopc.org.