Jumpers Mentor The Next Generation, While Still Trying To Beat Them Of Course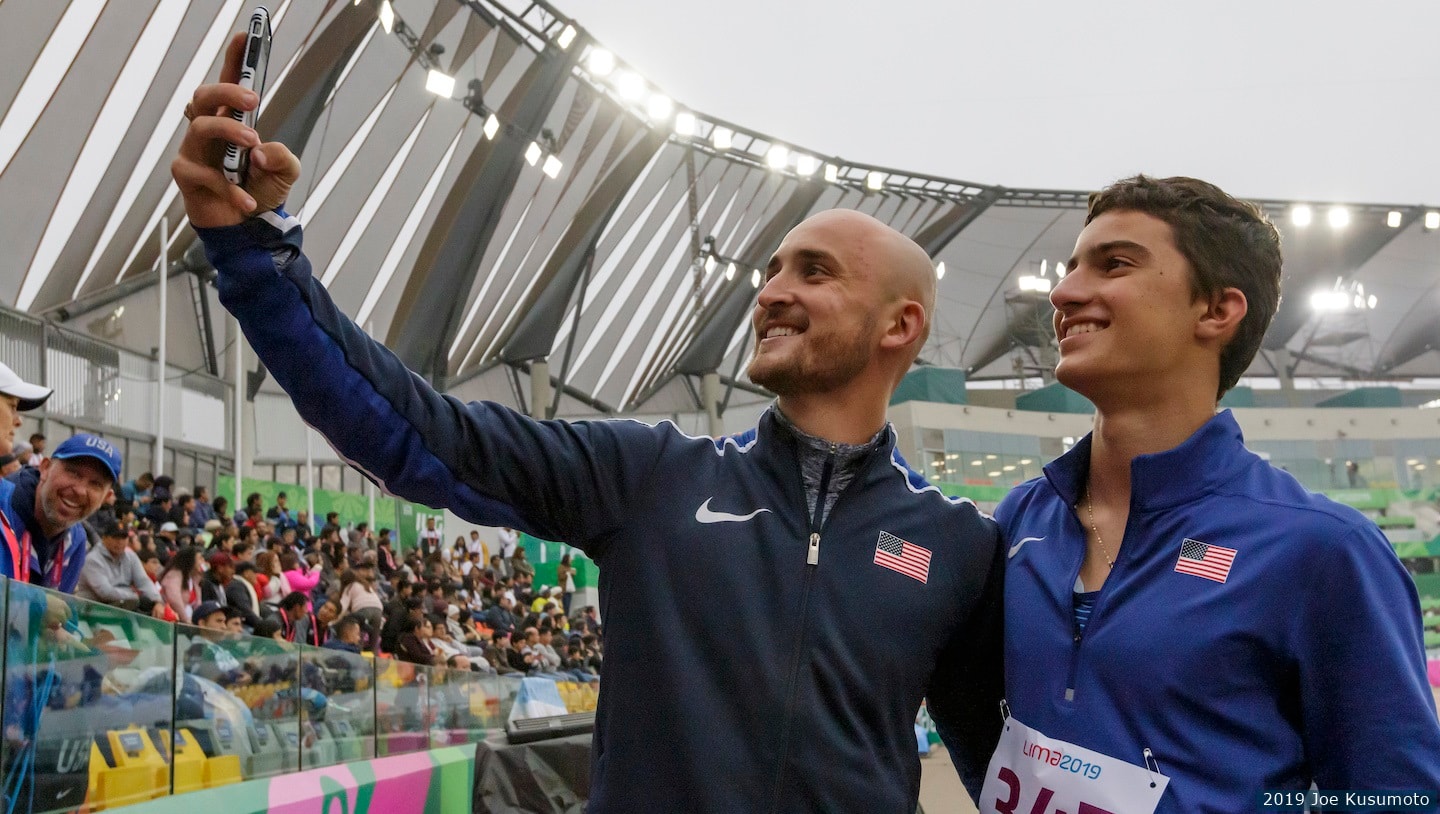 Sam Grewe and Ezra Frech pose for a selfie in 2019. (Photo: Joe Kusumoto)
When the men's high jump competition concluded on the final day of the U.S. Paralympic Team Trials in Minneapolis, Sam Grewe and Ezra Frech embraced for several minutes on the field of play.
Grewe had jumped 1.85 meters, and Frech had leaped 1.80 meters two days after breaking the American record in the long jump, both solidifying their spots on Team USA for the Paralympic Games Tokyo 2020.
That precious moment was half a decade in the making.
"Mentoring Ezra has been an incredible experience," said Grewe, a silver medalist at the Paralympic Games Rio 2016. "He pulled me aside after the competition and reminded me of the time five years ago when I told him, 'If you come out and you train, you can go to Tokyo right beside me.' So it was cool to see that come full circle and know he'll be right beside me jumping, and we'll both have the opportunity to medal there. That's so special to me because when we first started working with him, he was just a little kid. Now, he's grown and is so mature."
It was not long ago that Grewe himself was the rising star, winning a surprise gold medal at the 2015 World Para Athletics Championships four years after losing his right leg to cancer. He had only been taking part in the high jump for a year; he didn't even have a coach at the time. Now, at 23, he has a Paralympic silver medal and three world titles to his name, and he's enrolling at the University of Michigan's medical school so he can help improve the inclusion of people with disabilities in healthcare research, education and practice.
Humble and poised, Grewe doesn't mention any of that in his interviews, though.
He prefers to focus on the youth coming up behind him, specifically the16-year-old prodigy Frech from Los Angeles.
"He's earned every ounce of this," Grewe said. "I've watched him every single day in the past five years put in the time and effort and really commit to what it takes to be in the position he is today. I'm immensely proud of him. He's come so incredibly far. Everyone around him knows he put everything he has into making this team."
Frech was born missing his left knee, left fibula and fingers on his left hand, and received his first prosthetic leg at 11 months. He has played nearly every sport growing up, and with his family co-created Angel City Sports and the Angel City Games, an annual, multi-sport competition in California for people with disabilities.
Entering his junior year of high school, he already owns three World Para Athletics Junior Championship medals, including gold in the high jump, and participated at the World Para Athletics Championships at the senior level in 2019.
And his career has barely begun.
"I competed at junior nationals since I was 8 years old, so to be at senior nationals is pretty cool," Frech said. "It's a dream come true for me. I'm looking forward to coming home from Tokyo with a few new pieces of jewelry."
Also embracing after their high jumps in Minneapolis were another mentor-mentee pair: two-time Paralympic champion and seven-time world championship medalist Roderick Townsend and college sophomore Dallas Wise.
"These guys are no slouches, that's for sure," Townsend said. "I know how it is to want a little bit of guidance, and these guys have so much potential and promise. It's very humbling to be a part of their journey."
Townsend, 28, helped recruit Wise to the sport with a phone call a few years back.
"I'm probably going to regret giving him a call one of these days," Townsend joked, as Wise finished just behind him at trials with a 6.86-meter mark in the long jump and a 2.02-meter mark in the high jump, close to Townsend's marks of 7.00 and 2.08."We got some nice new faces here in Dallas Wise and Ezra Frech, and it's very exciting to be a part of this up-and-coming generation.
"As we gear up for LA in 2028, those are the only names you guys are going to be hearing."