Clark, Grewe shine as Team USA collects six medals on day five of track and field competition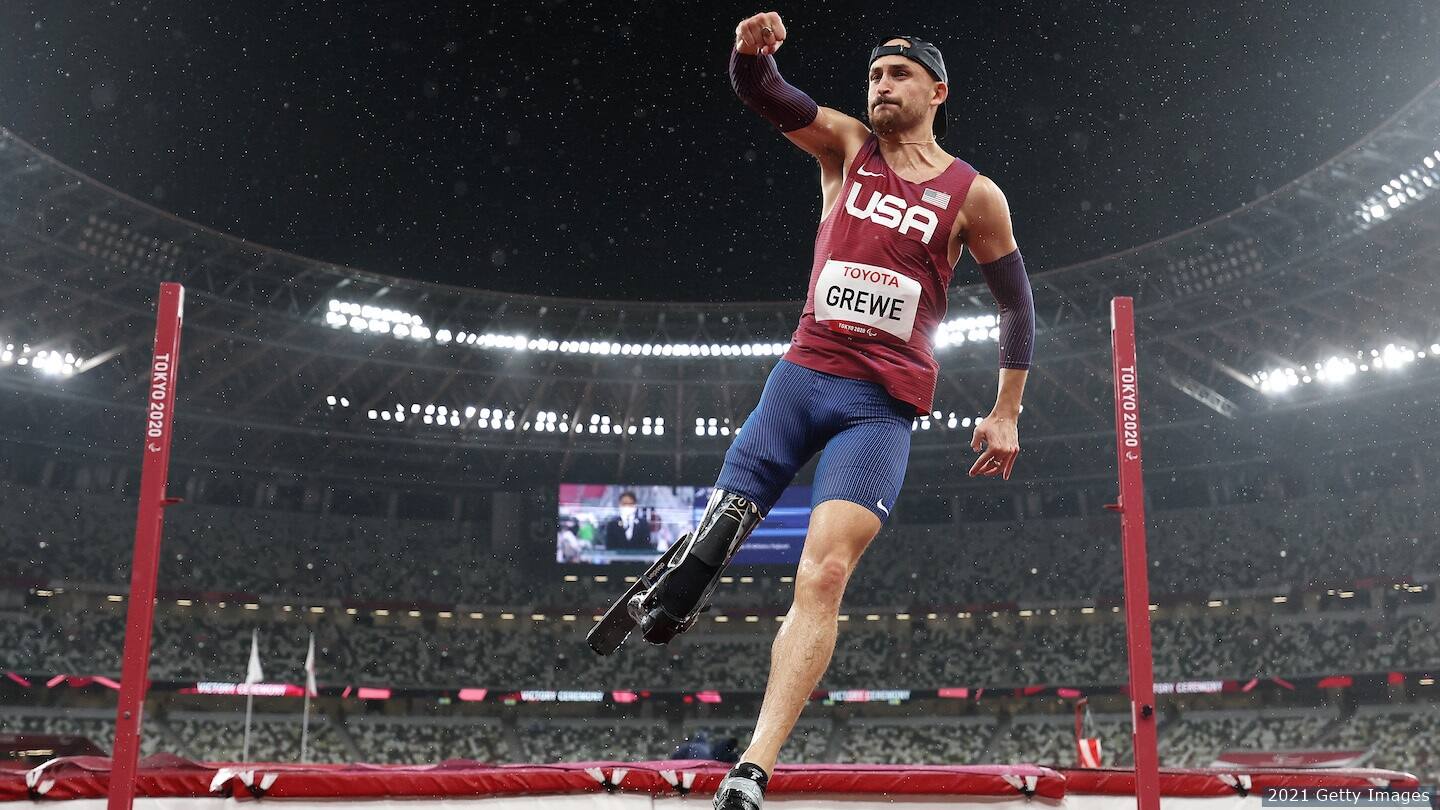 TOKYO, Japan –A new world record and Paralympic gold for Breanna Clark (Los Angeles, California) and a big win in the men's high jump T63 for Sam Grewe (Middlebury, Indiana) set the tone for a six-medal day for Team USA on the fifth day of track and field at the Paralympic Games Tokyo 2020.
Clark, the reigning gold medalist in the women's 400m T20 from Rio, defended her title in a big way, setting a new world record in 55.18. Clark held the previous record as well, set in 2018, at 55.99.
Grewe, meanwhile, had the 2016 Paralympic champion to beat in India's Mariyappan Thangavelu. Grewe had a bumpy start to the competition when he missed his first attempt at 1.73 meters, but bounced back and hit every attempt successfully until 1.86 meters. He missed his first two attempts at 1.88, a jump he needed to beat Thangavelu and win gold, and said he used the silver medal he earned in Rio as motivation to make the final jump. He had already won gold when he attempted to break his own world record at 1.91 meters, but had some equipment malfunctions that kept him from hitting that attempt.
Nevertheless, the gold was sweet for Grewe, who just began medical school this month at the University of Michigan and said he's been studying for approximately six hours a day while in Tokyo.
Ezra Frech (Los Angeles, California), competing alongside Grewe, whom he calls a mentor and a brother, finished fifth in his Paralympic high jump debut by tying a personal-best jump of 1.80 meters. The 16-year-old has a bright future ahead of him, and said he wants to use this competition as fuel for the future Paralympic Games in which he plans to compete.
In the women's 100m T47, current world record holder Brittni Mason (Cleveland, Ohio) and 2016 Paralympic champion Deja Young (Mesquite, Texas) recorded Team USA's fourth double podium of Paralympic track and field competition in Tokyo. Mason's battle with eventual gold medal winner Marina Lisbeli Vera Andrade came down to the thousandth of a second, with Andrade edging Mason by .001 in one of the closest races in Tokyo thus far. In another tight battle, Young snuck onto the podium just .01 seconds ahead of Poland's Alicja Jeromin.
In her first Paralympic event of Tokyo, Kym Crosby (Yuba City, California) repeated her bronze medal performance from Rio in the women's 100m T13. Crosby had the fastest qualifying time of the preliminary heats, and was able to earn her second Paralympic podium in a wet and rainy final. Teammates Erin Kerkhoff (Coralville, Iowa) and Taylor Talbot (Ontario, Oregon), both making their Paralympic debuts, missed qualifying for the final after finishing fifth in their preliminary heats. Both will return to the track alongside Crosby for the women's 400mT13 heats on September 2.
In the morning session, Roderick Townsend (Stockton, California) nabbed the first medal of the day for Team USA, taking silver in the men's long jump T47, his final event in Tokyo. Townsend, who came into the event as the reigning Paralympic champion, jumped a personal-best 7.43 meters, but was edged by Cuba's Sol Cervantes, who's 7.46-meter winning jump was also a Paralympic record. The silver is Townsend's second medal of the Games after he won the men's high jump T47 in dominant fashion on Sunday night.
Teammate Dallas Wise (Columbia, South Carolina), the high jump silver medalist, just missed the podium and finished fourth while Tobi Fawehinmi (Arlington, Texas), the final American in the event, took sixth.
Sydney Barta (Arlington, Virginia) put together her most impressive 200mT64 race of the season, qualifying for the finals in an American record-time of 26.87. The 17-year-old just missed the podium in the evening final, running a 27.00 and finishing fourth by just .2 seconds. Team USA's Beatriz Hatz (Lakewood, Colorado) took sixth in the event, and Femita Ayanbeku (Boston, Massachusetts), in her Tokyo debut, just missed the finals.
In a tightly contested men's 1500m T54 final, Daniel Romanchuk (Mount Airy, Maryland) finished in fifth place. Romanchuk powered to a strong start and led for a majority of the race, but was overtaken in the final lap. One of the busiest athletes in Tokyo, Romanchuk returns to competition for the men's 100m T54 final tomorrow night. Meanwhile, teammates Tatyana McFadden (Baltimore, Maryland) and Susannah Scaroni (Tekoa, Washington) had a rough go of the women's 1500m T54. The rainy conditions caused Scaroni to slip at the beginning of the race, leading to a ninth-place finish. McFadden finished in fifth, less than a second off the podium. It is the first time this Games that either athlete has missed the podium, but both have more events to attempt securing their third medals in Tokyo.
Joel Gomez (Encinitas, California) made his Paralympic debut in the men's 1500m T13 and finished ninth in 4:02.41. Gomez will return to the track for the men's 400m T13 final on Thursday morning.
To round out the evening, Noah Malone (Fishers, Indiana), who already took the silver medal in the men's 100m T12, set a Paralympic record in the 400m T12 en route to qualifying for the event finals on September 2.
Track and field competition resumes on September 1 at 9:30 a.m. JST (August 29 at 8:30 p.m. EST). All races will be live streamed through NBCOlympics.com, on Peacock and through the NBC Sports app. A full schedule of events is available here.
For media inquiries, please contact Kristen Gowdy at Kristen.Gowdy@usopc.org.
- Breanna Clark (women's 400m T20)
-Sam Grewe (men's high jump T63)
- Brittni Mason (women's 100m T47)
- Roderick Townsend (men's long jump T47)
- Kym Crosby (women's 100m T13)
- Deja Young (women's 100m T47)
I remember very vividly at my starting line looking at that board and seeing my name second. I knew that that jump, I was going to clear it. I was not ready to walk with silver again. I was thrilled in Rio. Silver's great, but I wasn't ready to do it again. And I think at that point it was game over.I was getting up over that bar and there's no way I wasn't walking away with anything but gold and that's what I was telling myself, because I had to hype myself up.
I think the Rio experience definitely pushed me so much more, especially considering the guy who was in first.
I felt good. I couldn't ask for you know a better race. I thought I executed my start really well and I remained calm.During my race, you know, even though I felt the pressure come in, I made sure to still execute and finish the best I possibly could.
We both motivate each other and we both push each other each race.The fact that we're both in this place together is amazing. We've both been through a lot.
It didn't go how I wanted it to. It stings a bit, but if that's as bad as it gets, it's a pretty good position to be in. Paris, fortunately, is not five years away, it's right around the corner. I'm just extremely excited to get home, spend some time with friends and family, and get back to training when the time comes.
Unfortunately, my last time on a long jump runway was in Dubai at the world championships in 2019. Due to COVID, I just had nowhere to train the past two years. I felt a lot of that rust out there today, but at the end of the day it's about competing and having fun, and I'm so appreciative that everybody was able to make Tokyo happen. The fact that we were able to come together as a world again and compete meant so much to me.
I was feeling good and confident a little bit, because I've had such a hard year, I ran my season's best here.It's been such a roller coaster.Going into finals, I was really nervous. I was kind of an underdog. But, I mean, every champion goes through it, all the greats go through it, and I think this is going to be part of my story.
Brittni is an amazing athlete. Iron sharpens iron.We're making history for the Paralympics –Team USA has never had two women in my class, let alone two women of color in our class. I think it's only up from here.
For full results from Tokyo 2020, please visit Paralympic.org.
SOCIAL MEDIA
Follow U.S. Paralympics Track & Field on Facebook, Twitter and Instagram for Team USA's latest news and updates.