Romanchuk, Townsend golden on eight medal day for U.S. Paralympics Track & Field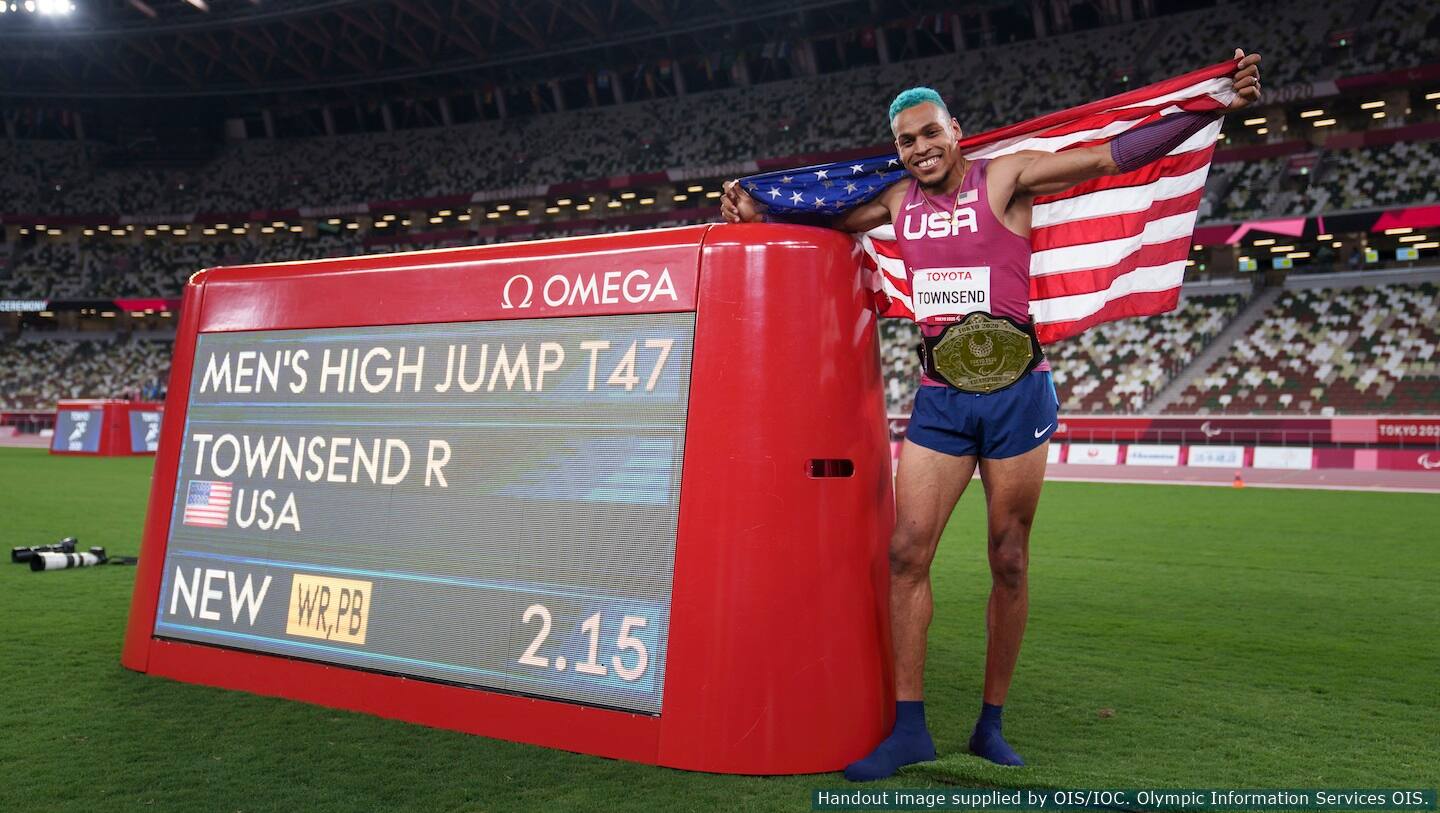 Roderick Townsend poses with an American Flag next to his new world record on the board. (Photo: OIS Photos)
TOKYO, Japan – Daniel Romanchuk (Mount Airy, Maryland) and Roderick Townsend (Stockton, California) put on a show in the biggest night of track and field competition for Team USA thus far at the Paralympic Games Tokyo 2020. Romanchuk and Townsend each found a way to make secure storybook wins – Romanchuk with a come-from-behind nail biter and Townsend with a new world record – en route to two of Team USA's eight medals of the day.
Townsend and Paralympic newcomer Dallas Wise (Columbia, South Carolina), were dominant in the men's high jump T47. Townsend defended his Paralympic gold medal from Rio 2016 and set a new world record of 2.15-meters. Wise, in his Paralympic debut, shook off the jitters to tie for second with India's Nishad Kumar. The dynamic duo has had a mentor-mentee relationship dating back to when Wise discovered adaptive sport, and both were quick to credit each other with their own success. Both athletes will compete in the men's long jump T47, an event Townsend also won in Rio.
On the track, meanwhile, Romanchuk blazed to his first Paralympic medal in the men's 400m T54, just a day after making his first Paralympic wheelchair racing finals ever in the 5000m T54. The 23-year-old American was in second place behind Thailand's Athiwat Paeng-Nuea until the last 25 meters, when he surged ahead and edged Paeng-Nuea by just .01 seconds.
Romanchuk has one of the busiest schedules of any track and field competitor in Tokyo. He will head back to the track again tomorrow morning in the men's 1500m T54 with the 100m, 800m and marathon still on deck.
In the women's 800m T54, Tatyana McFadden (Baltimore, Maryland) and Susannah Scaroni (Tekoa, Washington) combined for their second double podium in Tokyo. Just over 24 hours after medaling in the women's 5000m T54, McFadden and Scaroni did it again, finishing with silver and bronze, respectively. Their times of 1:43.16 (McFadden) and 1:44.43 (Scaroni) were both season-bests for the duo.
The medal was the 19th of McFadden's storied career who needs two more to tie Canadian Chantal Petitclerc for the honor of the most decorated Paralympic track and field athlete of all-time. McFadden and Scaroni have another quick turnaround, returning to competition tomorrow night for the preliminary heats of the women's 1500m T54.
Three-time Paralympic medalist Amanda McGrory (Savoy, Illinois), who also works full-time as an archivist for the United States Olympic & Paralympic Committee, made her Tokyo debut alongside McFadden and Scaroni, finishing sixth in a tightly contested race.
The medals kept coming for Team USA as the night went on. Jaleen Roberts (Kent, Washington), Raymond Martin (Jersey City, New Jersey) and Noah Malone (Fishers, Indiana) all earned silver medals. For Roberts and Malone, their medals in the women's long jump T37 and the men's 100m T12 respectively were the first in their Paralympic careers. Martin, who took silver in the men's 400m T52 on the first day of competition, came back strong to capture silver in the men's 1500m T52 for his ninth total Paralympic medal. Martin will go for his 10th in the 100m on September 3. Teammate Isaiah Rigo (Cheney, Washington), in his first Paralympics, qualified for his second event final and finished seventh.
Isaac Jean-Paul (Evanston, Illinois) made his Paralympic debut in the men's 100m T13, qualifying for the final with a personal best 10.86-second effort. He bettered that in the final and missed the podium by .19 seconds, finishing fourth in 10.84.
Three-time Paralympian Brian Siemann (Champaign, Illinois) also just missed the podium, dropping into fourth place in the men's 400m T53 by just .2 seconds. His finals time of 49.61 was a season-best.
In her second Paralympic appearance, Jessica Heims (Swisher, Iowa) finished fifth in the women's discus throw F64, setting an American record in the process with her 34.89-meter toss. In a mixed class event, Heims was the top F64 athlete as F44 throwers swept the podium. The result is a big improvement from Rio, where Heims finished eighth.
Chelsea McClammer (Richland, Washington) and Yen Hoang (Vancouver, Washington) both qualified for the final of the women's 800m T53. McClammer recorded a season-best of 1:51.19 in the final to put her in sixth, while Hoang in her first Paralympic event, finished eighth.
In other Team USA action, Alexa Halko (Williamsburg, Virginia) and Eva Houston (Omaha, Nebraska) took sixth and eight, respectively, in the women's 100m T34 race. Making her Paralympic debut, Houston's time of 19.82 was a personal best. Scot Severn (Caro, Michigan) placed seventh in the men's shot put F53. Josh George (Herndon, Virginia) posted a personal best time, but narrowly missed the finals of the men's 800m T53 race.
Track and field competition resumes on August 30 at 9:30 a.m. JST (August 29 at 8:30 p.m. EST). All races will be live streamed through NBCOlympics.com, on Peacock and through the NBC Sports app. A full schedule of events is available here.
For media inquiries, please contact Kristen Gowdy at Kristen.Gowdy@usopc.org.
TEAM USA MEDALS (Day 3)



Gold:
- Daniel Romanchuk (men's 400m T54)
- Roderick Townsend (men's high jump T47)
Silver:
- Noah Malone (men's 100m T12)
- Raymond Martin (men's 1500m T52)
- Tatyana McFadden (women's 800m T54)
- Jaleen Roberts (women's long jump T37)
- Dallas Wise (men's high jump T47)
Bronze:
- Susannah Scaroni (women's 800m T54)
QUOTES
Roderick Townsend
This is what we had hoped for, but we have long jump in less than 48 hours. We're trying to enjoy these moments but knowing there's more to come. With COVID, it has been a fight for the past year. The only time I've been in a high jump pit is at meets. For my wife and I, we knew Tokyo was going to be a fight, we knew getting here was going to be a fight.
On Dallas Wise and their relationship
I wanted him to go out there and do his thing. He's a very talented athlete and has so much potential. This is his first year in the sport, this is his first Games, there's nothing that he had to prove to anybody. I see so much of myself in him, and it just meant so much for me to be able to be out there with him. With him and the other competitors I have to go out and push myself to be better. Records are meant to be broken, but I want mine to last for a little while longer.
Daniel Romanchuk
Whenever I start getting worked up, so to say, I just try to remember that it's just another 400-meter track. Every track is 400 meters, and so just going back to that. It's another track.
I'm just thankful to everyone who's helped me to get where I am and to God for the opportunity to do these things. It means a lot.
Dallas Wise
I didn't feel that I did too well, but this experience, it's the best thing in the world. This is wonderful. [Roderick] has helped me so much, and to be under his wing is a blessing. We've got one more event, long jump, and we have to go out and compete. I really want to sweep this thing. We give each other calm, and we're always going to love each other.
Tatyana McFadden
Making 19 is absolutely incredible. I'm just so honored. It's been a really tough journey for me to be here. To be right up there with Manuela, I've been racing against her since I was 15 and she's always been a force to be reckoned with. We've always been going back and forth. Today was a really tough start, and that makes a difference with her, that automatically puts you into second place, she's that strong. But I'm very pleased with my performance. I'm just really happy that I was up there and was able to recover my start. To have a podium and to go two and three [with Susannah], that's really big for Team USA.
Noah Malone
It's a huge honor. Just for comparison, in Dubai two years ago at world championships, I didn't even make the finals. To get a silver medal at the Paralympic Games, it's a huge honor. Everyone is so awesome here, volunteers, teammates, it's a great experience. I can't ask for more.
FULL RESULTS
For full results from Tokyo 2020, please visit Paralympic.org.

SOCIAL MEDIA
Follow U.S. Paralympics Track & Field on Facebook, Twitter and Instagram for Team USA's latest news and updates.