Mayhugh's world record highlights Team USA hat trick on opening day in Tokyo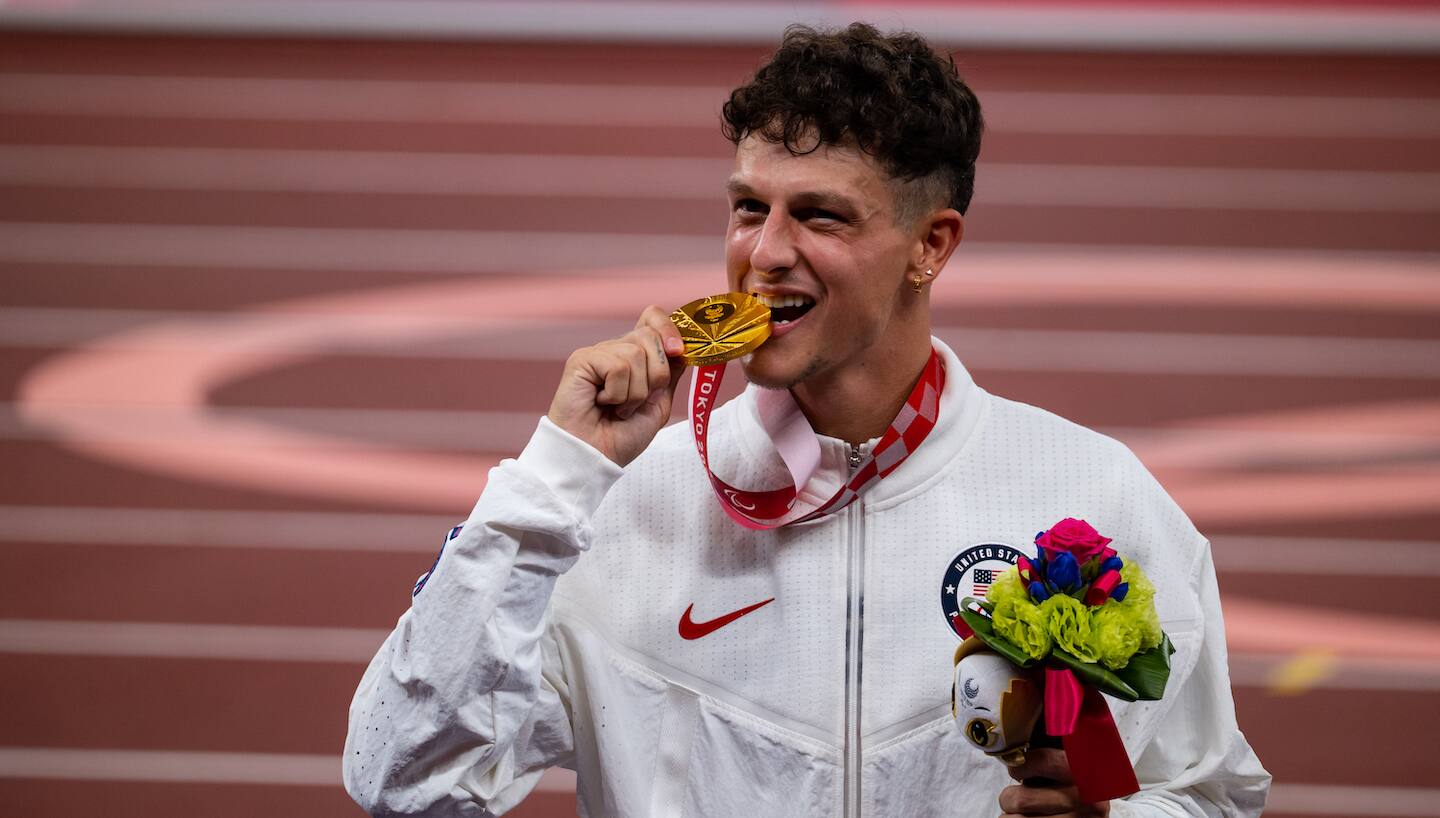 TOKYO, Japan – Nick Mayhugh (Manassas, Virginia) set a world record in the preliminary round of the men's 100m T37, then broke it again en route to the gold medal in his Paralympic debut. Mayhugh's victory set the tone for Team USA's track and field athletes, who took home three medals on the first day of track and field competition at the Paralympic Games Tokyo 2020. Raymond Martin (Jersey City, New Jersey) and Lex Gillette (Raleigh, North Carolina) each earned silver to cap the team's first-day medal haul.
Mayhugh, a former 7-a-side soccer player for Team USA, transitioned to track and field when the sport was cut from the Paralympic program for Tokyo. He has developed his sprinting technique in just over a year, and is now the world record holder in both the 100m and 200m T37, the latter of which he set at U.S. Paralympics Team Trials – Track and Field in June. Mayhugh's times today of 10.97 and 10.95 seconds make him the first athlete in his classification to run a sub-11 100 meters in official competition.Mayhugh will look for repeat performances in the 200m and 400m races later in the Tokyo Games.
Gillette and guide Wesley Williams (Visalia, California) once again teamed up for Paralympic silver in the men's long jump T11, Gillette's fifth Paralympic silver medal in as many attempts. The four-time world champion posted a best jump of 6.17m to finish behind only China's Di Dongdong. Post-race, Gillette said the silver only gives him more motivation to shoot for gold in Paris 2024.
Martin's medal came in a tightly contested men's 400m T52 race that saw him battle it out to the hundredth of a second with Japan's Tomoki Sato. Martin, who defeated Sato in the same event in Rio, led for the majority of the race, but Sato edged him at the finish line by .20 seconds to claim gold. Martin said he was happy with his race, particularly after fracturing his wrist in 2019 that led to a long recovery process. The medal was Martin's eighth career Paralympic podiumappearance, and he will also compete in the 100m and 1500m in Tokyo.
Another bright spot for Team USA in the men's 400m T52 was Gianfranco Iannotta (Garfield, New Jersey), who set a personal best in the final, finishing in 1:00.54 to take fourth place. Teammate Isaiah Rigo (Cheney, Washington) qualified for the final, but was disqualified due to World Para Athletics Rule 18.5a, a rule that bars athletes from stepping out of their lane.
Noah Malone (Fishers, Indiana) set an American record in this morning's preliminary heats of the men's 100m T12, which qualifies him for Sunday's finals. Jaleen Roberts (Kent, Washington) qualified for the final in the women's 200m T37 and set an American record of her own, finishing sixth overall in 28.02. Her signature event, the long jump, is yet to come.
In a stacked men's 100m T47 field, Tanner Wright (Fort Worth, Texas) came away with a seventh-place finish in his Paralympic debut. He will compete in the 400m, his best event, later in the Games. Teammate Roderick Townsend (Stockton, California) missed the final in the same event, but is the reigning Paralympic champion in both the high jump and long jump T47, and will compete in both events in the coming days.
In his Tokyo debut, Daniel Romanchuk (Mount Airy, Maryland) qualified for the final of the men's 5000m T54 after finishing second in his heat with a season-best 9:53.38 performance. Teammates Brian Siemann (Champaign, Illinois) and Aaron Pike (Park Rapids, Minnesota) missed the final, but will race again this weekend. Siemann's next event is the 400m T54, while both athletes will compete in the 1500m T54.
Danielle Aravich (Boise, Idaho) and Liza Corso (Newmarket, New Hampshire) capped the night for Team USA in the women's 400m T47 and women's 1500m T13, respectively. Corso qualified for the finals in 4:52.52, while Aravich missed the finals. A dual-sport athlete, Aravich will now turn her focus to Para Nordic skiing and qualifying for Beijing 2022.
Track and field competition resumes on August 28 at 9:30 a.m. JST (August 27 at 8:30 p.m. EST). All races will be live streamed through NBCOlympics.com, on Peacock and through the NBC Sports app. A full schedule of events is available here.
For media inquiries, please contact Kristen Gowdy at Kristen.Gowdy@usopc.org.
Gold:
- Nick Mayhugh (men's 100m T37)
-Lex Gillette (men's long jump T11)
-Raymond Martin (men's 400m T52)
It's indescribable.It's an amazing feeling and I can't describe it. It's a testament to all of the hard work myself and my team has put in. There were days that I didn't want to get up, didn't want to go lift or go run on the track, but my brother, my family and my coach were there every step of the way, so credit to them.
I knew that if I set my mind to it, I could become the best in the world. Soccer and track are two completely different sports, it's a marathon versus a sprint. Soto go from one to the other was incredibly difficult, and I've got a long way to go. I can run a lot faster. I'll be back, for as long as the sport will have me.
It's not what I was wanting, but all in all, I went out there and did my absolute best. The circumstances were really good, but unfortunately I didn't get the exact result I wanted. But it's nice to get on the podium and win a silver medal. I mean, god forbid you be second-best at something in the world. I just appreciate all of the support from family, friends, sponsors, coaches, my guide, everybody. I love all of them and wouldn't be in this position without them.
I knew it was going to be a close race. It was closer than I expected it to be, and we both had great times. I don't think we've ran that in years, so we both [Martin and Sato] ran some of the best races of our lives. I knew that I had to have a good start because Sato has a very good finish, so the strategy was just to start as hard as I could and hold him off as long as I could. I think the 1500 on Sunday will be another good race.
FULL RESULTS
For full results from Tokyo 2020, please visit Paralympic.org.

SOCIAL MEDIA
Follow U.S. Paralympics Track & Field on Facebook, Twitter and Instagram for Team USA's latest news and updates.