How Nick Mayhugh Runs Past His Challenges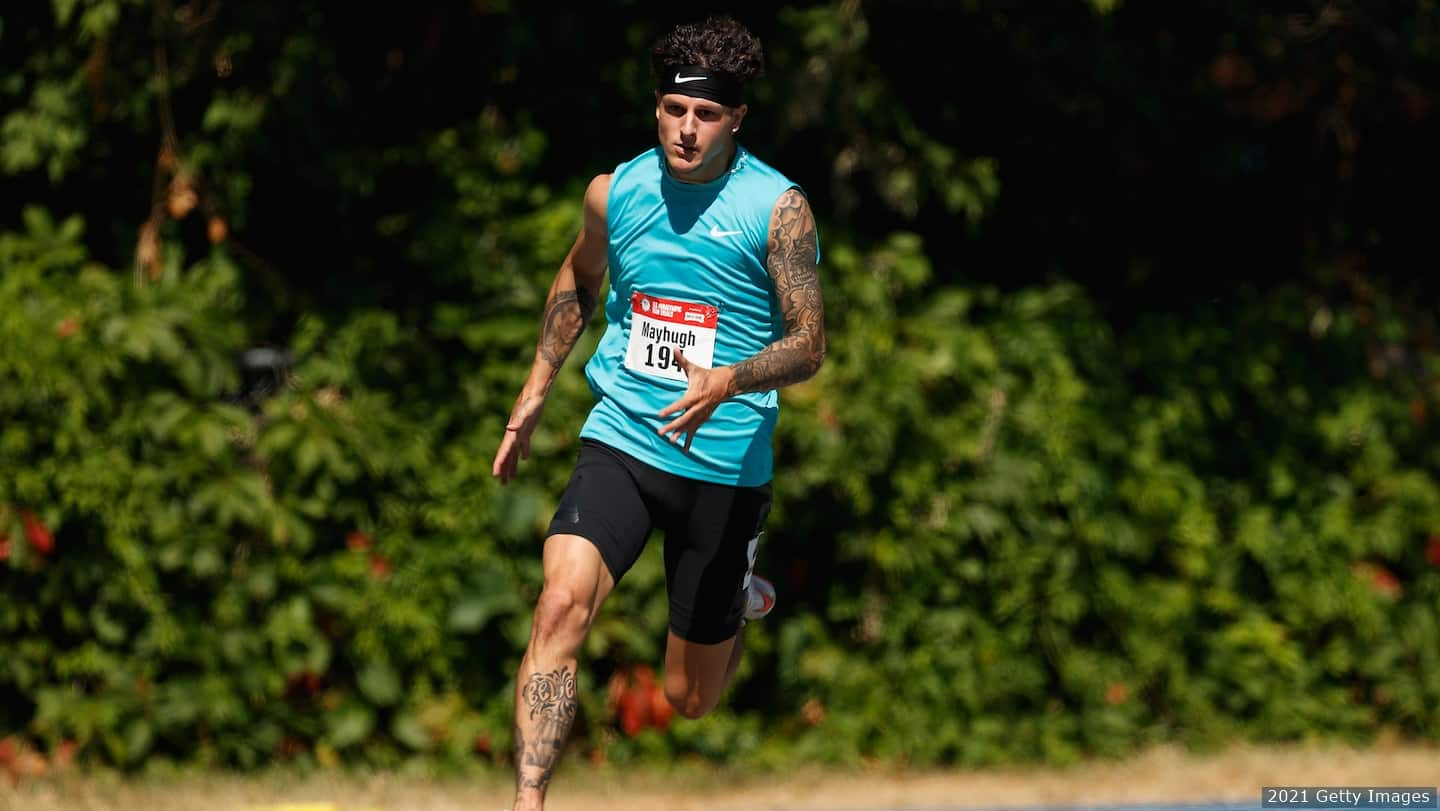 How do you overcome an obstacle when no one else around you realizes there's a problem?
As a kid growing up in Virginia, Nick Mayhugh's solution was to put a competitive chip on his shoulder and work twice as hard to succeed.
A sprinter for the U.S. Paralympic track and field team, Mayhugh has had a numbness along the left side of his body for as long as he can remember. It was difficult to accomplish simple tasks like tying shoes or typing on a keyboard.
Mayhugh was an active kid, which made his issues even less obvious. He played soccer every day and was a fast runner. When he tried to explain his situation to teachers, they thought he was joking and gave him detention. Doctors could find nothing wrong. His parents, drawing on the doctors' assessments, saw no cause for alarm.
But Mayhugh knew better.
"In elementary school, I couldn't play the recorder," said the 25-year-old Mayhugh, who now lives in Charlotte, North Carolina. "My teacher thought I was just being a class clown and took me to the principal's office. They couldn't see it, and I was the only one that could feel it."
Mayhugh finally resolved to keep his physical difficulties to himself. He spent hours in his room teaching himself to walk back and forth without a limp. His older brother Thomas, who briefly played professional soccer before turning to coaching, helped him strengthen his left foot by teaching him dribbling drills using cones. His soccer skills earned him admission to the D.C. United Academy, run by the MLS team.
"Nick aspired to be the athlete he is today through these difficulties and challenges, without ever looking back to say, 'I don't have an issue; I'm normal like everybody else,'" explained his father Scott.
When he was 14, Nick's physical problems finally boiled to the surface. One day as he was getting ready for school, he suffered a grand mal seizure. Tests revealed a dead spot the size of a golf ball on the right side of his brain. It turned out he had suffered a prenatal stroke, causing the numbness in his left side.
The news brought a sense of relief to Mayhugh and his family that allowed them to finally understand his condition, which doctors diagnosed as cerebral palsy. But when his neurologist told him he may never play soccer again, Mayhugh adopted the same stubborn determination to prove everyone wrong.
It wasn't easy. After being cleared to play several months following the seizure, Mayhugh was cut from the Academy team by a new coaching staff. He played for several club teams before catching the attention of Radford University head soccer coach Marc Reeves.
"He was the only one that believed I could do what I said I could do," Mayhugh recalled.
Despite numerous injuries, Mayhugh played forward for the Highlanders, who won two Big South Conference championships. But the experience prepared him for an even bigger stage: playing for the U.S. Para 7-a-side National Team. As a midfielder, he scored 34 goals and 31 assists in 25 games. In 2019, the team captured bronze at the Parapan American Games in Lima, Peru. Mayhugh scored eight goals during the competition, including the winning goal in the bronze-medal match.
When it was announced that soccer would not be on the program for Paralympic Games Tokyo 2020, Mayhugh turned his attention to becoming a sprinter. He moved to Charlotte to work with Thomas, who has become his personal coach and trainer. In less than two years, he has soared to No. 1 in the world in the T37 classification. At the Desert Challenge Games in Arizona this past May, he broke the American record in the 200-meter. At the U.S. Paralympic Team Trials for Track and Field in June, he cemented his spot for the Tokyo Games by setting a new world record in the 100m and an American record in the 200m.
"He's always been coachable," Thomas said. "He was athletic enough through soccer to understand that (track) was different and he wasn't going to train for soccer to become a sprinter."
In Tokyo, Mayhugh will compete in the 100m, 200m, 400m and possibly the 4x1 universal relay. Once the Games are over, he hopes to continue running track and playing soccer as long as possible.
A public speaker and strong advocate for people with disabilities, Mayhugh has a message for anyone struggling with the same challenge he did growing up: dealing with a condition that others around them can't see.
"Believe in yourself, no matter what," he said. "You know your body and mind better than anybody. Second, know that it's OK not to be OK. The sooner you realize that, your life will be a lot better."