Wheelchair Racers McFadden And Romanchuk Ready For Payoff Of Five Years Of Work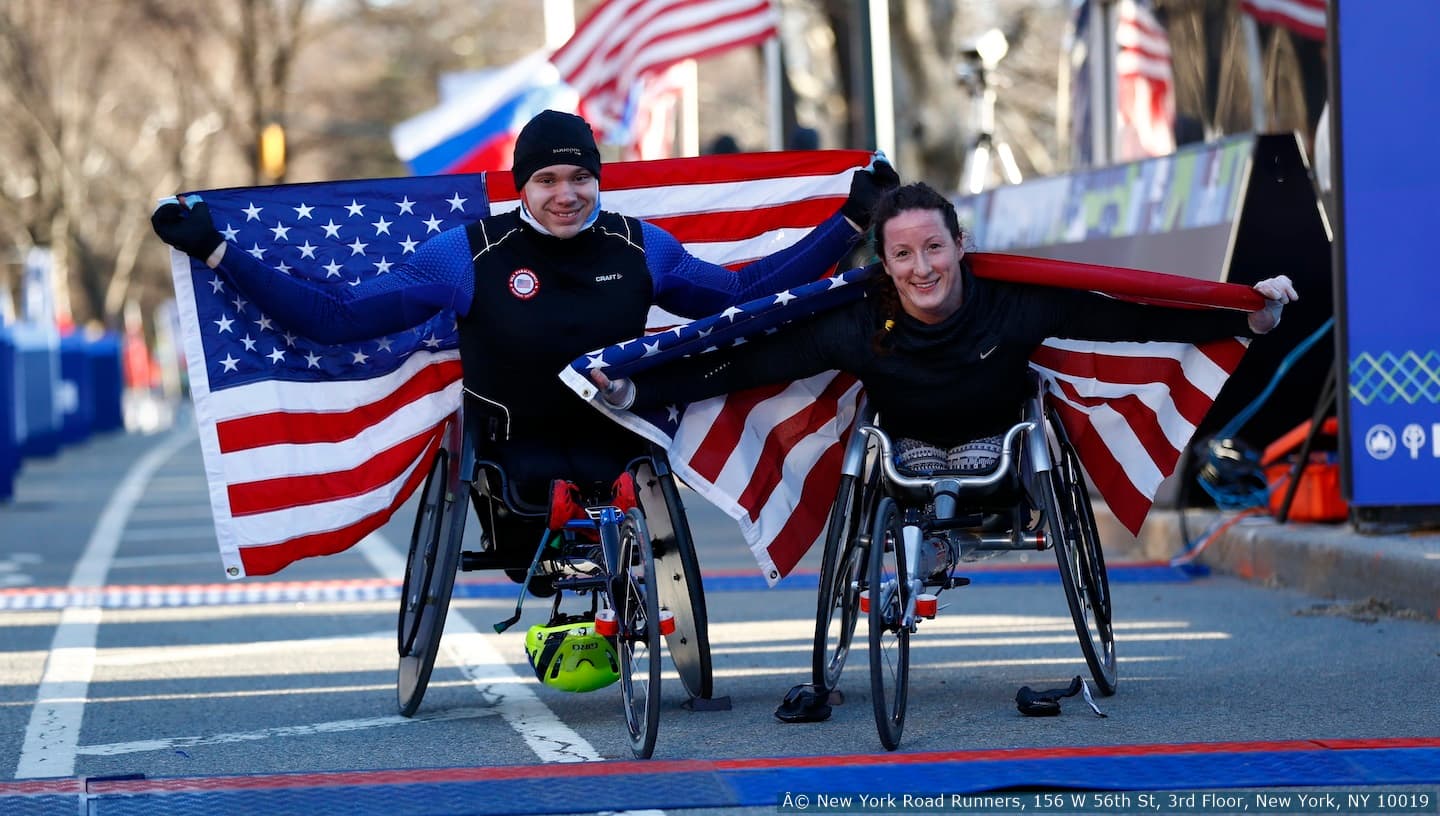 The serious countdown is on for Team USA Paralympic track stars Tatyana McFadden and Daniel Romanchuk. The number of exhaustingly hard, two-a-day practice sessions can be counted on one hand. And the taper-down cycle, to rebuild their bodies and minds before they leave for the Tokyo Games, will soon begin.
Five years of preparation, competition and planning are now going to be put to the test. The Paralympic Games Tokyo 2020 open Aug. 24, and the conditions are expected to be hot and steamy for track and field.
McFadden, who has won 17 medals over the past five Paralympic Games, said getting ready for Tokyo has been more challenging than anticipated. She was diagnosed with a blood clotting disorder in 2017, meaning she has to be careful managing fluid buildup.
Finding the balance between hard training, and rest and recovery, has been a twisty path for the Illinois native.
"My body has really changed in the past five years, just by getting older, so I need to respect that and be hopefully wiser in training," McFadden, 32, said. "It's a matter of taking rest in consideration, making sure my body is getting everything it needs. So, I've had to learn that day by day.
"Then throw in COVID, and everything that happened to all of us. I think definitely having that year (2020), to not travel and stay home was good. But the isolation of being stuck by yourself, not knowing a thing of what lies ahead in the future … that drove me crazy. For athletes, we know our schedule a year ahead of what we are doing. Not to know anything last year, because of the virus, that was scary. But we got through it."
McFadden will have a packed schedule in Tokyo, planning to race in five T54 events: the 400 (Sept. 2), 800 (Aug. 29), 1,500 (Aug. 30), 5,000 (Aug. 27), and marathon (Sept. 5). She has won Paralympic gold in all those events, save for the marathon — where she was second in Rio 2016.
Romanchuk, like McFadden, is also known as one of the top wheelchair marathoners in the world. This will be his second Paralympic appearance, and he plans on another packed schedule in Tokyo. He will race the 5,000 (Aug. 27-28), 400 (Aug. 29), 1,500 (Aug. 30-31), 800 (Sept. 2) and the marathon (Sept. 5)
His experience in Rio taught him what to expect from the Games, which under normal circumstances would be valuable information. But this time around, given the effect of COVID on the Games, from the strict safety protocols to the lack of family and friends allowed to be present, Romanchuk wonders what Tokyo will be like.
"I think that to some degree, I have been through everything that happens at the Paralympics, like the travel, the team processing, the call room, getting on the line, the protocols, all that," said Romanchuk, a 22-year-old native of Mount Airy, Maryland. "But obviously, some things may be quite different. I think I will be ready to take things as they come, and it will be good."
Romanchuk is a different T54 racer since his first Paralympic experience, as the five years between Rio and Tokyo have made him stronger, smarter, and more confident. He's won gold medals at the world championships and captured the Boston and Chicago marathon titles.
He's a mature racer, and knows his competition well.
"I pretty much knew nothing in 2016," Romanchuk said, laughing. "I've been learning tactics, strategy, and just getting so much stronger all around. But the T54 is so good, there are like a dozen racers who are so strong. You come to the line, and you don't know what is going to happen. You come into the race with a plan, but at some point, you are going to have to adapt. I can do that now."
McFadden and Romanchuk are preparing for the hot conditions in Tokyo, training in steamy weather. Both won their races in the Atlanta Journal-Constitution Peachtree Road Race on July 4. It was a chance to check in on their summer preparation benchmarks and push themselves outside of practice.
But everything they have done for the past five years is coming to proof in a few weeks. Family and friends will be cheering from home. And they will be competing in Tokyo.
"I think every athlete who reaches these Games deserves a medal, seriously," McFadden said. "This was all so unique, so challenging in ways I can't even describe. I've had my family with me for every Games since 2004. Not having them there will be hard for me. That separation will be tough, because good or bad race, they are there for me.
"These are going to be a very different Games for all of us. I am looking forward to competing, I'm looking forward to experiencing this new normal. That will be a challenge onto itself. We need to trust in our training, and know we are ready. And if I can get back to the podium, I will be so happy. What we do all of this for."
Joanne C. Gerstner has covered two Olympic Games and writes about sports regularly for the New York Times and other outlets. She has written for TeamUSA.org since 2009 as a freelance contributor on behalf of Red Line Editorial, Inc.