While On The Rise, Dallas Wise Looks To Pay It Forward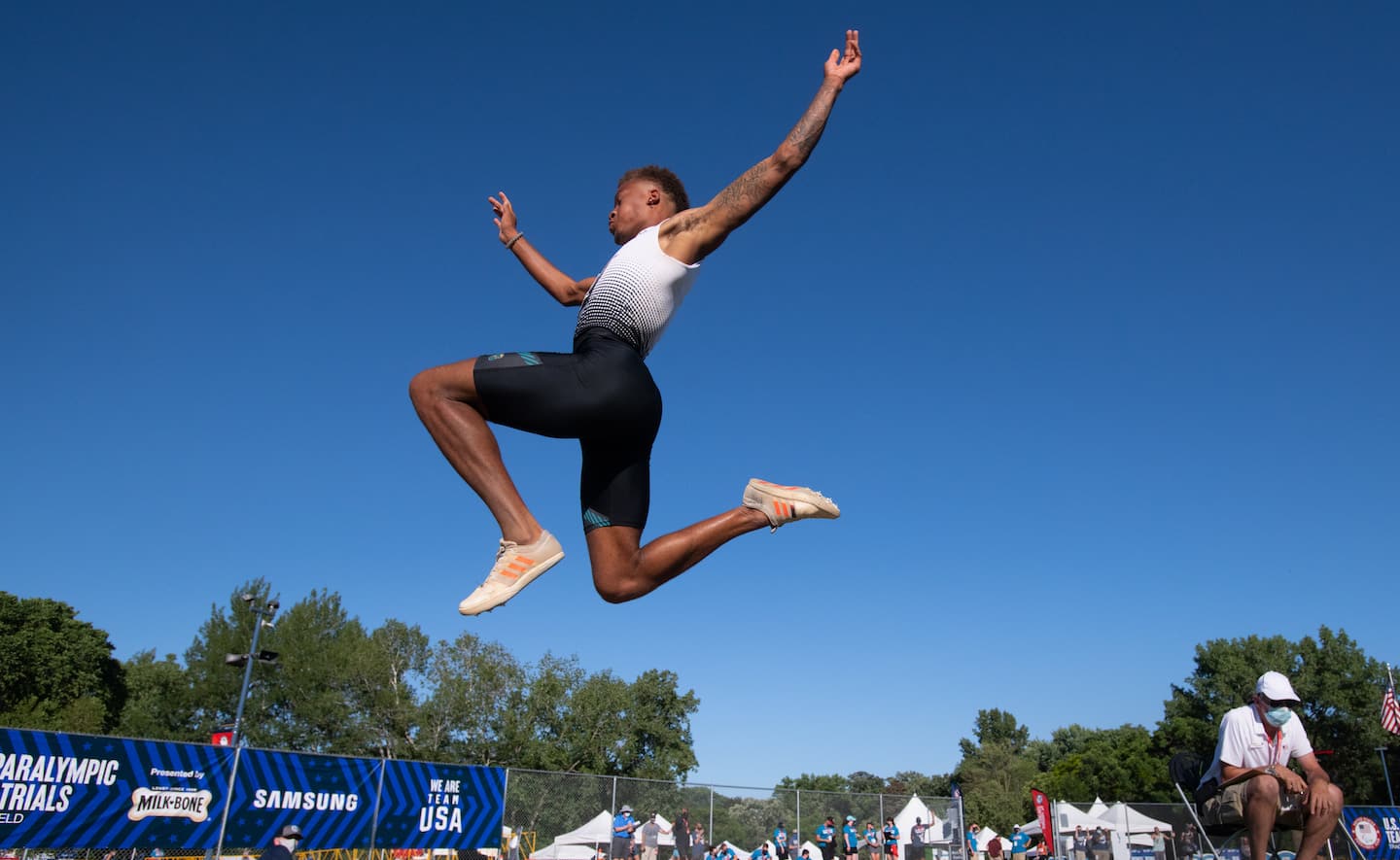 Dallas Wise competes in long jump at Paralympic team trials. (Photo: Mark Reis)
Sports are often a great motivator. For Dallas Wise, that motivation served as an escape from the ridicule and doubts of others.
The Columbia, South Carolina, native will represent Team USA in both the long jump and high jump at the Paralympic Games Tokyo 2020.He was born with Erb's palsy, a condition that causes arm weakness and loss of motion. In middle school, he endured so much teasing from other kids that his mother Meredith changed school districts.
"I'm glad I made that decision," recalled Meredith, an Orangeburg County deputy. "Once I took him to the new middle school, his whole demeanor changed toward his disability."
Dallas also remembers the people who pointed out his limitations.
"I went to my doctor, and he told me the only thing I really couldn't do was wrestling or swimming," said Wise, who recently completed his sophomore season with the Coastal Carolina University track program.
Determined to prove the doctor wrong, Wise joined his middle school wrestling team and did well. At Dutch Fork High School, he played basketball his freshman year, and football his first three years.
It wasn't until his sophomore year that Wise joined the track team. But success came quickly. He captured three state championships in the high jump and a state title in the long jump. His 2.03-meter leap in the high jump at the Class 5A state championship during his sophomore season set a Lexington County record.
Wise's accomplishments caught the attention of Mike Embry, then an assistant track coach and recruiting coordinator at Coastal Carolina. Embry, who just accepted the head track coaching position at the University of Texas Rio Grande Valley, still serves as Wise's personal coach along with Newberry College assistant Lawrence Terry.
Embry's initial impression was how quickly Wise developed in the jumping events.
"Traditionally, when kids start the sport, they do so their freshman year or before that," Embry explained. "You got a kid who started late and had a lot of success very early. That says a lot to me. The passion and dedication he has is more than the average person."
Wise's freshman outdoor season at CCU was cut short by the coronavirus pandemic. As a sophomore, he had four first-place finishes, and set a CCU triple jump record at the Weems Baskin Invitational with a 15.12 mark.
Soft-spoken by nature, Wise doesn't hold back on crediting Embry for helping him grow in the sport.
"The reason I came to Coastal was because of Coach Mike," Wise said. "I had offers from other schools. But he was the coach who really cared. He was always at my track meets. He always communicated."
Wise had an unexpected encounter with someone else who changed his life. University of Louisville assistant track coach Jeff Petersmeyer spotted Wise at New Balance Nationals, a nationwide meet for high school athletes. When Petersmeyer learned about Wise's disability, he passed along his observations to two-time Paralympic gold medalistRoderick Townsend, a volunteer assistant with the Cardinals. Townsend has the same disability as Wise, and phoned him shortly after the meet.
The two struck up a friendship. It was Townsend who encouraged Wise to try out for the U.S. Paralympic track and field national team earlier this year.
"I had never met anyone with a disability like mine, so it was kind of shocking," Wise recalled.
At the Desert Challenge Games in Arizona this past May, Wise finished first in both the high and long jump. He also had success at the U.S. Paralympic Team Trials in June, sealing his spot for Tokyo in the T/F47 classification. Twice, Wise achieved a mark of 6.85 meters or better in the long jump, and captured first with a 6.86-meter mark. In the high jump, he placed first in his class with a height of 2.02 meters.
"Dallas is extremely competitive," Embry said. "He's been around some very good athletes, and compares himself to them. He's already been groomed to go against the best and be the best."
Though this will be his first trip out of the country, Wise is confident he will be prepared for the Paralympic stage. That's what his mom is counting on.
"The advice I gave him was to look at it as another event, block out all the lights and cameras, and do your best," Meredith said.
While all his current focus is on the Paralympic Games, Wise hasn't lost sight of how he got here. He hopes to eventually do for someone else what Townsend did for him: pay it forward by mentoring a younger athlete.
"If I see someone who has the same disability I have, even in the sport I'm competing in, I would help him too," Wise said.
That alone would be enough to make a mom proud.
Stephen Kerr is a freelance journalist and newsletter publisher based
in Austin, Texas. He is a contributor to USPara
TrackAndField
.org on
behalf of
Red Line Editorial, Inc.