Cassie Mitchell Brings Professorial Slant To Leadership And Mentorship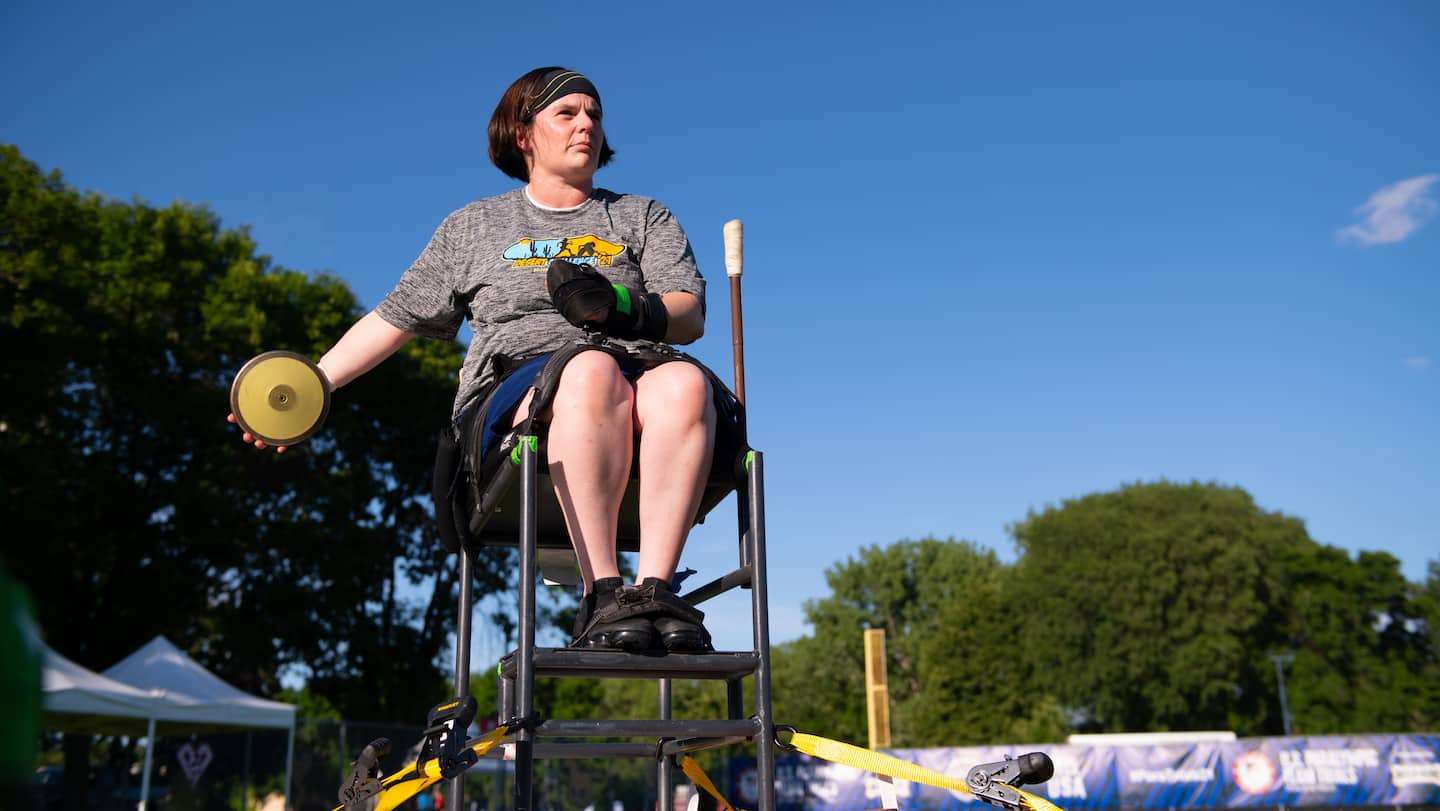 Cassie Mitchell competes in discus at the U.S. Paralympics Team Trials – Track and Field. (Photo: Mark Reis)
Cassie Mitchell changed a life with a lottery ticket.
It is not like her to gamble, and she cautions that she is "not a professional counselor." But when a stranger in an Atlanta hospital needed psychological guidance for a situation few besides her knew firsthand, she recalled what her friends once suggested.
You should play the lottery.
By their amateur calculations, Mitchell's "one-in-a-million diagnosis" of Devic's disease, orneuromyelitis optica, equaled the odds of striking Georgia's jackpot.
So when answering a late-night call and driving to a spontaneous meeting, she stopped to pick up a ticket. She was strapped for specifics on her new mentee and needed to improvise a game plan. The best she could do was recreate what worked for her before and make that "the icebreaker."
As fortune had it, Mitchell recalls, the recipient "kind of cracked a smile," and a friendship was formed. In a constructive Q-and-A, she instilled conviction to the rookie, who was handling his upheaval's physical aspect but needed to complement that with his spirits.
"He told me that I was the first person that showed him there was a life on the other side of this disability," said Mitchell.
"Now this person is actually mentoring other disabled people," she added. "He's giving back."
That typifies a cycle she sees in every pillar of her life. A club and discus thrower entering her third Paralympic Games in Tokyo, Mitchell teaches biomedical engineering at Emory University and Georgia Tech. Since this past September, she has seen a return on investment in an array of recognitions to rival her track and field trophy case.
For her leading part in the ABLE Alliance, geared toward better disability inclusion around GTU, Mitchell received the university's Faculty Diversity Champion Award. She subsequently made Emory's teaching honor roll for her course on systems neuropathology and translational engineering. In March she received the Scientific Research Honor Society's Young Faculty Award.
"What drives me is trying to help other people," she said."So when you receive awards like that it just kind of validates that,'Yes, you are making that difference that you want to make.'"
Such certification is a refreshing, medal-like payoff and diversion from the frosty facts of research life.
"Academia is a land of no. N-O," said Mitchell."It is hard to get grants. Less than 10 percent get funded.
"Rejection is a part of our lives."
As such, it resembles the ratio between grunt work and glory in international athletics. An owner of four world championship gold medals plus a silver and bronze from Rio 2016, Mitchell still seeks her first Paralympic championship.
To attain that, especially after her bittersweet start in London 2012, would be to remake the triumphs of her most tested understudies. Those success stories range from a student — at first perennially shut out of medical school but now on pace for a 2022 white coat commencement to a fellow F51 competitor at the Endeavor Games — only eight months into his classification and openly frustrated with his results.
Mitchell heard the former tell her, "Thank you for pushing me and not being afraid to fail." After she offered the first-year F51 a pep talk on delayed gratification, "when he left he was excited."
Nearly a decade earlier, Mitchell had a similar conversion in London. After finishing fourth in the 100-meter, 200-meter and discus throw, she met what she called a "paparazzi."
Amid the press corps was a boy of 6 years or younger, whispering to his mother in a foreign tongue. An interpreter relayed the message to Mitchell: I want to be just like you when I grow up.
That was when she saw the substance under the façade of emptiness. Though among the majority of Paralympians who left London still hungry for hardware, she gained something through an inspired onlooker.
Even now, despite the persistence she preaches, Mitchell admits she is finally starting to retain that perspective for herself.
"It's funny," she said,"in my athletic career I haven't been quite as patient." But her professional calculation skills, which apply to predictive analysis that assesses neuropathological, oncological or antiviral medications for the general public and customized treatments for individual patients, translate to the track.
Paralyzed from the chest down since 1999, Mitchell works around unique combinations of her skill set and competition regulations. A la eschewing a "one-size-fits-all" outlook in the lab, she resists the temptation to follow a generalized F51 athletic template.
"In my case I have zero wrist function," she said. "I've had to alter how I throw in order to compensate." Especially for a ban on hand braces in the discus. And since 2019, she has adapted to a new loss in shoulder function.
Finding workable 'yesses' among a forest of noes is Mitchell's personal key in her sport. It is also an everyday one-on-one adventure with any of her 40-plus students.
"It's about caring for people, realizing what their innate skills are and also where you can help complement a weakness."
Now to see if she can get the heaviest variety of medal to complement her academic accolades.
"Obviously the goal is gold," she said."I've been very open about that because that's what's left."
Al Daniel is a freelance features writer and contributor to USParaTrackAndField.org on behalf of
Red Line Editorial, Inc.
Follow him on Twitter @WriterAlDaniel.