Beatriz Hatz Charts Own Path, Destination: Paralympic Games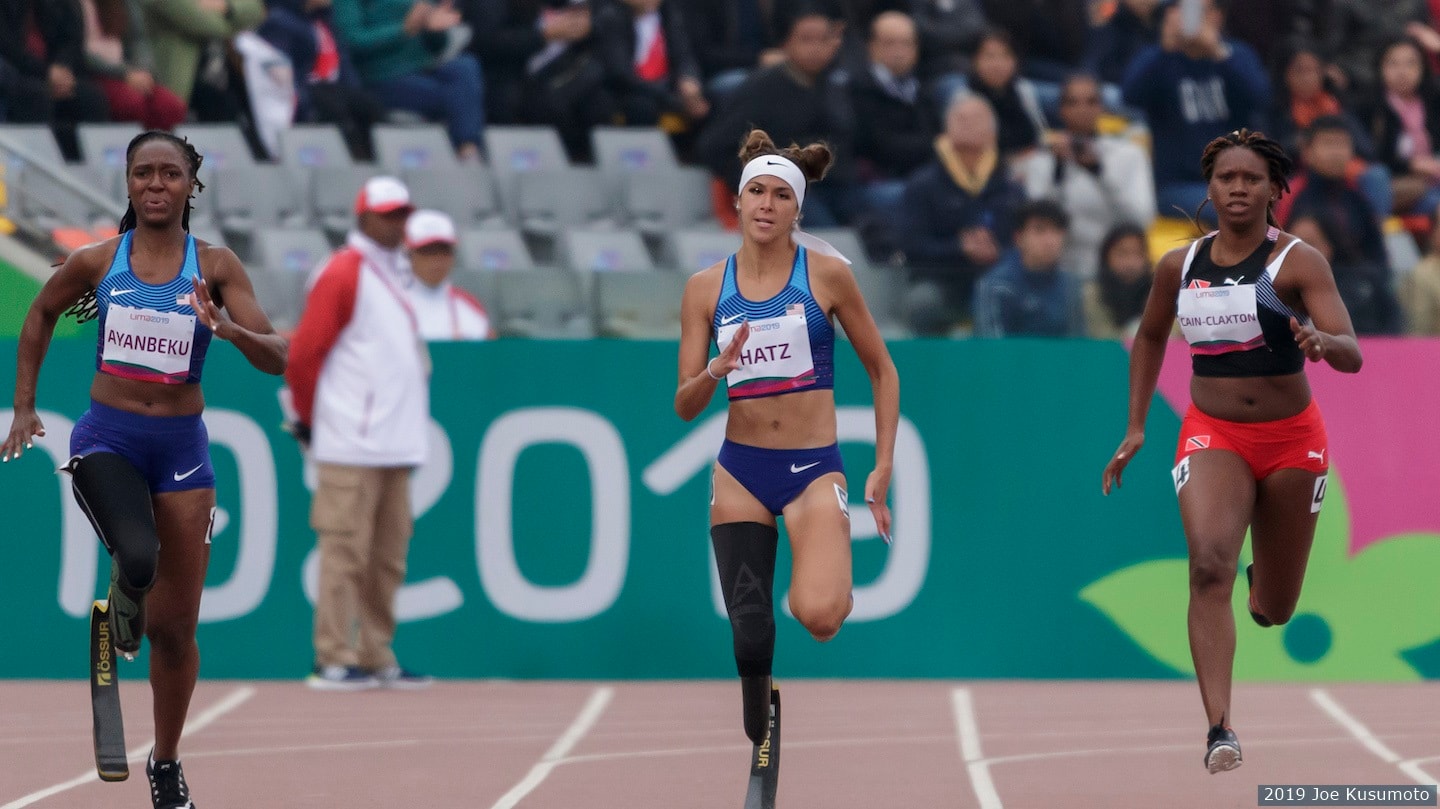 Beatriz Hatz competes in Lima. (Photo: Joe Kusumoto)
Beatriz Hatz is going her own way.
Living at the Olympic Training Center in Chula Vista, California, Hatz works out separately from her fellow Para athletes. She doesn't have role models. And at the OTC, she's somewhat of an outsider.
"It's kind of weird here. I'm the youngest person living here," she said. "To everybody I'm still a baby, a little kid."
She may be young, but her resume is nothing to scoff at. At 20, Hatz has two world junior championship titles and came in fifth in the 200-meter at the 2019 World Para Athletics Championships. Now in pursuit of a Paralympic team berth, Hatz trains six days a week, and lifts four days a week. When she's done for the day, she usually goes to her room, watches anime ("Naruto" is her favorite), and FaceTimes with her mom and friends back at home.
That's the hardest part about being at the OTC, she said — being apart from her family. Hatz has friends at the OTC (including her neighbor's seeing eye dog), but her life now stands in stark contrast to what she's used to.
"It is really hard," she said. "I'm Hispanic ... I grew up embracing my Mexican culture." That means "our family is very close." Hatz grew up just blocks away from her grandparents, aunts and uncles, and cousins. She went to all the same schools as her brothers and cousins, "So I would see them every day … It was hard for me to leave that."
It's ironic, then, that Hatz's family would play a role in launching the career that would take her so far away from them. Hatz was born with a fibular bone that didn't develop, and her leg was amputated below the knee at 10 months. Still, competition with her two brothers led her to seek out sports: when one of her brothers won a baseball tournament, she signed up for softball. She switched between that and basketball, also pursuing skiing, snowboarding, CrossFit, and karate. Then, as a high school freshman, a friend made a bet with her — who could make it to varsity track first?
Hatz took that bet, even though she was at a marked disadvantage. "My walking prosthetic weighs like four-and-a-half pounds, so it's not ideal to run in," she said. But she made varsity before her friend, and then, "I decided that I enjoyed track," she said. "I told my parents and they got me (an activity) prosthetic." She made it to a state qualifying meet, and to the Desert Challenge — "a really big track meet for Paras." Then, it was on to junior worlds. Still a high school sophomore, and just a month after getting her first running blade, Hatz went to a California meet to try out for the championships.
"I ran there and I was like, 'OK, now what?'" she said. After competing at trials, Hatz had to wait for a phone call. It came, fittingly, when she was with her family. "I remember this day so perfectly," she said. "My mom had picked me up from school; I still didn't have my driver's license … I'm with my brothers and my cousins … we're in the driveway of my grandmother's house; we're parked there and my mom gets this call … I was so excited, we're all in the car celebrating."
Hatz flew to Switzerland to compete at worlds, winning the 100- and 200-meter titles, and a silver medal in long jump.
Suddenly, a professional career in athletics became a possibility. "I graduated (in 2019) and I decided I wanted to go straight to pro," she said. She competed at the 2019 world championships in Dubai, where she placed fifth against an older, more experienced field.
For Tokyo, Hatz's goals are loftier than that.
"I don't want to just make the team; I want to medal," she said. In the long term, "My goal is to be the best — not just the best that I can be, but to be the best in general."
To do that, though, Hatz has to make sacrifices. After graduating high school, she moved to California, far from her family. That has been difficult for Hatz, but she admits that her time at the OTC has given her some perspective.
"I feel like I've grown to be more independent" at the OTC, she said. "It's kind of weird because I'm not a full grownup who pays rent and does their own taxes, but at the same time I'm not the teenager living with my parents. So it's like a weird in-between, but I do feel like I've grown more mature."
She's also grown in her athletic ability, taking advantage of the extra year of training before this summer's Tokyo Games. Her method there is a bit unconventional: shortly after 2019 worlds, Hatz decided she would no longer be a part of the Para athletics training group. Instead, she trains with the able-bodied heptathletes. "I figured it would be better for me," she said. According to Hatz, the arrangement will give her the edge she needs to succeed as a para athlete.
"I want to train with people who are better than me, so that once I do get to be at their speed then I know that I will be better than everybody in my class," she said. "I want to run with the able-bodied athletes and be like, 'Ugh, I just got my ass whooped. That was awesome.'"
The training plan certainly sets her apart from the other Para athletes. But that's the thing about Hatz: her youth and her commitment to her family have made her isolated, but at the same time, she sets herself apart. When asked if she had any role models, she said, "I don't really think so, because I don't want to idolize anyone and try to be like anyone."
"I want to be my own person and live up to my own expectations, not what someone else has already done."