Five U.S. Paralympics Track & Field Athletes To Take Part In Drake Relays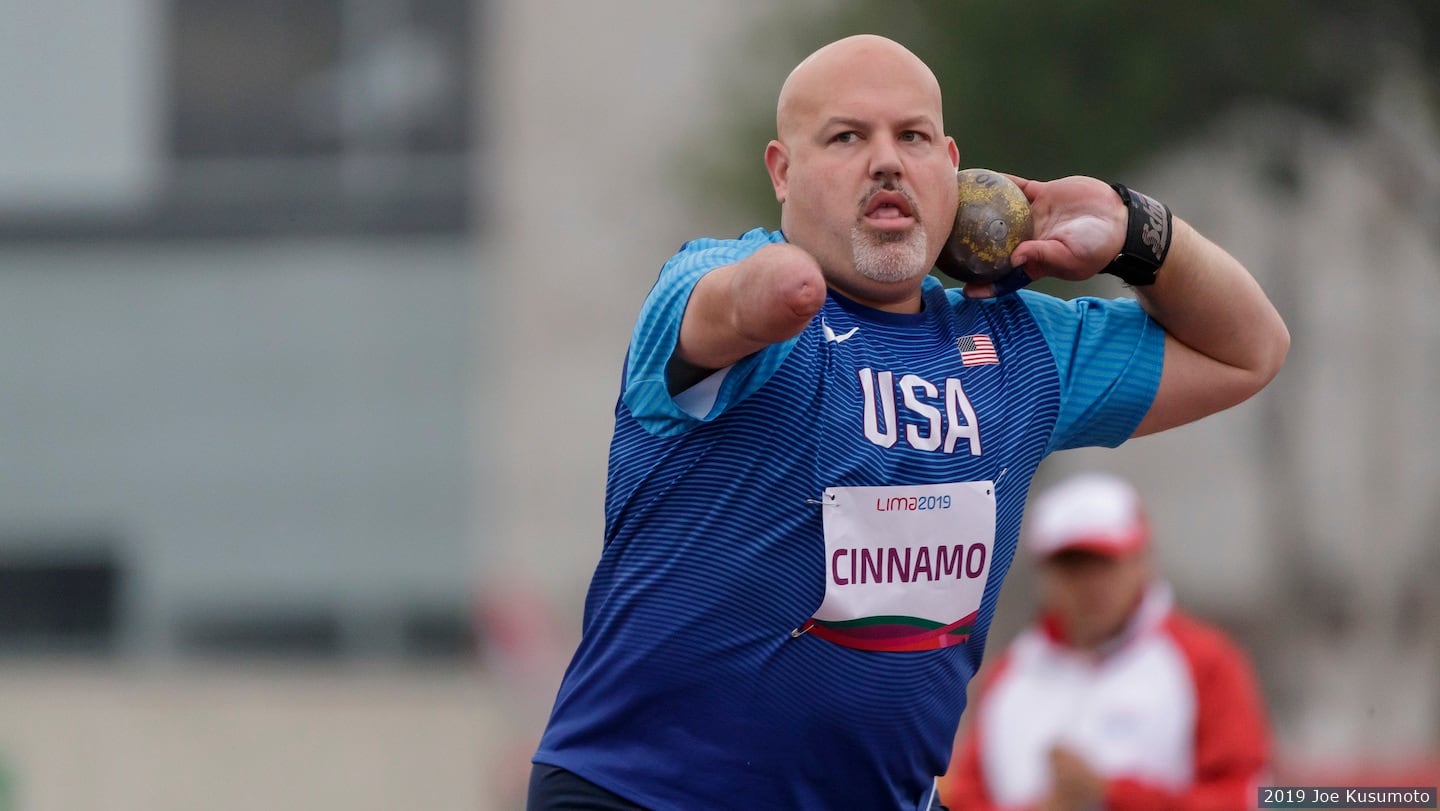 Josh Cinnamo competes in shot put for Team USA. (Photo: Joe Kusumoto)
After taking 2020 off due to the COVID-19 pandemic, "America's Athletic Classic" is back for the 111th time.
Some of the world's finest track and field athletes will once again take part in the prestigious Drake Relays, held April 22-24 on the campus of Drake University in Des Moines, Iowa.First held in 1910, the Relays also present the rare opportunity for Para athletes to compete alongside their able-bodied counterparts. Five U.S. Paralympics Track & Field athletes will be competing in Des Moines: Josh Cinnamo, Kevan Hueftle, Noah Malone, Regas Woods and Tanner Wright.
The Relays, one of only two Silver Level events on the World Athletics Continental Tour held in the U.S., will draw top athletes from around the world as they prepare for the Olympic and Paralympic Games Tokyo 2020, including national champions from 16 different countries, five Olympic gold medalists, 12 total medalists and athletes with 21 total Olympic finals appearances. The five U.S. Para athletes competing have two world championships, four world championship medals and one Paralympic appearance between them.
In all, at least 10 world champions and athletes owning 32 world championship medals are expected to be on hand at Drake Stadium and its famed "Blue Oval" track.
"We're thrilled that once again, so many of the best competitors in the world are choosing to begin their march to Tokyo on the Blue Oval,"said Blake Boldon, Relays director, in a news release. "The Blue Oval has always been a destination for that talent, and in an Olympic year, the level of competition has been stepped up again.
"It will be another special weekend at Drake Stadium as we anticipate nothing short of greatness again from experienced athletes and the best up-and-coming talent in the sport."
Competing in the shot put against able-bodied throwers will be the 40-year-old Cinnamo, who holds the Para world record of 16.80 meters and was the 2019 world champion. Cinnamo placed eighth at the Relays in 2019 with a throw of 15.23 meters. He will be going up against the likes of Olympic gold medalist and record-holder Ryan Crouser.
Cinnamo also threw against Crouser at last August's Drake Blue Oval Showcase.
"It's a little bit of a weird dynamic," Cinnamo said at the time about throwing against elite, able-bodied athletes, "but I know the Olympic-level throwers appreciate what we do and who we are just as much as we do them."
The rest of the U.S. Para contingentcompeting in Des Moines is a quartet of sprinters in Kevan Hueftle, Noah Malone, Regas Woods and Tanner Wright.
Malone and Wright went 1-2 in both the 100-meter and 200-meter ambulatory Paralympic dashes at the 2019 Relays. Malone, then a high school junior, posted times of 10.65 seconds in the 100and 21.70 seconds in the 200, followed across the finish line by Wright in 11.06 and 22.53, respectively.
"Being at the Drake Relays is an amazing experience," Malone told The Gazetteof Cedar Rapids, Iowa, in 2019. "It's the top-tier meet I've ever been to. That's an accomplishment in and of itself. I love the atmosphere and the energy here. I'm really happy being here."
Malone, now 19 and competing for Indiana State University, won a gold medal in the 4x100-meter relay at the 2019 world championships. At the 2019 Parapan American Games, he collected a gold in the 4x100 and silver in the 100. In the Para world junior championships that year, he won a pair of gold medals and a silver medal.
Wrighthas a pair of world championship appearances under his belt. His top performances were fourth place finishes in 2017 in the 100 and 200.
Hueftlewon a silver medal in the 100 at the 2019 world championships. Woods won bronze in the long jump at the 2015 world championships and competed at the 2016 Paralympic Games.
Coverage of the Drake Relays will be available all three days through RunnerSpace.com, and NBCSN will provide live coverage from 2 to 4 p.m. local time on Saturday.
Bob Reinert spent 17 years writing sports for The Boston Globe. He also served as a sports information director at Saint Anselm College and Phillips Exeter Academy. He is a contributor to USParaTrackAndField.org on behalf of
Red Line Editorial, Inc.