Track Helped Give Kym Crosby Confidence, Success Helped Build More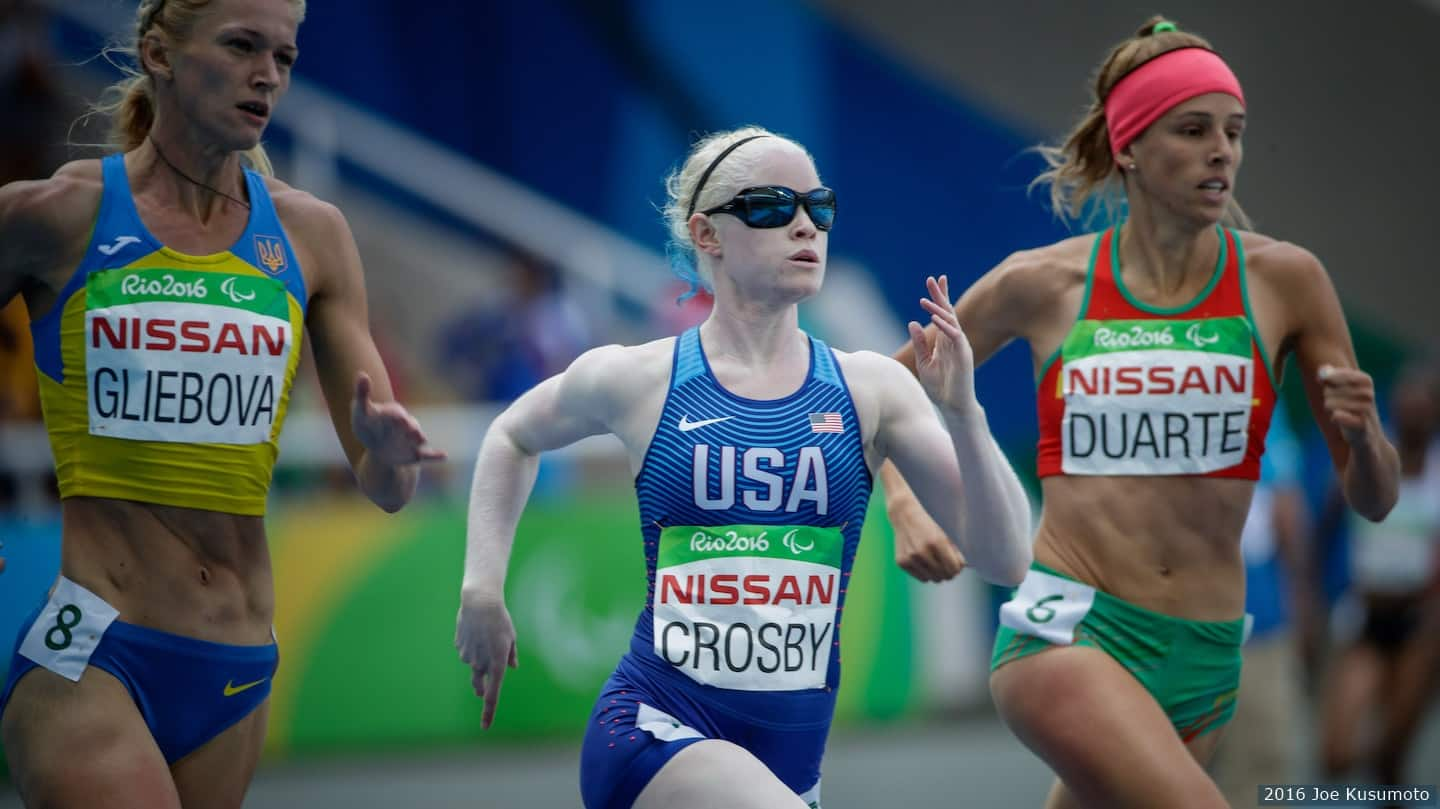 Kym Crosby competes in Rio. (Photo: Joe Kusumoto)
Kym Crosby is the picture of confidence.
The Paralympic bronze medal-winning sprinter, who describes herself as "this bubbly person who people can't get to shut up," isn't one to shy away from an adventure. She has a photo of herself shaking President Obama's hand on her Instagram account, another shows her wearing her seven world and Paralympic medals. She's traveled the world, driven by a quest for medals and a sense of freedom that only running can bring. In short, Kym Crosby lives fearlessly.
Talking to her today, you wouldn't believe that she was once a shy person. But that's how the now 27-year-old describes herself as a teenage girl growing up in a small town in northern California.
How did such a dramatic change happen? It all started with one PE class.
Despite being born with albinism that left her legally blind, a young Crosby was no stranger to playing sports. But track and field was never really on her radar — that is, until she ran the mile in high school PE. "My brother came out there to watch me and he was like, 'You ran the mile pretty fast; you should join the track team,'" Crosby said. It took some arm twisting, but Crosby's brother and her PE teacher were able to convince her to try out a new sport.
She didn't like it. "I thought I didn't fit in," she said. But her parents convinced her to go to one meet. There, Crosby realized that she had found her hidden talent, winning the 100-meter dash.
"After I won, I was so surprised," she said. "And then I was like, 'OK, I think I can be good at this.'"
At first, Crosby's athleticism only made the timid high schooler more isolated from her peers, who she says were turned away by her intensity. Things changed when she started winning more.
"It wasn't until my sophomore year where I started winning more and more races and my teammates respected me a little bit more. And that got me out of my shell," she said.
With her newfound confidence in tow, Crosby kept running through college. She stayed close to her home and her family by attending California State University at Chico, where she majored in kinesiology (originally an athletic training major, she made the switch after having to tape someone's "not-so-nice" feet). Her success there attracted the attention of a Para track official, who invited her to train at the U.S. Olympic & Paralympic Training Center. Before she knew it, Crosby was putting school on hold to train for the Paralympic Games Rio 2016.
If track had encouraged Crosby to come out of her personal shell, competing at the world level would take her one step further. In 2015, Crosby traveled to Doha, Qatar, to compete in the Para track world championships. Outside of a short trip to Canada, it was the first time she had ever left the country, and the transition rocked her. "It was the first time I was that far away from home, and the longest I was away from home," she said. "I was a nervous wreck, to be honest." Crosby describes her mother as her "best friend," but finding time to communicate with her proved difficult.
Crosby's venture into the unknown would prove to be fruitful, though. For one thing, despite being at her very first world championships, she won a bronze medal, and a new motivation emerged.
"I got addicted to that feeling," she said. "I got addicted to walking out and going on to the podium, and I said, 'I'm going to chase this feeling for as long as I can.'"
For another, her travels forced her to strengthen her friendships with her teammates, in particular Eric Hightower, a fellow Paralympic athlete who would later become her husband.
"We met in our coach's office," Crosby said of Hightower. "And I didn't really pay him any attention. He one day told me that I looked nice, and I just kind of blew him off."
She laughed, then remembered their trip to a competition in Canada.
"He was one of the only people that I knew, and he helped me out during that trip. And I thank him for it."
It wasn't long before Crosby would hear her name called for the Rio team ("I don't think I could ever forget it"), with Hightower set to join her. Rio was "an out-of-body experience" for Crosby, who won another bronze medal, though she didn't realize it at first. "I finished the race and I had no idea what place I came in," she said. A photographer told her she came in third, and then a teammate asked if she wanted a flag.
"That's when it hit me," she said. "I started to cry."
Crosby continued on to the 2017 and 2019 world championships, and to date, has earned seven world and Paralympic medals. None of them are gold. While Crosby keeps chasing the podium feeling, "it's not just the podium feeling that I'm chasing, it's the gold medal that I'm chasing," she said. "And I'm working so hard to get there."
Gold is "definitely" her goal in Tokyo. Crosby knows that the 100-meter dash is her best chance to get there, but she also hopes to medal in the 400. Now, she's training six days a week, back at full capacity after recovering from stress fractures in both feet, making Crosby an athlete who has benefited from the postponement of the Games. She spends her down time crocheting — she has made about 64 blankets and some scarves since the pandemic shut down the country — and she and Hightower play Minecraft. Together, they're building a city filled with the monuments they've visited as they travel to competitions together.
She also enjoys spending time with her new service dog, Tron. After her previous dog, Keystone, retired (he now lives with Crosby's parents), Crosby became a dog mom to Tron, whom she describes as "a big goofball."
"He's the perfect dog for me," she said.
Tron comes to training, Crosby said, but he has to sit on the sidelines and watch her, because for track, she doesn't need him. That's the thing about being a sprinter, Crosby said.
"I don't need anybody's help to do it," she said. "On the track, I feel like I am more myself than anywhere else. I forget that I can't see, I forget that I don't need help to move around and just being able to let go and go as fast as I can. It's such a freeing feeling and it gets me excited to come back every single day and do what I love to do."