The U.S. Paralympics Track And Field Roundup For April 5, 2021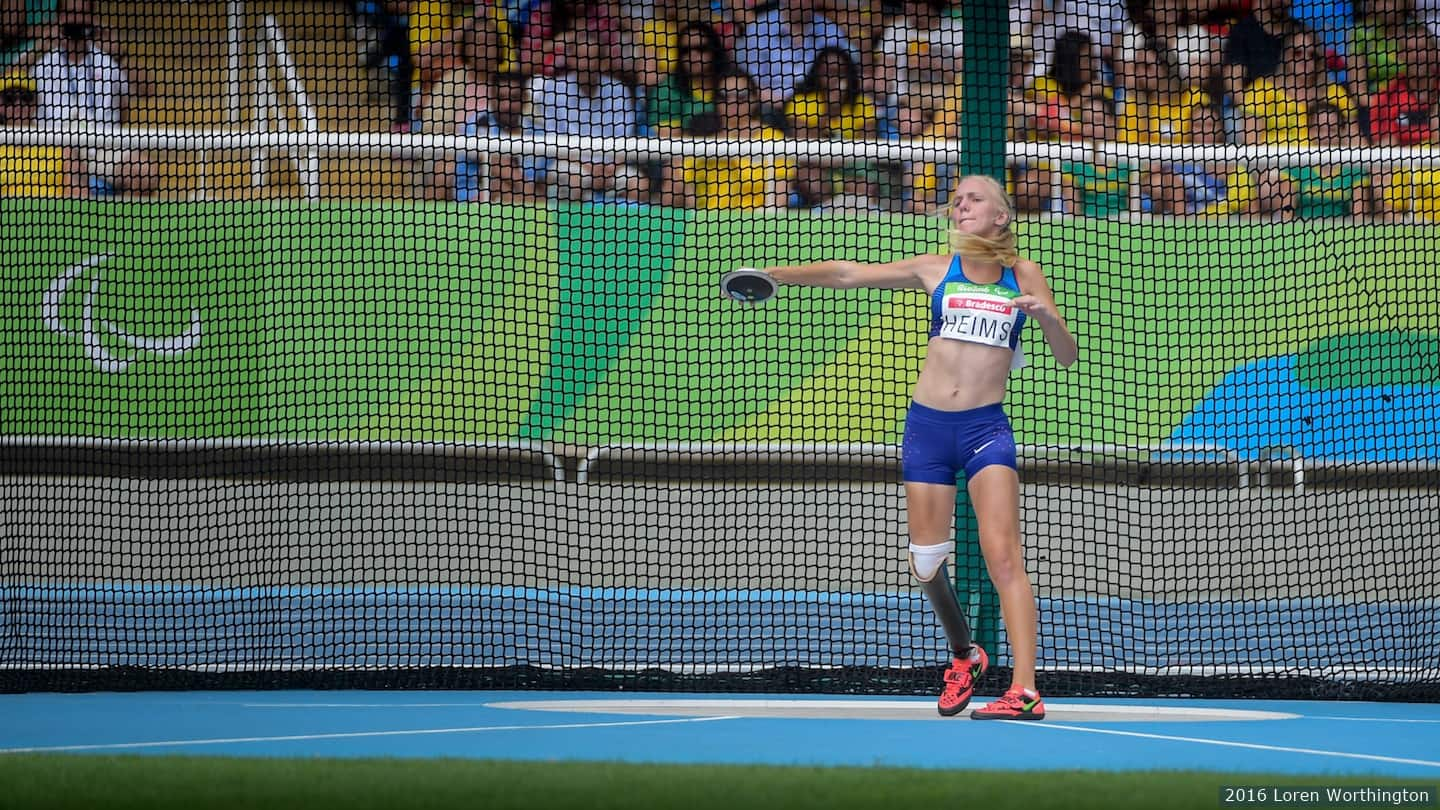 Jessica Heims competes in discus for Team USA. (Photo: Loren Worthington)Every other week we scour the web for the latest going on in the world of U.S. Para track and field. Here's what you missed!
In a year in which she hopes to add a Paralympic medal to her resume, Jessica Heims shared an exciting life event of a different kind on Mar. 21: she's engaged.
"Mrs Heims and Mr Applegate, coming fall 2021," Heims wrote, along with a photos of the happy couple and the engagement ring. Among the well-wishers in the replies were fellow U.S. Para track athletes Scout Bassett and Jerome Avery.
The era of virtual distance races is hopefully coming to an end, but in the meantime the show must go on, as it did with the Shamrock Shuffle Mar. 19-21. Typically taking place as an 8K on the streets of Chicago, this year's shuffle was entirely virtual, with numerous Team USA athletes taking part. Amanda McGrory, Daniel Romanchuk and Brian Siemann all donned their green and ran their best race wherever they were in the United States. Romanchuk ran his race from Florida, where he was able to take part alongside his mom.

***
San Diego resident Jerome Avery was interviewed by local news station CBS 8 as part of a series on "All-American Stories."
Just visually, this looks like a lot of weight on the bar for Josh Cinnamo. But he makes it look easy in setting a personal record.
Take a look at the rest of Aaron Pike's Instagram page over the past few months and there's a lot of one color: the white of fluffy snow. But the multi-sport athlete is now happy to be back on asphalt since spring is here.
"Missed the sound of pounding on carbon wheels and a smooth road with the wind at my back," he wrote.
The progression of Ezra Frech's career was featured on the Instagram page of World Para Athletics.
TeamUSA.org took a look at a pair of sometimes unsung heroes in the world of Para track and field, the guide runners. Specifically, veteran guides Jerome Avery and Wesley Williams were featured. Avery and Williams currently serve as the guides for David Brown and Lex Gillette, respectively.
Femita Ayanbeku was featured by POPSUGAR, discussing her journey to becoming a Para athlete, her training regimen, and what she does off the track. … Scout Bassett took part in a mental health roundtable sponsored by Nike along with Atlanta Falcons tight end Hayden Hurst. … Even in this day and age Para track opportunities don't exist everywhere. One example is in St. Joseph, Missouri, and Bishop LeBlond High School, where Elliott Murphy recently became the first Para track athlete in school history. … The IPC announced that so far, 2,710 slots have been awarded for this summer's Paralympic Games with another 1,690 yet to go.
The Challenged Athletes Foundation (CAF) has announced its 2021 grant recipients, $5.1 million of support awarded to 3,038 Para athletes. The grant money goes to support athletes as they train and compete, helping them afford equipment, coaching, travel and more. The CAF reports that more than half of Team USA's 2020 Paralympic hopefuls have received grants in the past, including Brenna Huckaby, Oksana Masters and Andy Soule. The organization awards grants in 94 different sports and activities.
But the assistance isn't just for Paralympic-level athletes. CAF's 2021 grant recipients range in age from 2 to 76. And 38 percent of them are receiving a grant for the first time.